Most buyers start the home search with a timeline in mind — perhaps the goal is to get settled before the school year starts or to have a new home in time to host the holidays. From an overall logistics standpoint, the best time to close on a property is, of course, whenever it makes sense for the seller and buyer. However, from a financial standpoint, there are certainly some benefits to choosing certain dates.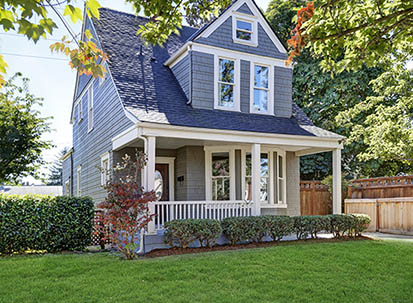 Find Your Home on RealEstate.com
According to a recent report by ATTOM Data Solutions, if you're looking for the biggest discount on your home purchase, the best time to close is in December. The study, which analyzed data from 18 million single-family and condo transactions, outlined the top ten prime days to save:
| | |
| --- | --- |
| Date | Estimated Savings |
| December 26 | $2,500 |
| December 7 | $2,000 |
| December 4 | $1,823 |
| December 29 | $1,320 |
| December 21 | $1,223 |
| December 1 | $1,000 |
| October 12 | $1,000 |
| November 9 | $666 |
| February 9 | $500 |
| December 8 | $149 |
Given this data, if you're strategizing on ways to find a deal, you'll want to start your house hunt early and aim to submit an offer around Halloween. However, sometimes timing doesn't line up perfectly — perhaps you can't move during the winter, or you simply can't find the right home. Buying a house around the holidays isn't always convenient either. The good news is that there are ways to be strategic about your closing all year round. One way is to determine the optimum closing date.
What's the Optimum Close Date?
The majority of home sales take place within 30 to 60 days of an accepted offer. The exact day during that time frame can make a difference.
Best Time of Month to Close on a House
Most notably, the time of month impacts your first payment. The majority of lenders won't require the first mortgage payment until a full month passes. This can help alleviate some of the upfront financial burden, especially for those already locked into another mortgage or on a lease. For example, say your lease ends on August 31. If you buy your house on July 5, your first mortgage payment wouldn't be due until September 1. This means for the remainder of July and the entire month of August, you would not have a mortgage payment while covering rent.
Unless there's a specific deadline prompting a move, most buyers prefer to close at the end of the month to save on out-of-pocket expense.
Some of the pre-paid closing costs, like utility bills and home owner association fees, are pro-rated. For instance, if you're purchasing a condo with a $300 per month HOA fee, you would only be on the hook for pre-paying a few days worth of fees by closing on June 29 versus June 1.
Interest on the mortgage works in a similar fashion. Interest is accrued throughout the first month after your closing date. Closing on the last day of the month therefore minimizes the amount of interest that you'll owe at the settlement table.
Most would argue that the second half of the month has the most perks, but there are some advantages to closing earlier.
The first two weeks of the month tend to be slower for closing agents, meaning as a buyer you have a better chance at getting your ideal closing time-slot scheduled. If any issues crop up, you'll have plenty of time within the calendar month to get things sorted.
Best Day of Week to Close on a House
If possible, a midweek closing is usually preferable. Mondays are hectic and it can take longer for lender packages to be sent and for money wires to arrive. Closing on a Friday can become stressful if something unexpected happens, like an unpleasant discovery during the final property walk-through. A delay can mean waiting through the weekend, which can feel like an eternity when you're anxious to move in. It is also advisable to avoid major holidays and bank holidays for the same reason. Signing papers on Tuesday, Wednesday or Thursday allows for a buffer on either side to get things squared away.
A Few Closing Thoughts
As you gear up to make a purchase, consider the dates and be intentional when submitting your bid to purchase a home. Keep in mind that timing is a key part of your negotiation. Most importantly, make sure you have enough time to comfortably meet your deadlines and that you and all the necessary parties are available to convene on the day you ultimately choose.