Unless you're buying your forever home, which is rarely the case among first-time buyers, you'll want to consider resale value. Understanding market trends and framing your home search with resale in mind can help you to identify properties that may be easier to offload when the time comes.
Study Your Local Market
You can start to predict which properties will sell and which won't simply by studying your market. Tour as many houses as you can, then watch and wait to see what happens. How quickly did they go off the market and what did they sell for? Did a home sit on the market? What do you think is the reason? You'll start to notice trends and be able to identify the types of properties that move quickly. Every market has a sweet spot — whether it's a certain size, location or price point.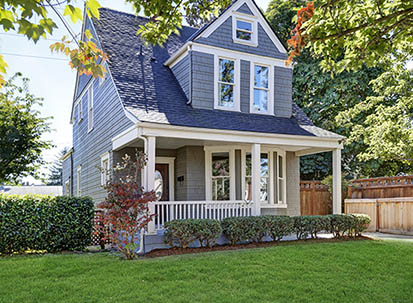 Find Your Home on RealEstate.com
Here's the thing: This sweet spot varies from market to market. For instance, if you're purchasing in a major city, a two-bedroom, two-bath condo for under $750k might be the hot commodity. For the same price in a neighboring suburb, desirable homes require more space and close proximity to public transportation. An hour north of the city, people expect to pay significantly less and want large homes on quiet streets with yards and garage parking.
Learn About the Community
When you purchase a home, you're also investing in the community. The future health of a community will certainly impact the resale on a home. Get to know the town where you plan on buying. How well do the school systems rank? Schools tend to impact home values. What are the property taxes like? High property taxes can be a deterrent for some. What are the community hot buttons? Is a new shopping center opening up or a company headquarters coming to town? These changes could impact a neighborhood for better or for worse in the years to come.
Find a Property That Appeals to the Masses
Buying a house that you love is important. But if your taste is unique, you may have a hard time when you go to sell. To increase your odds of landing a buyer down the line, you'll want to find a property that appeals to the masses. If you've studied your local market, you should have a good idea of what the sweet spot is. Is there a certain size, neighborhood or property style that tends to get snatched up right away? To increase your odds of finding a buyer, you'll want to appeal to the largest buyer pool that you can. You have a good chance at offloading a property that meets all or most of the criteria for the typical buyer and is offered within the market's median price range.
Make Sure the Home is the Right Price Point
Speaking of buying a house that appeals to the masses, you also want to choose a house that the typical consumer can afford. If you can buy a big, beautiful property, more power to you. Just know that in the future your home may be outside of most people's budgets. If your buyer pool is small, you could end up waiting awhile for the next affluent homeowner to come along.
Look for a Home With Curb Appeal
We all know that people judge a book by its cover. People also judge a house by its curb appeal. Even a home with a super-functional interior can be overlooked if the exterior misses the mark. An attractive and welcoming entryway is one of the easiest ways to reel in future buyers.
Pay Attention to Neighborhood Conformity
Some houses really stand out. Take the example of a modern contemporary on a street lined with colonials. Generally speaking, there's nothing wrong with a modern contemporary, but you have to think about its context. Even if the contemporary home is an architectural masterpiece, you may have difficulty with resale because it doesn't conform to the neighborhood style.
Don't Buy a Weird House
Some homes are downright weird. It could be because of a strange layout, bad design or an intangible defect like a stigma. Even if you try and fix up these homes, future buyers may still hesitate. You'll need a solid strategy for overcoming their objections.
Focus on Things That You Can't Change
Location, lot size and the home's orientation on the lot are things you cannot change. A beautiful home on a busy street will always be exactly that. You can't move the street! If you're having a hard time deciding whether to purchase a home because of a major shortcoming, odds are future buyers will too.
Have a Plan for Value-Add Items
If you want to make money when you sell in a short time frame (or at least not lose any), you should have a game plan for adding value. This is the part where you can get creative. Sprucing up a home's overall cosmetics or boosting curb appeal could potentially increase the value. Unless you're trying to flip a property, you'll want to stick to small, manageable projects.
Have a Plan B
Even if you follow all of the right steps, you may still have difficulty trying to sell your home. What if the market tanks or your community's economy takes a downturn? You always want to have a plan B. Could you rent the property and cover your monthly expense? This would allow you to relocate while covering your costs. Say you purchased a property intending for it to be a starter home, but find you need to stay put longer than planned. Could you add livable space by finishing out a basement or attic? There are no guarantees in real estate, so make sure you have a contingency plan in place.