Imagine, after months of house hunting, you finally find a beautiful property that checks off every box on your wish list and is under budget! The only catch? Everything around it. It's a nagging dilemma for buyers: Should you go after a great house in a bad neighborhood?
Of course, it begs the question: What makes a neighborhood good or bad?
When you're in the market for a new home, it's important to remember that it's not all about the house; you are also buying into the community. Keep in mind that there will never be a "best place to live," simply because everyone has different opinions and ideas about what makes a location "the best." That being said, most people agree that great neighborhoods share some of the following traits: low crime rate, highly ranked schools, curb appeal, family friendly activities, walkability, transportation, retail and businesses, pride in ownership, etc.
A great neighborhood will most likely be one that is a match for your lifestyle and a bad neighborhood is one that's out of sync.
On the other hand, what makes a neighborhood bad? There are certainly some red flags. If you're on the fence about an area, then take a drive through town. Aside from the obvious graffiti and broken windows, check the pulse of the community by paying particular attention to the following: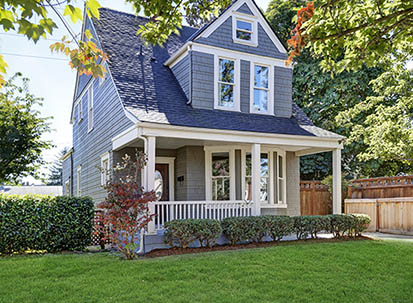 Find Your Home on RealEstate.com
Road Maintenance: You've heard the expression curb appeal. Well, this concept extends throughout the entire town. While the area might not have the tree-lined streets of an established community, you'll want to see some effort. Is the community taking good care of the roads by planting flowers, picking up garbage and removing snow in a timely fashion?
Types of Retail: What kind of stores and amenities does the neighborhood have to offer? Not to say that pawn shops, liquor stores, 99-cent stores and laundromats are bad businesses, but seeing them on every single block might be cause for concern. Ideally, you'd want to see some variety in the types of retail, from chain stores to mom-and-pop businesses. Empty storefronts should also pique your interest. One here or there might not be a big problem, but several long-term vacancies could be an indicator of poor economic health.
Town Events and Happenings: How's the camaraderie? Are local events well attended and supported? What about day-to-day activity? If you notice people outside jogging, parents pushing strollers and children playing in front yards, you can be pretty certain that residents feel safe.
School Systems: If you're at all worried about the caliber of the education system then you'll want to schedule a school tour to meet with staff. You can assess the environment and gauge the condition of the facilities and professionalism of the employees and get an inside look at the day to day.
Police Involvement: How much police involvement can you spot? Do you see police cars patrolling certain streets, and are sirens constantly going off? If you have questions about criminal activity, then it's best to call the police department and get answers.
It's also important to consider a home in the context of the area and weigh the pros and cons.
For example, my husband grew up in an old farming town out in the "boonies." The area is dotted with beautiful homes on scenic lots and offers some of the highest quality schools in the country. However, there is no grocery store and nothing within walking distance. Does that make it a bad neighborhood? Not if you value peace and quiet and a small-town community feel that focuses on education.
In our early 20s, my husband and I bought our first home in a gentrifying community north of Boston. The economy in the area was booming, with local shops and restaurants opening up left and right. The historic seaside town hosted a variety of events and offered commuters easy access into the city. On the flip side, the crime rate was much higher than that in surrounding neighborhoods and the school systems were constantly under scrutiny for underperformance. Nonetheless, we were very happy there.
Here's the thing: A great neighborhood will most likely be one that is a match for your lifestyle and a bad neighborhood is one that's out of sync. A swaggy condo in a hipster neighborhood may not be the best match for a family of five. At the same time, a sleepy suburban community might miss the mark for a single young professional.
Okay, but what if the neighborhood is truly bad?
Let's not sugarcoat the issue. What if the neighborhood is really sketchy, but the house is perfect? Ultimately, you have to ask yourself what you value more — house or location. You wouldn't be the first to choose "house, house, house" over "location, location, location." If you've always dreamed of living in a great Victorian, you might have to step outside your desired neighborhood to get the structure that you want at a price that you can afford. Just know that you may be a lonely little petunia in an onion patch if your house is the best on the block.
Here are some items to ponder:
Talk to the neighbors. What do they like/dislike about the area? Their feedback may sway you one way or the other.
Is the neighborhood up and coming? Are you confident in the market and able to handle the level of risk? Would you be financially crushed if you don't see a return on your investment?
What are your top concerns and are there ways to overcome them? If safety is your main sticking point, can you purchase security systems that will make you feel more comfortable?
If you are contemplating an offer, be a stickler on price and terms. When buying in a tough neighborhood, you may have more room to negotiate.
Consider the resale value. Whatever concerns you have will likely be issues for the next buyers. Analyze historic trends for the neighborhood: How long did properties sit on the market? How far under list price did they eventually sell?
Buying a great house in a bad neighborhood is not something you want to rule out right off the bat — or jump into without analyzing the situation from several different angles.