Saving for a down payment on the median U.S. home takes six years longer for a single person than it does for a couple, according to new research from Zillow.
The analysis also shows that less than half of all U.S. homes are actually affordable for a single buyer. And with fewer affordable houses on the market, there's more competition for those lower-priced homes.
But that doesn't mean singles can't secure their own piece of the housing market.
Whether you plan to be single for the long-term or not, what ultimately matters is that if you want to buy a home on your own you start preparing for either possibility today.
Here's how…
Check Your Credit
It's not just a solid chunk of savings that you need to buy a home, it's also a strong credit score.
Your credit score is one of the first things a mortgage lender will check when reviewing your loan application. And the better your credit score, the better the mortgage rates for which you'll qualify and the more money you'll save in interest over the life of the loan.
You don't need to stress about buying a house with a partner whose poor credit score could limit your mortgage options.
The good news is that when you buy a home on your own, your credit score is the only one you have to worry about. In other words, you don't need to stress about buying a house with a partner whose poor credit score could limit your mortgage options. The bad news is that if your credit is in iffy shape, you won't have the boost of a partner's good credit score on your side.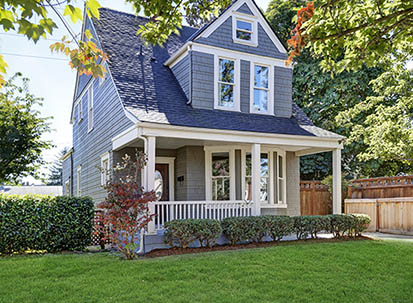 Find Your Home on RealEstate.com
Either way, it's important to get your credit in shape as soon as possible so that whenever you are ready to start shopping around for a mortgage, you'll be well positioned to get the best deal.
Here are some to-dos to ensure you get the best mortgage rates possible:
Make sure all the information that appears on your credit reports is accurate and correct any errors before you start shopping around for a home loan.
If your credit score could use a boost, consider giving yourself a few months to pay down debt and clean things up before you start the home search.
Pay bills on time, avoid unnecessary new credit applications and keep your debt-to-income ratio low by avoiding or paying down large credit purchases.
Start Saving
There's a tendency to fall into the trap of delaying savings for goals like buying a home until other life circumstances (like meeting the perfect partner) fall into place.
It's important to be realistic about the ongoing costs of homeownership so that you can not only afford to buy your home, but keep your home on your own.
The key here is to not let timing and life circumstances stand in the way of your personal priorities. If homeownership is one of your future goals, start planning now for how much you would need to save to buy a home on your own. If you meet the perfect partner in the process, you'll already be well positioned to contribute to a shared down payment.
As you calculate how much home you can afford on your own and define your homeownership savings goal, be sure to remember the added expenses associated with homeownership beyond the purchase price, like closing costs, association fees, property taxes, insurance, utilities, lawn care, etc. It adds up, and it's important to be realistic about the ongoing costs of homeownership so that you can not only afford to buy your home, but keep your home on your own.
Build Your Savings Goal Into Your Budget
Once you've gotten specific about the savings you need to afford a home down payment and build a savings buffer, break that number down into an annual and monthly savings target.
For example, if you project you'll need $60,000, and you want to buy a home in five years, you'd need to save $12,000 a year — or $1,000 each month — toward your home.
If, as you start breaking these numbers down, you find your annual and monthly savings targets are unrealistic on your current budget, consider extending your savings timeline.
When you're buying a home on your own, you're unlikely to have as many backup financing options should you experience a career disruption or an unexpected emergency. So it's important to build a bigger savings buffer than you might if you were buying a home with a partner.
Do Your Homework
Without a partner to join you in the home buying process, it's even more important to do your research and build your own network of support.
Identify homebuyer resources, like those offered through the U.S. Department of Housing and Urban Development and check out special programs like FHA loans, which may allow you to qualify for a mortgage with a lower credit score and a down payment as little as 3.5 percent.
Know your rights. For example, lenders are not allowed to discriminate on the basis of sex or marital status.
Find a real estate agent you trust. Look for someone who has experience working with single buyers who purchased homes in your price range.
Shop around. Make sure to get multiple mortgage quotes. This is especially important if you have a credit score over 740. That's when banks and mortgage brokers will be most willing to work with you.
If you are shopping around for a better quote, don't underestimate your rate savings. Even half a percentage point could save you tens of thousands of dollars over the life of your loan, so check multiple sources like banks, mortgage brokers and online mortgage lenders and try to get all mortgage quotes within 14 days of each other to minimize the impact on your credit.
Bring a friend. Just because you're buying a home while single, doesn't mean you have to go through the process alone. Bring along a trusted friend or family member for additional support. If that person has already been through the home buying process, even better!
Finally, while searching for a home, consider what might happen if you decide to relocate in the future– whether it's on your own or with a partner. Life circumstances change often, especially for singles. So if you're shopping for a home while single, you might consider looking for a primary residence you can later turn into an investment property should your circumstances change.