There's nothing quite like the emotional roller-coaster that comes along with purchasing a home. One moment you're excited, only to be completely overwhelmed the next. Even the most levelheaded and even-keeled people tend to experience the highs and lows throughout the process. What emotions might you face at various stages of the home buying process? Most likely all of them!
Stage 1: Curiosity
This is the first emotion to set in. At some point there will be a trigger that prompts you to think about buying. Perhaps it's an engagement or a baby on the way. Or maybe you're just sick of forking over money each month to your landlord. At this point, curiosity kicks in and you start wondering about what it takes to buy.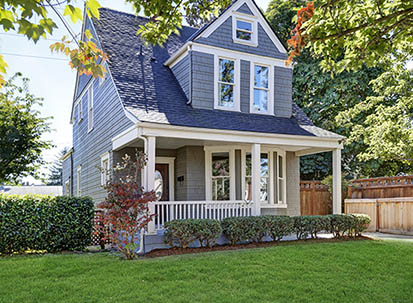 Find Your Home on RealEstate.com
Stage 2: Confusion
As your curiosity grows, you may start to seriously consider the necessary steps in becoming a homeowner. With so many resources and information at your fingertips, it's hard to know where to start. Since we aren't taught how to buy a house in school, you may be confused about where to turn or what direction to take. (Tip: Not sure where to turn? Take a look at this post for 10 Steps to Buying your First House).
Stage 3: Enthusiasm
Once you dive in and start building your team of real estate professionals, things will start to feel clearer. Bringing a REATLOR® and lender into the equation during the early stages can help determine your purchasing power and demystify the market. Once you feel armed with information, your confusion may start to subside and turn into enthusiasm. Even having just a high level understanding of the home buying process makes everything seem less daunting.
Stage 4: Optimism
As you begin your house hunt, you may be filled with optimism. The world is your oyster and the home search is full of possibilities! What will your future home look like? Where will you put down roots? You'll be anxiously awaiting the lifestyle that lies ahead.
Stage 5: Stress
But then, reality sets in. Finding the right home can be a challenge! It's hard to juggle touring properties along with your other commitments. It can get a little stressful trying to strike a balance. In fast-moving markets, you will have to do lots of schedule shuffling to fit everything in.
Stage 6: Discouragement
With housing inventory at an all-time low, the pickings are slim! Many buyers face disappointment in the market. Either they are discouraged by how little their money buys or just can't seem to find a home that accurately meets their needs due to lack of supply. If the market is competitive and multi-bid situations are the norm, it can become frustrating to put in offers and face rejection.
Stage 7: Determination
Sometimes it is discouraging or disappointing news that fuels your fire. If you have your heart set on buying, you may be ready to kick things up a notch and get more creative and aggressive. At this point you may double down and refocus your search. If and when you find a place that you like, you may be ready and more prepared to submit stronger offers than before.
Stage 8: Euphoria
With persistence, you will find a home. Receiving an accepted offer is very exciting! You will feel overjoyed, especially if you have been searching for a long time or have been holding out for "the one." Appreciate this special time!
Stage 9: Mental Exhaustion
Immediately after receiving an accepted offer, you may be hit with an entirely different wave of emotion and feel completely overwhelmed. An accepted offer is a binding contract and there are deadlines, deadlines, deadlines. There's a lot to do in terms of having a home inspection and securing a mortgage.
Stage 10: Hesitation
Even if you were overjoyed when you initially received the accepted offer, you may find thoughts of doubt creep in: Did we look at enough places? Are we over paying? Are we really ready for this responsibility? The doubt can be exasperated if your home inspection brought unexpected defects to light. Now you really might be second-guessing your decision!
Stage 11: Excitement
For most people, the doubt is fleeting. By re-examining why you wanted the house in the first place and working through the home inspection snags, you can put that doubt to rest. It's important to be confident in your decisions and by being solutions oriented you can minimize buyer's remorse and get excited about your purchase!
Stage 12: Anxiety
As your closing day approaches, you may start to get a bit anxious about how things are all coming together. There are still boxes that need to be checked off before you get the keys. Many of these items, like the title search and appraisal, are out of your control. If your financing is tight you may be on edge anxiously waiting for the bank to send the mortgage commitment.
Stage 13: Relief
Once you get the clear to close, you can breathe a sigh of relief. You can see the light at the end of the tunnel. Now you can just sit back, relax and wait for the closing day to roll around.
Stage 14: Pride
As the process comes to an end, you should be proud. Buying a house is quite the journey and one of life's major milestones. It takes a lot of saving and commands some serious attention. When the deed gets recorded and you become the official new owner, take a moment to stop and smell the roses!