When it comes to home ownership, I'm a big proponent of DIY. Home shopping and buying? Now that's a different story. While it is possible to teach yourself the ropes, most people — especially first-time home buyers — should bring in the big guns. What kind of experts are we talking about? Let's dive in.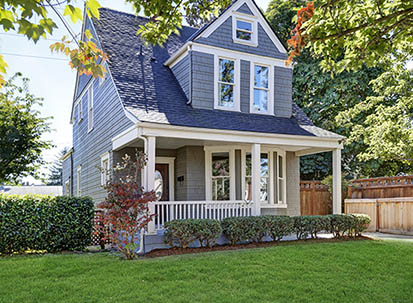 Find Your Home on RealEstate.com
Key Players on the Buy Side of a Real Estate Sale
A typical transaction includes a real estate agent, a lender, an attorney and a home inspector.
Buyer Agent
Your agent will play a critical role in helping you to identify a property and negotiate on your behalf, so it pays to take your time and choose wisely. What separates so-so from seasoned? Training, qualifications and experience are the three big must haves. For instance, real estate professionals who've participated in advanced training may have certifications in niche areas of the industry. And it's important to note that although the terms real estate agent and realtor are often used interchangeably, the latter is a designation held by agents who are also members of the National Association of Realtors® and have promised to uphold its code of ethics. Once you have narrowed in on a few potential agents, you can vet them by analyzing their recent transaction history and checking references. After you nail down your buyer agent, you can leverage his or her connections and network to help build the rest of your team.
Purchasing a home is a major life milestone and having the right people by your side can make the process a whole lot easier.
Mortgage Lender
Unless you can afford to pay cash (woot to you!), you'll likely need a mortgage to finance your home. Your real estate agent should be able to recommend a few lenders. There are several types of lending institutions, including banks, credit unions, mortgage lenders and mortgage brokers. It's always advisable to talk to a few lenders to understand their products and pinpoint the right deal for your situation. In doing so, you'll find the best rate and terms. According to the Consumer Financial Protection Bureau, half of consumers do not shop around for mortgages. Don't be one of them. Even a .5 percent shift in rate makes a big difference in the long term: close to $1,250 a year on a $250,000 loan. Beyond the numbers, you may need to search for specific programs, like government-backed loans or special first-time home buyer options. Does your lender have access to a wide variety of mortgage and assistance programs? Service is also imperative. Can the loan officer pull off everything that he or she is promising? You don't want to lose your dream house because the lender can't deliver. If you're taking out a mortgage, the lender will likely require you to obtain a home insurance binder. Home insurance helps to protect you against damage to your property. It's equally important to compare home insurance policies and providers.
Home Inspector
In most situations, once you have an accepted offer on a property, you'll have the opportunity to perform some due diligence. One way is to hire a licensed home inspector to perform a visual examination of the condition of the house. This will help you to make an informed decision before you sign a purchase and sale contract. It's best to use an inspector who knows the neighborhoods and style of homes therein. For instance, if you're purchasing a historic home in New England, it's helpful to hire an inspector who knows of, say, a Cape Cod or a Salt Box. Most inspections cover the basics and major defects present at the property that could pose a problem. Some home inspection companies can also provide tests for things like lead paint, mold and radon. Since a home inspector is a generalist, you may need a specialist to look further into certain issues that crop up. For example, a plumber can examine a potential leak and an electrician can provide a quote on updating some hazardous wires.
Real Estate Attorney
Although not required in every state, an attorney can make sure your interests are protected and explain and clarify wording in documents you are signing at closing. In some cases, the attorney even performs the title search to make sure there aren't any liens on the property. As your closing approaches, the devil is in the details. An attorney can track adjustments that need to be made to the closing documents and ensure final numbers are up to date. He or she can prepare legal documents, and in some cases facilitate the closing. With so many documents to sign and understand, having an ally who knows the ins and outs of the legal side of a real estate deal is extremely beneficial. Before engaging the services of an attorney, be sure to research requirements in your state.
Cover Your Bases
More likely than not, the seller on the other side of the transaction will have his or her own real estate agent and attorney. You can help level the playing field by bringing in your own representation.