First-time home buyers know that getting into your first home can be daunting. You may have to make some concessions. Some concessions, however, are not wise, and will lead to your first homeownership experience being unhappy. What are they?
Location, Location, Location
You may have to concede a little ground on this one, but you should be clear about what is important to you. You will probably have to delay buying in the best neighborhood, but certain elements of location are too important to give up.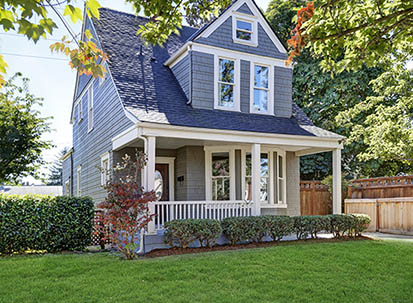 Find Your Home on RealEstate.com
For instance, don't give up living in a good school district, if that's important to you; your child may end up struggling in school, or you may end up having to pay for private school. In the long run, it could be cheaper to buy in the good district to begin with.
Don't accept a grueling commute. Spending hours driving every day just to get to work will suck the joy out of your job and your life. If you have to commute, live as close as you can to work, or live on a commute corridor where you can take a train or bus.
Whatever element of location is important to you, be firm on that. You can change a lot of things about your home, but you can't change its location.
Size Isn't Everything, But It Does Matter
Your first home is likely to be smaller than what you ultimately want. That's fine – we all start out that way. And while living in small spaces can be done with dignity and grace, sometimes small is too small. Carefully consider your space needs, and make sure you have at least enough space (in both your house and your yard) to meet your needs for a few years.
Disclosures and Reports are Important
There is a reason you are given dozens of disclosures when you buy a home. Everyone involved wants to be able to document that you have been well-informed of the condition of the property and of facts that might be material to you. Many buyers, however, in their haste to get into their first home dismiss negative information they are given as being inconsequential. Don't.
Many buyers in their haste to get into their first home dismiss negative information they are given as being inconsequential. Don't.
Read the property inspection, the pest control report and any other inspection reports carefully. Then, be realistic about what you can and can't handle. If there is a question about the foundation, for instance, how serious could it be? What might it cost to correct it? How will it impact your ability to enjoy the home for a while? Be aware of your limits, both in terms of time and money, and don't dismiss "minor" issues without investigating them.
How Healthy is Your HOA?
Speaking of disclosures, if you are buying a condominium or townhouse and you have a Homeowners Association, how healthy is it? Most HOAs are properly run and have adequate reserves for future planned expenditures, but some don't. What happens if an HOA has too little in reserve? The HOA levies an assessment on all of the units to make up the shortfall! The assessment can be a one-time charge, or more often is simply a large increase in the dues for a period of time.
In one case a client of mine was purchasing a condo in a high-rise in San Francisco. The HOA dues were listed as being $350 per month. Fortunately, we asked for a bill and the new bill was over $800! When we asked why, it turned out that they had never planned to replace the windows in the building. On a high-rise condo, you can imagine that could cost a lot. The HOA reserves were dramatically short, and they had to raise the dues for a few years to make up the shortfall. The buyer decided to move forward anyway, but at least he was making an informed decision.
An HOA assessment, by the way, becomes a lien on the property and the HOA can foreclose if you don't pay it.
Amenities
You are probably not going to get everything you want in your first home. But there will be something that you can't give up. If you love to cook, a well-designed kitchen is a must. If you love to spend time outdoors, a condo with a small balcony will not make you happy.
Figure out the most important amenities to you based on your lifestyle and circumstances, and don't compromise on those. To get that, however, you may have to be very flexible on less important amenities.
The more you focus on what is important and what is not, the more likely you will be to avoid compromising on something that will make you unhappy. Be clear, be firm and be happy!