Giving your house a seasonal makeover is easy when you have a great palette to work with. If you're big on festivities, you may want to consider your decorating game plan during your house hunt. There are many ways to assess a home's best assets, and to play them up for each holiday throughout the year.
The Ideal Yard for Decorating
Think of the exterior of your house as the main attraction. Lot shape and size is always an important factor when purchasing a home. You don't necessarily need the quintessential level, corner lot, but, do be mindful of houses that are set way back or perched on a hill. During holiday seasons, you may not get as many eyeballs on your impressive decorating skills if your home is out of plain sight.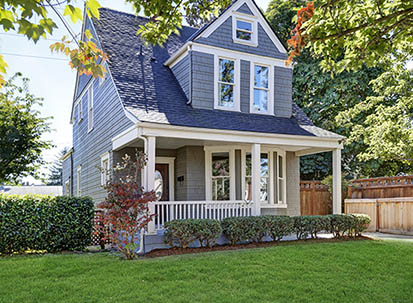 Find Your Home on RealEstate.com
If you're viewing properties in a well-trafficked neighborhood, just imagine the possibilities!
A level lawn is nice to enjoy all year round, providing an area for adults, children, and pets to play outside. It is also the perfect primer for whatever outdoor scene you'd like to create.
Who doesn't want to live in an area with lush grass and plenty of trees? Mature plantings are hallmarks of an established neighborhood and research suggests can boost your home's value. Plus, when it comes to decorating, trees provide some low hanging fruit — pun intended. You can attach ornaments to the branches or string lights around the trunk.
A nicely landscaped home shows pride-in-ownership and offers opportunity for well-placed (and tasteful) lawn ornaments. Adding a scarecrow, Santa or bunny to the front yard is a classic way of showing off your holiday spirit without going over the top.
A House with a Front Porch is Perfect
Nothing quite says home-sweet-home like a welcoming front porch. Front porches emerged in the 19th century as a status symbol when cities grew larger and families started living in individual homes. The evolution of front porches as fixtures to American homes is a unique phenomena. A good size porch is desirable, giving you plenty of space to gather with friends and neighbors. Come the holidays, the porch can be transformed into a unique landing spot for visitors.
A good size porch is desirable, giving you plenty of space to gather with friends and neighbors.
You can't go wrong by hanging lights, festoons or greenery around railings and placing decorative accents and lanterns on the stoop. Lighting also plays a key role in creating a holiday ambiance. Whether you want to place a spotlight to shine on the porch or hang festive lights you'll need some exterior outlets to avoid unnecessary extension cords.
Do Pay Attention to Entryway Design
Don't underestimate the power of the front door. The front door is a statement piece — the color and style can say a lot about you. During the holidays, the front door acts as a gateway for luring guests into your home.
As you tour properties, scope out their front doors and entryways and potential for decorating. Not all homes have entryways, and instead you walk into the main living area. When house shopping, pay attention to this detail, especially if you like to host events. Not only does a mudroom or foyer provide a place to unload and store things, it's also an ideal spot to greet guests before they enter your home.
Find Unique Home Features and Focal Points
Upon entering a home, you need to consider a wide variety of attributes. A home with interesting focal points and character are what make a property distinctive and can also be a decorator's dream.
A fireplace is a hot commodity for many home buyers and is an amenity you might enjoy. A fireplace makes an excellent focal point in a space and can be the perfect complement to your holiday theme.
Large windows are a lovely attribute, providing ample light. You can make them pop with candles, string lights and window silhouettes.
High ceilings are another desirable feature. You can play up the height by using oversized decor and/or draping decor from the ceiling down to the floor.
Even if your future home doesn't come equipped with these standout qualities, you can add your own flair after you move in. Doing some landscaping, sprucing up your front door and carving out a focal point in your family room will go along way when it comes to decorating for the holidays.
Happy House Hunting!