The world of real estate is littered with acronyms. As a buyer, you may have come across a few of the common ones: FSBO (for sale by owner), LTV (loan to value) and UAG (under agreement). Have you heard of a CMA? CMA, which is the shortened form of comparative market analysis, is not only a good acronym to know, but also an important topic to understand.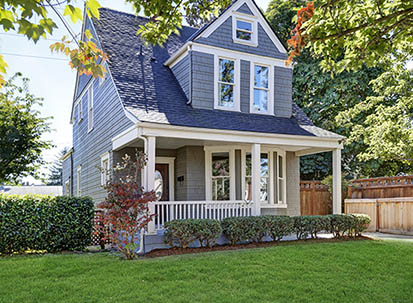 Find Your Home on RealEstate.com
A comparative market analysis is used to determine a home's fair market value by evaluating similar properties (comparable or "comps").
If you've been at the house hunt and finally feel like you've found "the one," you'll want to compare all of the comps that:
Are located in close proximity, ideally the same neighborhood
Are about the same size, condition and age
Have sold within a relevant time-frame (six months is a good benchmark)
What Does a CMA Look Like?
Most real estate agencies offer a standard CMA template for you to get started. If you are working with a real estate agent, you can sit down together to discuss inventory and to analyze recent sales in your area. A typical CMA may look something like this:
| | | | | | | | | | | |
| --- | --- | --- | --- | --- | --- | --- | --- | --- | --- | --- |
| Address | Date Sold | Days to Offer | Asking Price | Sold Price | Bed/Bath | Parking | Square Foot | Price Per SQ | Overall Condition | Notes |
| 31 Brown | 9/15/17 | 52 | 365K | 349K | 3/2 | 3-car garage | 2400 | $145 | Very good | Small kitchen. Finished basement. Gas fireplace and nice exposed beams. Walk-in closets. Next to a gas station. |
| 14 Essex | 8/1/17 | 28 | 405K | 398K | 4/2 | 2-car garage | 2650 | $150 | Fair | Lots of character, dated finishes and closed off floor plan. Roof is old. Amazing yard and pool. |
| 1 Pearl | 7/7/17 | 2 | 424K | 428K | 4/2.5 | 3 spots | 2500 | $171 | Excellent | Brand new construction and amazing kitchen. Lacked charm. No garage and small yard. |
Benefits of Creating a Comparative Market Analysis
Going through this type of exercise can be beneficial, as it will help you to think objectively about your purchase price if you plan to submit an offer.
Justify Purchase Price
Buying a home can get emotional because it's easy to get attached when you find the right place. In general, having a connection to a home is a great thing, but it can certainly cloud your judgment. Writing out the information and itemizing the data can help you to look at the facts and justify your purchase price.
Take a Second Look
Running through a CMA gives you the opportunity to reassess the property. As your touring homes, you may find that the wrong things jump out at you and influence your perception of value. For instance, I often see buyers get swept away by staging and completely overlook the fact that a house has a small floor plan. You can always hire an interior decorator to help you with furniture, but it's a lot harder to add square footage. A CMA makes these types of oversights glaringly obvious, especially when you are comparing properties side by side.
Get in Tune With the Market
At the very least, taking the time to put together your analysis will make you are a more educated buyer. When it comes to putting together a bid on a house, you don't want to shoot from the hip. A CMA helps you to understand the market where you are buying and apply logic to your decision. Looking at recent transactions will help you spot good deals vs. overpriced turkeys.
The Flaws of a Comparative Market Analysis
No CMA is perfect or fool proof. There are inherent flaws with this type of system to keep in mind.
Homes are Not Commodities
No two homes are exactly the same. Even new construction condos within the same complex can have slight differences. Although you can get pretty close, you'll never be able to compare apples to apples. This is especially true for single families as even slight differences like wear and tear and plot plans can make an impact. For example, most would consider a home on a corner lot to be more desirable than the same exact house sandwiched between two others.
Don't Forget Outliers
One of the reasons why we place so much importance on a CMA over metrics like median-price statistics is because of outliers. An example of an outlier could be a distressed property sale like a foreclosure. Foreclosures tend to bring overall pricing averages down. Other non-material factors can also influence the value of a home, causing it be an outlier to the norm. For instance, a house with a stigma — such us the scene of a major crime — may effect its sale price. On the other hand, the former home of a celebrity could possibly inflate its value.
The Market is Dynamic
One other point to mention is that the real estate market is not stagnant, and fluctuations can happen in a short amount of time. Something as predictable as the change in seasons can sway prices. Economic factors such as supply and demand play a major role as well. For example, this past spring in Boston was incredibly competitive due to high demand and low inventory. Prices shot up as buyers fought over slim pickings. Fast-forward six months and the market has corrected itself a bit. You could argue that my fall buyers may be pulling comps on home sales with inflated numbers.
Getting Ready to Tackle a CMA
The best way to put together an accurate CMA is to know the inventory. And the best way to know the inventory is to actually see the homes for yourself. Looking at past listing sheets does not give you the full picture. Marketing snapshots are meant to highlight the best features and may be misleading. How many times have you fallen in love with photos of an online listing, only to be disappointed when you see it in real life? While it's not always possible, there truly is no substitute for going out and touring properties to see them first hand. Start your house hunt early so you have lead-time to get to know the market. As you tour properties, you can collect list sheets and take notes about each place. These notes will come in handy down the road when it's time to compare your options.