One of the most exciting parts about buying a house is planning traditions in your new home — especially if you're big on hosting friends and family. But it can be hard to pinpoint a home that will work well for entertaining when many listings are vacant or missing the mark on decor. It can take some serious imagination!
A home that offers good flow from one room to the next and from the inside to the outdoors is always a big win. A solid floor plan is the blank canvas you want.
You can always sense when you're in a home that's great for entertaining, but sometimes it's hard to put your finger on exactly what makes you feel that way. As a guest you can't help but notice when a house feels exceptionally welcoming, especially when your host spent days cleaning and preparing.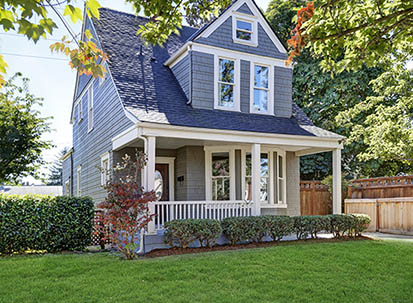 Find Your Home on RealEstate.com
What exactly makes a space great for entertaining? As you get ready for the holiday season, you may find some time to reflect on your home search. If entertaining is important to you, then here's some food for thought.
What Types of Parties Do You Like to Host?
When you're buying a new home, you'll want to think about your favorite way to entertain and find a home that can best support it. For instance, while I'd love to invite my friends over for something fancy in a formal dining room, this isn't practical because I'm a terrible cook. Understandably, my best parties are always relaxed gatherings with appetizers and lots of mingling between my kitchen and living room.
Do you like large get-togethers or are intimate gatherings around the fireplace more your style? You can really hone in by asking yourself questions like:
How many people do I usually entertain?
What social events do I like to host (cocktail hour, game night, Christmas dinner, etc.)
Would I rather host parties inside or outside?
By thinking through your options ahead of time, you'll get a better idea of the type of layouts and criteria that will be most important during your search. You may realize that having a man cave for hosting Super Bowl parties is higher on your list than you initially thought.
Scale Over Size
When someone complains about his or her house being too small for entertaining, it typically has little to do with square footage. The proportions of the home are more likely the culprits. While you don't need to have a mansion to throw a killer party, you do need to have appropriate scale when it comes to room sizes and furniture. A space that feels cramped because of low ceilings, an inadequate wall-to-window ratio or oversized furniture will not set the right tone for your guests.
Knocking down a wall between a galley kitchen and a living room can immediately give a space an open concept. While this doesn't actually increase the size of the floor plan, it certainly makes an area feel bigger and accessible.
It's All About Flow
Speaking of open concept layouts, it really is all about flow. A home that offers good flow from one room to the next and from the inside to the outdoors is always a big win. A solid floor plan is the blank canvas you want.
Focus on the Hub Areas Like the Kitchen and Great Room
Since most people gather in the kitchen and great room, this is where you want to focus your attention. Does the home suit your needs? Is the island large enough for prepping and serving food? Can you fit an adequate-sized table and seating? If the space is not cosmetically what you want, can you modify it within your budget?
Create Flexible Layouts and Multi-Use Space
Since you are not going to be entertaining all of the time, you'll want the areas in your home to serve more than one use.
Pocket doors/barn doors can be very handy and easily framed into a room. These can be opened up to accommodate larger crowds or closed to section of a smaller area.
Multi-functional furniture allows you to do some reconfiguring – think sectional couches and tables with leaves that pull out.
Window seating and benches will give your guests a place to relax and also double as storage units.
Bring the Outdoors In and the Indoors Out
Don't forget about your outdoor space. Sliding doors off the kitchen or living room that lead to a deck/porch can create an easy transition outdoors. In fact, you might find some untapped entertaining potential outside. If you like to BBQ, perhaps you can create the patio or outdoor cook area of your dreams.
It's All About the Experience
Good entertaining is about creating an experience for the senses. As you're house hunting, think about how the home will influence the experience (for you and your future guests). Will the experience be a positive or negative one? Does the house offer interesting sightlines? If you listen, do you hear any strange noises coming from the street? Are there any odd smells, like mold?
As you walk through properties, look for ways to add pops of fun. Is there a place to add a cozy fireplace? Is there a nook for a bar and wine fridge? Is there somewhere for the pool table? Could you add a surround-sound system to the living room and dimmable lights for ambiance?
Just like party planning, finding the perfect entertaining house can be a little stressful. Don't forget to have fun and enjoy the process.