Earlier this year, a survey published by SunTrust Mortgage confirmed what we all already know: Most of us are obsessed with our dogs. Pet owners these days are pulling out all the stops to make sure their animals are taken care of. From gluten-free diets, to doggie daycare and stylish sweaters, our pets have never been better fed or (better dressed)!
Thirty-three percent of millennial-aged Americans (18-36) reported pet-friendly features among their top list of factors that influence their buying decisions.
It's no surprise that young home buyers are prioritizing their canine's needs when making a purchase. According to the survey, 33 percent of millennial-aged Americans (18-36) reported pet-friendly features among their top list of factors that influence their buying decisions. In fact, dogs ranked among the top three motivators for first-time home purchases, trumping marriage or the birth of a child.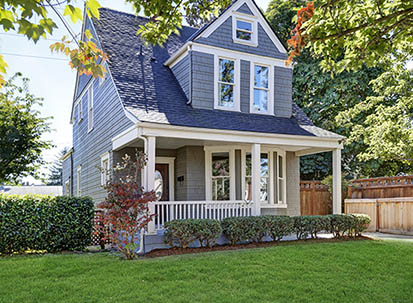 Find Your Home on RealEstate.com
As a dog owner, I can totally empathize with my fellow millennials. At least once a day I question whether I should move out of my 750-square-foot condo and give my dog the yard she's always wanted.
Since our pets have so much power over our purchasing habits, are their certain things we should be thinking about during our home search to cater to them? You bet!
1. Get the House Up to Snuff
If you have a pet or are planning to get one soon, there are a few things you can look out for during the house hunt. Most importantly, be mindful of any potential hazards.
If the house is located on a busy street, you may want to budget for a fence to keep the yard safe and to help prevent any accidents.
Ponds and pools can be a great feature, but make sure there's a way for the animals to get out if they fall in.
Do a quick assessment of the gardens and landscapes to see if anything needs to be replaced. Some common plants (such as ferns and daylilies) and mulches cause allergies and are even considered poisonous if ingested by animals.
Get a list of any pest control products being used at the house, as these can also wreak havoc if swallowed.
In older homes, check for lead paint on the interior and exterior of the property, as animals are drawn to the sweet smell and taste of trim that contains lead.
Check the windows and screens to make sure nothing can fall through. If you are concerned, you can add attractive bars to the windows.
Other things do consider:
Do you need a tub for washing or will a shower work?
Can your pet handle stairs? If not, is that something than can be compromised?
2. Be Careful with Condos
If you're considering a condo, be sure to ask if the homeowners association (HOA) has restrictions on pets. The HOA governs the rules and regulations of the complex or community. Certain restrictions could be a deal breaker. I've seen all types of limitations. I've encountered associations that flat-out deny any and all animals from being on the premises. Others try to control the situation by placing a weight or size limit or by restricting certain breeds. Some pets are permitted by approval only, meaning you would need to submit paperwork for your animal to be approved by the board of Trustees. In addition, most condo documents include language around pet policies to keep everyone in line. For example, animals must be leashed in all common areas and no animals can be kept for breeding purposes, etc.
There is a chance that you could negotiate with the other unit owners and sway them into making changes to the pet policy. This is usually more feasible with a smaller complex than a larger building as there are less layers of red tape. Ideally, you would want to have the condo docs amended to reflect any changes that were agreed upon by you and the other trustees. At a minimum, you should put everything in writing.
The bottom-line is: Don't assume your building will make an exception to accommodate you and your pet. You could run into trouble with your association for breaking the rules.
3. Scope Out the Neighborhood Pet Hangouts
Some communities are more pet friendly than others. You can get a feel for the neighborhood by driving around and keeping your eyes peeled for other pet owners. Do people seem to be walking their dogs? Do you spot outdoor cats roaming around? Try and strike up a conversation with locals about the pet scene. Is there a local dog park or any hiking trails to off leash? Some neighborhoods have well respected doggie daycare facilities and tech-savvy walkers who provide GPS tracking of your pet's daily walk. You can do some research online to find the closest pet store, groomer and vet and read up on their reviews if these are services you plan on frequenting often.
4. Check the Local Animal Codes
For the sake of due diligence, you may want to consider contacting a few departments at the town or city for current codes regarding animals. For example, the Department of Public Health and Safety should be able to provide you with a list of rules regarding pet clean up and leash laws.
House pets, like dogs, cats, birds, small reptiles and rodents, are usually a-okay; the town or city may have a limit to the total number of animals allowed in a single dwelling. If you'd like to house farm animals, even a couple of chickens for fresh eggs, you may have to seek additional approval.