Owning a home is the American Dream, right? But is it your dream? Some personal finance authors argue that our happiness depends not on how much money we have in the bank, but how well our spending aligns with our values — spending on what's really important to us.
Should I Buy a House?
Let's start with the most basic question: Why do you want to buy a home? Is it actually your dream, or that of others? The most common financial reasons most people cite are the long-term equity appreciation and the tax benefits. The common emotional reasons first-time home buyers cite are stability and the satisfaction of pride of ownership.
Are these things really important to you? If they are, that's great! We hope you'll consider that carefully, however, and that you aren't just buying someone else's dream.
Ask yourself if the home and its amenities truly reflect what is important to you. If not, you might be happier in the long run waiting for the one that best reflects your values.
Knowing it's time to buy is only the first step; knowing exactly how owning a home will serve your happiness is even better.
Here is where first-time home buyers often go wrong. In the excitement of seeing the dream of homeownership within reach and the stress of searching for that home in a tough market, buyers sometimes buy a home — the largest purchase they'll ever make — without really thinking through what will make them happy.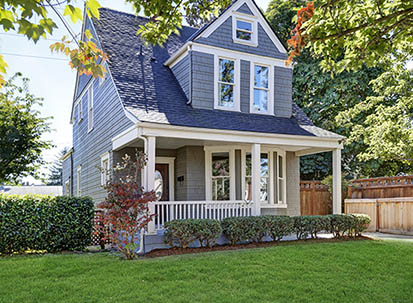 Find Your Home on RealEstate.com
To avoid this, ask yourself if the home and its amenities truly reflect what is important to you. If not, you might be happier in the long run waiting for the one that best reflects your values. What does that look like?
Identify Your Values and Prioritize
Before you get serious about offers, identify what will make you happy. To do that, identify the values that are important to you when it comes to your home. What do we mean? Look for a home that serves what is most important to you.
For instance, perhaps you believe that making sure your children get a good education is the most important thing. In that case, a great school system would be the most important value. Or if you love to travel, keeping your monthly housing cost low enough to still afford travel could be the most important element. Here are some value statements — personal beliefs that drive satisfaction — that might trigger your own thoughts:
Our children need good schools.
Our payment must be affordable.
To spend more time with family we must live close to work.
We want to live in a city close to nightlife.
The opportunity to build sweat equity is important.
We love to entertain.
We love to cook.
You get the idea. Write down everything that comes to mind until you've exhausted your inventory of your own beliefs or values. Then, together with your spouse or partner (if you have one), pick the three to five values that are "must-haves."
These are your priorities. If you want to be happy for a long time in your new home, look only at homes that satisfy those values.
According to the National Association of Realtors, the length of time people stay in their homes has increased from six years prior to 2008 to nine years after 2010. So you want to like your home.
Get Your Agent on Board
Finally, communicate your results to your real estate agent. If keeping your housing cost low is important, don't let your agent show you homes that cost more than you want to spend — because they will be tempting! If spending time with your family is important, you want a short commute. Don't let your agent show you homes far from your employment, even if you can buy "more house" that way.
The important thing is, know what is important to you. This will be the largest purchase you ever make (until you move up) and you will live with it for a very long time.
It's easy to be mesmerized by shiny baubles. You will see homes that don't really match but are so well staged you'll love them. Don't get distracted! Keep your list handy until you find a home, and stick to your plan. You will thank us later.