Photo source: constellationatx.com
According to a new report released in July 2018, the National Association of Realtors reports that existing home sales hit a five-month low in June across the nation. The culprits won't surprise you - they include low inventory and lack of affordable housing. Home prices continue to rise, meanwhile, mortgage rates appear to have stabilized - at least for now.
According to the report, housing inventory (existing homes listed for sale across the nation) increased by 4.3 percent year-over-year, the first yearly increase reported in three years. However, at the current pace of sales, the existing inventory would be exhausted in 4.3 months; 6 months is considered to be a normal market in balance.
"Home" for today's first-time home buyer still means roots, stability, security and a place to nest, but no longer means an endless list of honey-dos that take up the weekend.
So, while prices rise and inventory remains relatively low, affordability becomes an even more serious issue. What to do?
Some developers are tweaking ideas that were used in the 1980s, another time when affordable housing seemed out of reach. An article from the Urban Land Institute spotlights some of the more interesting ideas.
Smaller Homes, Common Amenities = More Affordable Housing
To make homes more affordable while still providing the amenities home buyers want and locations close to work, developers are returning to smaller, more efficient homes on smaller lots (or no lots at all) and using common community amenities, such as a pool and clubhouse. "That sounds like a condo," you say? Yes, but not every condo has to look like a multi-story apartment building.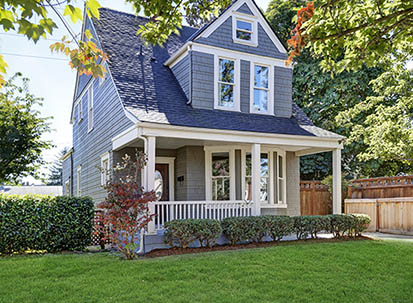 Find Your Home on RealEstate.com
One development in Austin, Texas, offers traditional detached homes as small as 1,000 square feet. Lots are smaller, too, and the front yards are landscaped for you and maintained as part of your monthly dues. The community includes a park, pools and bocce courts, among other things. Yes, these are condos, but not your father's condo.
A Fit for the Millennial Lifestyle
The new trend fits nicely with the way you and other millennials manage your lives. While Baby Boomers tended to have medium-sized families and start early, you and your peers are starting families later and having fewer children. Most Baby Boomers went to work for a corporation and either stayed in one place or job-hopped at most a few times during their careers. You and your peers tend to stay in one place for less time, moving on for better opportunities.
No one can deny Baby Boomers (or especially their parents) worked hard. Your generation works hard, too, but often works insane hours, as high-tech employers offer free food and all the services you need right at work.
(If you worked at Facebook's new campus, would you ever need to leave?)
A small home with communal amenities and built-in yard care, therefore, works very well for the new first-time home buyer. "Home" for today's first-time home buyer still means roots, stability, security and a place to nest, but no longer means an endless list of honey-dos that take up the weekend.
Work and Commute
But if your generation needs to be available for long, grueling hours at work, you want to at least minimize the commute time. The new all-inclusive communities are often located right on commute corridors, rail or bus lines, or sometimes — as is the case with Facebook and Google — in a company-developed village.
Affordable Housing Challenges Abound, But So Do Creative Solutions
Still, there are challenges to the development of affordable housing alternatives. Land costs have risen in the last 10 years, regulation has increased along with costs and there is a severe labor shortage in the U.S. right now. In the next few years, the successful developers will be the ones who can deliver what first-time home buyers want at a price they can afford.
Homes in modules can be easily attached to each other once on site to expand the living area.
Enter the new manufactured home. Like the condo, it's not your grandfather's single-wide. Instead, these high-quality homes are built in factories, and then delivered and installed on land that you own (usually in a community.)
Even better, innovative companies are offering these homes in modules that can be easily attached to each other once on site to expand the living area. One startup is experimenting with detachable roofs and walls so that modules can be added later on down the road. Using this technology, you can get in to the real estate market sooner with a small one-bedroom home, and add bedrooms, baths and other rooms as your family grows, or as you can afford it.
When it Comes to the Housing Market, Change is the Only Constant
You are not of the first generation to deal with affordable housing challenges. Your grandparents and parents did, too, and they had to come up with creative solutions as well. Today's developers are responding to the challenges with solutions that fit your generation's lifestyle and address the need to make housing as affordable as possible.
Maybe you're not as far away from your first home as you think.