Autumn: Are you ready for it? The return of the beloved pumpkin spice latte is just the beginning. Don't we all just want to hop in a car, hit the road and head way out in to the country somewhere? Maybe a weekend getaway, deep in the woods, where a cozy log cabin awaits. Sipping some wine or hot cider on the front porch or by a roaring fire sounds pretty sweet right about now, right?
Whether you're seriously in the market for a cozy log cabin or just daydreaming about where you'd like to be when the weather turns chilly (instead of at work, right now ... yeah, we feel you), this collection of log homes for sale is sure to make your day.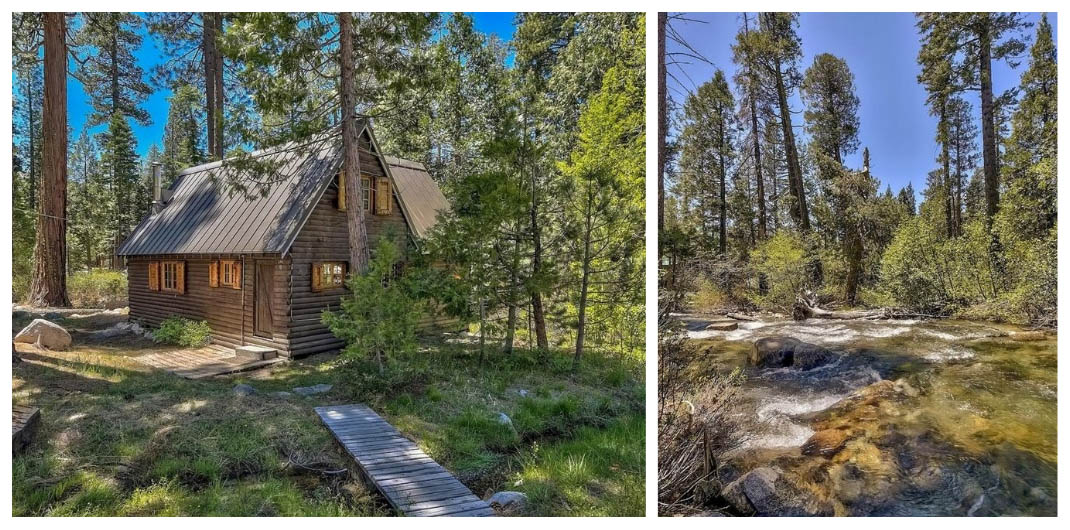 Twin Bridges, California
This cabin, circa 1936, is surrounded by acres of the most beautiful woodlands in the Sierras. A creek meanders through the property, which itself is owned by the National Forest Service. A wood-burning stove is sure to make interiors cozy, and there's plenty of space to accommodate more than a few overnight guests (who will show up on your doorstep when they find out you've bought this place). Learn more about this California post-and-pier cabin.
Carlton, Washington
This rustic cabin sits on 36 acres of land, and that plot is surrounded by thousands of acres of state land, which basically means: You're out in the middle of nowhere! The home, located in an area that once served as a Texas Creek stagecoach stop, comes with a wood fireplace, solar panels and a terraced garden. Learn more about this waterfront log home in Washington state.
Mackay, Idaho
This home is fairly new (built in 2007, matter of fact), but features genuine log cabin construction throughout. Hand-hewn logs were used to build the exterior siding as well as the interior perimeter walls. And did we mention the views? Nestled in a little valley not far from Sun Valley, the home sits atop 40 acres, through which a creek runs. Learn more about this two-story Idaho cabin.
Meeker, Colorado
Like a few of the homes included in this lineup, this cabin sits on National Forest Service land. So you're buying the cabin only and paying an annual lease fee to the service. Which means … you're going to have to pay cash or finance the purchase of this place with a personal loan. But it might just be worth it. The cabin is located inside the White River National Forest, which means NO ONE is going to bug you, and although built in 1953, the home has been lovingly updated throughout the years. Learn more about this mountain-view Colorado cabin.
Tererro, New Mexico
If the prospect of seeing deer and elk grazing in your backyard psyches you, this home is probably pretty much your dream come true. Here's why we love it: It's built by a pretty famous log home builder (all Northern white cedar, guys), it sits on the Pecos River, which means all the fishing you'd ever want to do, and it comes with mineral and water rights — gem mining or gold panning, anyone? Learn more about this two-story New Mexico cabin.
La Grange, Texas
This place will make you feel worlds away even though it's a short drive to all the modern-day necessities. Currently being used as a bed and breakfast, this property definitely as some income potential. And we're not sure what we like most: the cool one-room log cabin next to the main house or the pavilion, which doubles as an outdoor dining/grilling area and evening gathering place — complete with fire pit. Learn more about this two-bedroom Texas log cabin.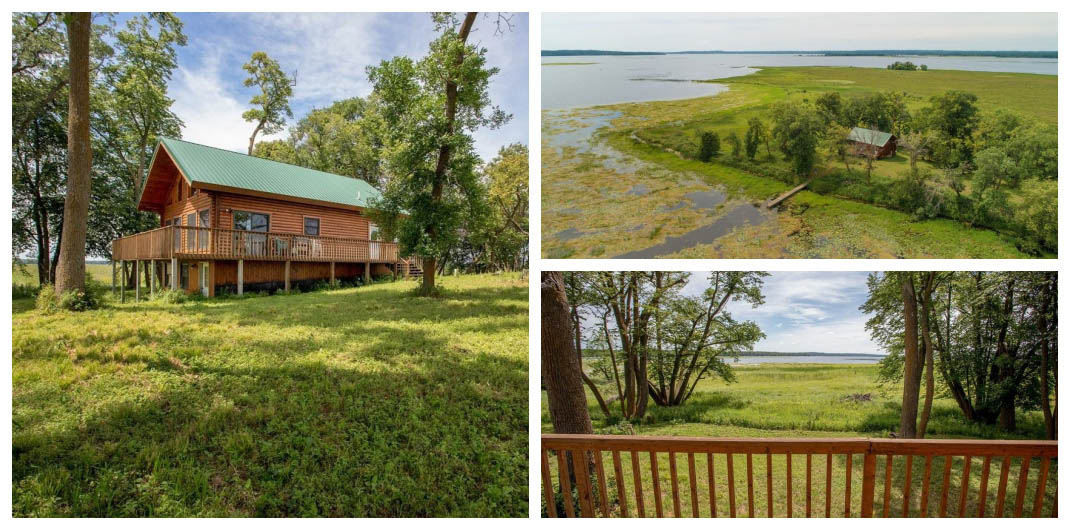 Walker, Minnesota
Leech Lake is a sport fishing hot spot in north central Minnesota. And smack-dab in the middle of the lake's Steamboat Bay is Minnesota Island, home to this recently built log cabin. The home comes with 45 acres of perfectly private land and is an ideal getaway from someone who enjoys fishing, duck hunting or just kicking back, relaxing and enjoying breathtaking views for a few days.
Shell Knob, Missouri
Located in the lake resort area of Shell Knob and surrounded by the Ozark Mountains, this property (40 acres, give or take) features everything from pastureland to a meandering creek and spring. And the icing on the cake? A circa-1903 log cabin, which has remained untouched. It's next owner has the opportunity to transform the two-story structure (with original rock fireplace!) into a fully functioning home. Learn more about this rustic Missouri log cabin.
Savanna, Illinois
The shell of this home is a circa-1837 log cabin. In 1997, the historic structure was completely revamped, using a variety of reclaimed materials, including wood salvaged from a nearby granary and harvested from an old oak tree felled by a storm. The true gem of the home is the massive fireplace, fashioned from a collection of unique stones, plus fossils, iron ore, flint and stalactites. Learn more about this unique Illinois log cabin.
Nashville, Indiana
Doesn't this log cabin look like it's stood on its foundation since the Revolutionary War? Nope. The home was built in 1995 and is large enough to accommodate a few generations in the same family. We especially like that the home features a geothermal heating and cooling system, and a guest cabin (more like a tiny home) on the property can be rented out or serve as a playhouse for little ones. Learn more about this two-story Indiana log cabin.
Alderson, West Virginia
If your dream has always been to own a farm and raise some livestock or plant an orchard, this place might be for you. What do you get for your money? Almost 70 acres of land on Muddy Creek Mountain, a circa-1870 meticulously maintained log cabin and probably the most spectacular pastoral views in all of the state. Learn more about this mountaintop West Virginia log cabin.
Hartland, Vermont
Imagine being snuggled up in this cabin, enjoying cider by a roaring fire, or strolling the grounds, shaded by a canopy of cinnamon-red sugar maple trees. This home, built in 1955, sits on over 13 acres of land and will feel worlds away, even though it's a quick 10-minute drive away from the charming New-England-at-its-best village of Woodstock. Learn more about this Gavin Hill log cabin.
Hayesville, North Carolina
Last but not least, we land in the state of North Carolina and this cozy little cottage. What makes it so magical? It's located in the mountains in the southwestern part of the state (you're living at an elevation of above 3,000 feet!) and your front yard looks out onto the Nantahala River. So whether you like to fish or just float along in an innertube, you'll love this place. Learn more about this North Carolina mountain cabin.