With everything involved in buying a house, it can feel like you'll never get to the finish line. The good news is that once you sign the paperwork, most of the hard stuff will be in the rearview. However, you're not out of the woods just yet! Before getting completely settled in, there's a small checklist of tasks to be completed in the days and weeks after buying house.
Celebrate
Buying a house is a big deal! While it may not be as fun as a wedding or graduation, it's still something worth celebrating. Take a few moments to relish in the accomplishment, whether it's a lunch out after your closing or a housewarming party with your friends and family.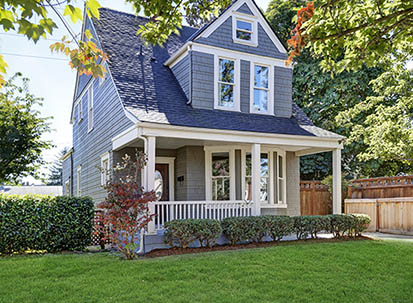 Find Your Home on RealEstate.com
Change the Locks
After all the anticipation, you'll be thrilled to finally get the keys to your new place. First step: Get those locks changed! Since you never know whom the previous owner dished out keys to, it's best to put in new locks ASAP. You can make a trip to the hardware store and do it yourself, or hire a locksmith to get you set up. If your new home has a garage, you'll also want to reprogram the code.
Set Up Your Utilities
If you haven't already transferred the utilities into your name, now is the time. There's a whole host of companies to call, including the local electric and gas suppliers as well as the water department. In some areas, your property may also be served by municipal sewer and trash pick up. Separately, don't forget about cable/Internet and any other services you desire, like a home security system.
Contact Maintenance Providers
It can take an army to keep a house looking and running in tip-top shape. If the previous sellers outsourced any of the maintenance work, like landscaping, snow removal, pest control and cleaning, you'll want to be sure they tie up any loose ends with these contractors. If you're interested in continuing services, you can request a contact list from the seller during the change of ownership.
Do a Deep Clean
It's rare to find yourself in a situation with a vacant home. It's the perfect opportunity to deep clean the property and get into all of the nooks and crannies before moving your things in.
Make Repairs
You may also want to take advantage of having an empty house by tackling repairs and projects. Some projects, like refinishing floors and painting, are a lot easier to check off the list when you're not working around furniture and boxes.
Find Your Water Shut-Off Valve
As a homeowner, you always want to know where your main water shut-off valve is located, as it controls the flow of water into the house. If you ever find yourself in an unfortunate situation where a pipe bursts, you can't stop a leak or you're updating some plumbing, you may need to cut the water supply off to the entire house from this source. The valve is typically found in the basement, on an outside wall or in a utility room.
Update Your Address
One of the more administrative heavy tasks associated with moving is updating your address. It can take awhile to catch all your friends up to speed on the change and to alert all of the institutions that send you information by mail. Half the battle is submitting the address change through the post office to get mail forwarded to your new location. At a minimum, be sure to alert your place of employment and creditors so that you don't miss a check (or a bill!).
Purchase a File Cabinet
Even in a digital world, many of your bills and important community announcements will be sent to you by mail. You may want to invest in a file cabinet to keep all of your housing-related documents organized. The first thing you can file away is the pile of documents you signed at the closing table. Over the years, you will want to track things like contractor proposals, permits, and invoices related to home improvement projects. These may all come in handy down the road when you go to sell.
Keep Tabs on Your Mortgage
In the months after you purchase your home, you may receive a notice from your lender that your mortgage has been sold to secondary market investors. Mortgage originators often sell loans off to build back their funds to serve new borrowers. If you receive a letter in the mail, be sure to contact your mortgage originator and confirm that your loan has been sold and that the letter is legitimate. Scammers are everywhere; it's always smart to check before submitting your payment.
Apply for a Homestead Tax Exemption
Some states and counties offer homeowners a homestead tax exemption, which can help reduce your annual property tax bill. There may be certain parameters and deadlines for you to meet in the application process, so reach out to the tax assessor sooner rather than later to get your ducks in a row.
Meet the Neighbors
If you purchased a home in a close-knit community, you can expect a few visitors and some bunt cakes. If your neighbors are a bit shy, you may have to make the first introduction.