Many first-time home buyers today find that they need to give up a little space to get into their first homes. Sometimes, that means having fewer bedrooms than you might want. Don't despair. Remember, your grandparents often grew up living four or more people in a very small house. If they are not around to offer advice, try some of these ideas that will make a home with fewer bedrooms work for you.
How Many Kids Can You Fit Into One Bedroom?
Those of us who grew up in large families are all too familiar with bunk beds. Using bunk beds for two children to a room was common. Two bunk beds for four children was not unheard of, and a great way to teach children how to get along with each other. Or not.
Dual-Purpose Rooms
If you have enough bedrooms but need to use one as an office, consider a new variant on the old Murphy bed idea. A Murphy bed doubles nicely as an office desk when stowed in the up position against the wall. They are cleverly designed so that when you bring the bed down the desk and shelves (and everything on them) remain level and are stowed under the bed for the night. Be aware that they do need skilled installation to be secure. Let the contractor who sells you the bed install it unless your skill level is very high. You can find these online or at home shows everywhere.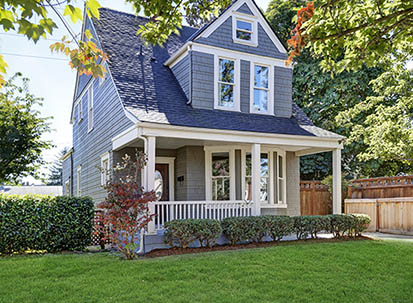 Find Your Home on RealEstate.com
Use Furniture to Create a Bedroom
If you have a den without a closet, an armoire will turn that den into a very functional bedroom. Most armoires today include drawers, so your armoire acts as both a closet and a chest of drawers.
In a pinch, you can even turn extra living space into a bedroom with this trick. A temporary partition and a Murphy bed could turn a corner of your living room into the extra bedroom you have to have.
If none of these alternatives work, you may have to expand your home. Take heart — there might be an inexpensive and easy way to do this.
Converting Existing Space
For generations, Americans have been using their garages as extra living space. Put images of your man cave out of your mind; this space makes an excellent large bedroom for two or more kids, or as a large in-law quarters. Garages are super-easy to convert, since they are already framed, have a floor and are usually wired for electricity. At most, you'll need to build a partition to close off the garage door, install Sheetrock throughout, lay down some carpet and add a heater.
Moreover, garage conversions are extremely easy to remove when you no longer need the space as a bedroom or living area, and then you are left with a nicely finished garage with Sheetrock.
Garages are super-easy to convert, since they are already framed, have a floor and are usually wired for electricity.
Many homes have enough room in the attic to build sleeping areas. Often the ceiling height is below standard, the walls end up rarely being vertical throughout and rather than conventional stairs, you may have to use a circular staircase or a ladder. However, kids tend to find those sorts of things not only acceptable, but fun. Here you'll usually have to add electrical capacity, some sort of heat source and at least a couple of windows before installing Sheetrock and flooring, so it might be a tad more expensive than a garage, but don't dismiss it. Your kids may love you for it.
In areas where homes have basements, this area can also be very useful. Basements typically already have electrical service and often even have plumbing available for laundry or mechanical components such as a water heater. Consequently, they are very often used for in-law quarters or living space for teenagers, and increasingly, millennials.
Thinking Outside the Box — Literally
Finally, if you need to get really creative, buy a travel trailer or an RV and park it in your driveway. If you think we're joking, we're not. In uber-expensive California, homeowners are increasingly using this creative way to expand their living area without having to bear the cost of expanding their homes or buying larger ones. For extended family, this works great, as two separate families can share a property without getting too much in each other's way.
Do check with the city or county zoning department first, however. Many cities ban storing RVs in suburban tract areas unless they are behind a fence and not visible from the street.
If you are looking for your first home and can't quite wrap your mind around scaling back your requirements for number of bedrooms, re-think your needs and see if these time-tested ideas might make a home with fewer bedrooms work for you.