Real estate is just as much a people business as it is a housing business. Sometimes buying a home can feel like you're part of a sitcom. There's no shortage of characters and the whole experience can be downright entertaining. Here are a handful of the folks that you're likely to cross paths with throughout your home buying journey.
1. The Open House Junky
Some are so enticed by open houses that they just can't stay away. There's always that person or couple who seems to be at every open house that you're at. Wait, are they following you? At first, you might mistake the open house junky for your competition, ready to fight tooth and nail over your dream house. They may seem genuinely interested in the property, but they aren't actually in the market. Fear not, open house junkies are never going to buy, but they sure love to look.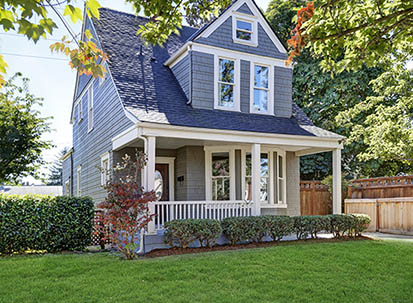 Find Your Home on RealEstate.com
2. The Old-Timer Agent
There are a bunch of young whippersnappers in the real estate world, but still plenty of seasoned professionals. The Old-Timer Agent has been in the business since before you were born and has a preferred way of doing things. These relics have a mental Rolodex of sales history for every home in your neighborhood. They remember when you could buy a brownstone in Manhattan for under $100k and probably sold it. The old-timer ggent bakes a mean cookie for open houses, but still wants you to send your purchase documents by fax.
3. The Inspector Gadget
Having your home inspected is an important part of the buying process. Most home inspectors take their investigative work quite seriously. Even with a newly constructed house, there's always some dirt to dig up. When you're paying upwards of $500 for the service, you want a darn good detective.
With all of the latest tools, it might seem like your inspector is half man, half machine. Need to see if that old wiring is live? Is that watermark from a recent leak? Watch as your inspector whips out a high-tech gadget to assess the damages.
4. The Money Mogul
When it comes to securing financing, there are countless loan programs to explore. As you shop around for options, you'll likely come across someone who seems like a legitimate lending wizard. Not only can the money mogul determine down payment amounts faster than a calculator, but he or she seems to have tabs on ALL things financial and real estate related. Don't be intimidated by MMs. The money mogul is a great person to have on your team, so long as he or she is able to deliver on the promised mortgage rates and terms.
5. The Well-Intentioned Naysayer
Once you find the right house, you're bound to bump into someone who doesn't want you to buy it. The well-intentioned naysayer is often a parent or friend who has your best interests at heart, but doesn't always understand the rational behind your intent to purchase. This is the person who makes you second-guess your decision. The good thing about well-intentioned naysayers is that you can bounce ideas off them. The bad thing: You may not see eye to eye.
6. The Omniscient Appraiser
An appraisal determines the fair value of your future home and is an important part of your mortgage process. Like the great OZ, the omniscient appraiser works behind the curtain. Tasked with knowing the local market inside and out, his or her findings can make or break your purchase. Despite the appraiser playing an essential role in your financing, he or she is someone you rarely meet in person. Of course, this only adds to the mystery that is the omniscient appraiser.
7. The Intrusive Underwriter
What's your age? Are you single? Do you have any kids? Suddenly getting a mortgage feels an awful lot like a blind date. During the final stages of the loan process, your file will be submitted to underwriting and things can get a bit intrusive. Not only does the intrusive underwriter need to examine everything about your financial situation, this person needs to know a fair amount about your personal life, too. You may be surprised by the information that the underwriter uncovers.
8. The Eager Paper Passer
In every real estate transaction, there's at least one person knee deep in paperwork. The eager paper passer (or EPP) is likely your closing agent. The EPP has a level of enthusiasm towards doing paperwork that you didn't know was humanly possible. In fact, the person seems to get some sort of high from double checking signatures and sifting through forms.
9. The Sappy Seller
If you're purchasing someone's family home, get ready to meet the sappy seller. Selling a house brings up a lot of emotions and can be bittersweet. If you get a chance to meet the seller, don't be surprised if there's some waterworks as the person reminisces on all of the good times and memories.
10. The Nosy Neighbor
You've finally closed on the house and before the moving trucks are even parked, the next-door neighbor is at your entryway with a Bundt cake. Every street seems to have a "Mr. or Mrs. Neighborhood," the person who prides himself on knowing all of the latest gossip. While overbearing at times, the nosy neighbor can be your best ally, especially as a newcomer. It's always nice to have a neighbor who can show you the ropes and get you the inside scoop on the town. Plus, you never know when you'll need to borrow a tool or some sugar.