By the time you go to sell your first home, there's probably nothing you can do about uncontrollable forces that are driving down your home's value (sucks, truly). A better strategy is to keep your eyes peeled when you're shopping for your first home. Keeping these six things in mind will help you avoid purchasing in an area where outside influences may affect the future value of the new home.
1. Foreclosures
If one of your neighbors experiences a foreclosure, it will drag down the value of your home. If that home is within 250 feet of yours, count on losing 1 percent of the value of your home, according to a 2010 Massachusetts Institute of Technology study.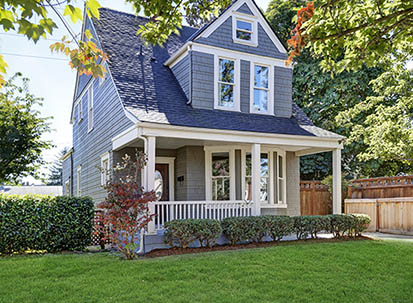 Find Your Home on RealEstate.com
Although that sounds puny, let's take a look at it in number form. One percent of the value of a $300,000 home is $3,000. Through no fault of your own, a neighbor's foreclosure may cost you several thousand dollars when you sell your home.
2. Sexual Predators
There is nothing you can do about who chooses to move into your neighborhood. If that new neighbor happens to be a sexual predator, listed in the database on the National Sex Offender Public Website, the value of your home may be reduced by 9 percent and the home may take 10 percent longer to sell than a home that doesn't have a sexual predator living nearby, according to a study published by Longwood University.
If you are looking at homes for sale, check the government's website to ensure that no one on the registry resides nearby.
3. Over-Improving
Since your house's value is based on the sales price of comparable homes in the area, owning the most expensive home or over-improving your home may impact your home's value.
The best improvements you can make to a home to increase its market value are cosmetic, but if you already own the most expensive home on the block, you most likely won't recoup any of that money when you sell. Make sure your renovations don't place your home's value any higher than 10 percent of the average cost of homes in your neighborhood, according to Zillow.com.
Most experts agree that homes near transit corridors that don't have direct access to the corridor decrease in value, while those with direct access increase in value.
4. Location
Before purchasing a home, it's important to know what the city planners have in store for the area. A power plant has a significant impact on nearby homes, according to a joint study by Princeton and the University of California at Berkeley. The study shows that when a plant opens, home values decrease by 11 percent within a half mile radius of the plant.
Move into a neighborhood near a high-volume landfill and your home loses 13.5 percent of its value compared to comparable homes not similarly located, according to a study by Montana State University professor Richard Ready.
5. Transit Corridors
Whether a home that is near a transit corridor, such as a subway station or freeway, loses or gains value depends on several factors.
Overall, most experts agree that homes near transit corridors that don't have direct access to the corridor decrease in value, while those with direct access increase in value.
One aspect the experts find it hard to agree on is how much a home's value is impacted, with ranges between 3 and 45 percent, according to the Center for Housing Policy.
6. Open Space
Homes near parks and open space may be more valuable than similar homes not near these features. In 2007, John L. Crompton with Texas A&M University's Department of Recreation, Park and Tourism Sciences, wrote about what he calls "the proximate principle." This principle states that "the market value of properties located proximate to a park or open space (POS) are frequently higher than comparable properties located elsewhere."
He also found that the type and condition of the park or open space influences the amount of value added to the home, with actively used parks actually causing a decline in value. Those parks and open space areas that are not used frequently generate the most in added-value to properties nearby.