There's no denying my sweet spot for old homes. Having owned houses built in the 1700s, 1800s and early 1900s, I've always been drawn to the charm of centuries-old architecture. Purchasing an older home, specifically one with historic significance, has many benefits, but also some major drawbacks. Before you jump on the old house bandwagon, there are a few major points to consider.
Buying a Historic Home: Pros
There are many perks of owning a slice of history, most are sentimental and difficult to quantify financially. However, there are a few monetary advantages, too.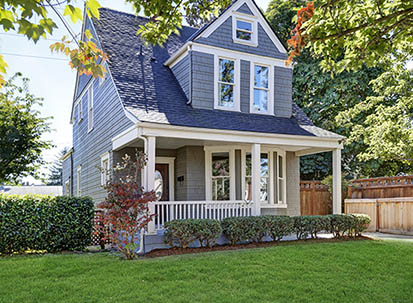 Find Your Home on RealEstate.com
Pride in Ownership
The value in buying a historic home is hard to measure in dollars and cents. Every property is unique, but historic homes can truly be one of a kind. If only walls could talk! Some houses were landmarks or built for prominent figures from the past and that alone can give you a sense of pride and stewardship as an owner.
Unique Details
Construction has surely evolved over time, and it's almost impossible to replicate the charm of yesteryear. The expression "they don't make 'em like they use to" certainly rings true. Some of the building materials found in older homes may not be the most practical or energy efficient by today's standards, but the craftsmanship can give a property some serious wow factor.
What Makes a House Historic?

Historic properties, as classified by the National Register of Historic Places, are structures (at least 50 years old) that look very much like they did when first built and are associated with events, activities or developments that were important in the past.
Property Value
Homes in neighborhoods with historical designations tend to hold their property value. Houselogic reports that a sample of 20 historic districts nationwide have shown between 5 to 35 percent per decade growth compared to home values in undesignated neighborhoods in the same community. Since homes in these areas are protected and preserved, they tend to offer desirable neighborhood conformity and uniform character that is attractive to incoming buyers.
Sense of Community
It's no surprise that the American home improvement media brand "This Old House" has a cult-like following. There are lots of fans of old homes. In the U.S., there is an increasing focus on the preservation and revitalization of aging structures. There are many outlets and communities to tap into if you seek people who share a passion for maintaining the historic integrity of homes.
Tax Benefits
You're not going to get rich as a result of tax breaks or grants available to homeowners of historic properties. However, there are an impressive amount of tax incentives available at the local, state and federal level to help offset the costs of preserving your home.
Buying a Historic Home: The Not-So-Bright Side
Old homes and especially historic properties are not for everyone. They can be a fair amount of work and may not be as practical in meeting your needs as contemporary models.
Design Limitations
Want to replace your home's fence, paint the exterior or put on a new roof? Well, if you just purchased a historic house, hold your horses. Before making any modifications, you may need to seek approval from your town or city. For example, here is what the process looks like in my town: Upon receiving an application, the local design board will review the plans to ensure regulations around historic preservation are being followed. If the proposed changes are acceptable, the homeowner would receive a certificate of appropriateness (COA) that allows him or her to move forward. This can take several months!
Renovation Headaches
Most design boards are more lax about interiors, however, that doesn't mean updating an old home is smooth sailing. It's not always easy or practical to make modifications. Once you start taking down walls, you never know what you are going to find. You can easily uncover structural or material defects, or bump into hazardous materials like lead pipes and asbestos insulation.
Expensive and Time-Consuming Upkeep
Owning a historic home is a labor of love. It takes time to source the proper building materials to create the right look. For example, replacing a window is not as easy as dropping in a stock piece from your local hardware store. You may need to special order a custom wood replica. Finding tradesmen who specialize in historic homes may take longer than usual and they may be more expensive.
Opinionated Neighbors
Certain history buffs or community activists may insert their unwarranted opinions about your renovations or how you maintain your property. It can be bothersome to feel like you have eyes on your home. When it comes to protecting historic structures, there are a lot of politics involved. Sometimes people should mind their own business, but they can't seem to help themselves!
My Advice Before Buying Historic
First, ask yourself if you really want an old house. Most buyers prefer newer construction. Without the desire to own an old home, you can easily become frustrated. Having an appreciation for the home's history and preservation will overcome many of the challenges that I alluded to earlier. If, after giving it some thought, you're still gung ho, here's my advice for moving the needle forward.
Prior to signing the dotted line, hire a home inspector or bring in contractors who have experience with older homes. They will be more familiar with the construction and materials that are present.
Have a meet and greet with your local building/design committee and understand what limitations you will face as a homeowner. It's important to be as informed as possible when making this sort of investment.
Always have a nest egg available when buying an older home. You will run into costly surprises, it's par for the course!
Think long and hard before making upgrades, as modifications will impact the historic truthfulness of the building and changes cannot be undone.