In real estate, the buyer is responsible for checking the quality and suitability of the home prior to making a purchase. Once the deal is done, it's hard to go back to the sellers to negotiate. It's important to do your research and due diligence before you sign on the dotted line. Having a home inspected by a licensed home inspector is a common practice, but there's more you can do. This handy checklist walks you through some of the steps you can take to protect yourself as a buyer.
Carefully Review the Seller Disclosure Statement
A disclosure statement summarizes the seller's knowledge of the condition of the property and lists any known issues. Many states require the form in writing, but not all. If there is no disclosure statement, you can request a completed copy or compile a list of specific questions for the seller to answer.
Understand Disclosure Law
Any known tangible defects should be disclosed. That said, homeowners are often unaware that certain issues exist, relieving them of the duty to disclose. This is why having the property inspected by a third party is key. Although laws promote the disclosure of physical defects, there's more gray area when it comes to intangible issues like a stigma. Laws vary by state and oftentimes the burden is on the buyer to ask the right questions pertaining to stigmas. You can (and should) ask if there has ever been foul play at the property like a murder, suicide or paranormal activity. Seller's must answer truthfully and disclose what they know when asked pointed questions.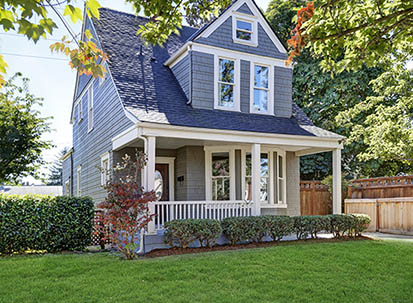 Find Your Home on RealEstate.com
Drive By and Tour the Property at Different Times of Day
If you toured your future property on a cheerful Sunday morning, you may be surprised by how different it looks in the evening. Driving by the property at various times of day gives you the opportunity to test your commute, see traffic patterns and gauge how you feel about the neighborhood.
Chat with the Building Department
Town/city departments are an excellent resource when purchasing a home. City officials can give you insight into development work going on in the neighborhood that may impact home values. You can also obtain a file about your specific property that contains information and permits. If the home has undergone renovations, it's particularly important to have copies of closed permits.
Contact Zoning Officials
In addition to meeting with the building department, you may want to speak with zoning officials to learn about permitted uses for your property and the surrounding area. For example, if you're purchasing a home that abuts acres of land, you'll want to know if that land is protected.
Introduce Yourself to the Neighbors
Strike up a conversation about the neighborhood and your future property. Often times, neighbors are surprisingly candid and will offer up the inside scoop.
Investigate the Homeowners Association (HOA)
If buying a unit in a building or townhome development, you may want to have a meet and greet with the trustees and/or property management company to discuss future projects or plans for the association. Also be sure to review all condo documents and financial statements.
Get a Head Start on an Insurance Policy
Insurance is a requirement for those financing a home and you'll need proof of coverage before you receive a commitment from your lender. Certain attributes like being near the ocean or purchasing an old home can increase your insurance premium. By being proactive and securing quotes ahead of your finance deadline you can shop around for the best rates and terms.
Check the Sex Offender Registry
It can be unnerving to discover that a sex offender lives next door. It's best to go in with eyes wide open. The National Sex Offender Registry provides a free search on the state level and promotes public safety and awareness.
Contact the Police Department
Speaking with the police department directly is one of the best ways to learn about neighborhood crime. Your community officers can give you information about property and crime trends and may be able to provide report printouts.
Google the Address
Conducting an online search is one of the easiest things you can do. You get the best results by putting the address inside quotes, such as "31 ABC Street" and searching under the "News" category for headlines. You may find a heartwarming feature about your future home or a news story that sets off red flags.
Test-Drive the Parking Space
Not all homes offer ample parking. The garage may be a tight squeeze or the driveway may be challenging. Test-driving the parking area is especially important when you have land constraints, such as in the city. What good is having a space if your vehicle can't fit or if the designated spot is unusable?
Look for Signs of Potential Land Encroachments
An encroachment, which is an intrusion on land, is more common than you may think. For instance, a neighbor's shed or fence may be over the lot line. Anything concerning should be settled before the sale goes through. The best way to determine lot lines is to have the property surveyed. Surveys can be expensive, but are helpful in identifying encroachments.
It may seem like a lot of homework — pun intended — but you're in a better position to address problems during the transaction than you are afterwards!