There's nothing worse than purchasing a money pit. As a home buyer, it's one thing if you set out to buy a fixer-upper and have anticipated costly repairs or improvements. But it's an unlucky situation when you think you are buying a relatively turnkey home only to discover that it's an ongoing drain on financial resources. Are there ways to spot a lemon? There sure are! By applying good research and sound investigative skills, you can minimize the risk of potential housing headaches down the road.
1. Look for a Property With Pride in Ownership
Some homeowners take great care in maintaining their homes. Those who are proud tend to place their homes on the top of their priority lists. They take extra time and attention to tend to general up-keep, tidy up on a regular basis, and keep on top of things that need fixing. A home does not need to be the most upgraded or flashy to exhibit pride in ownership.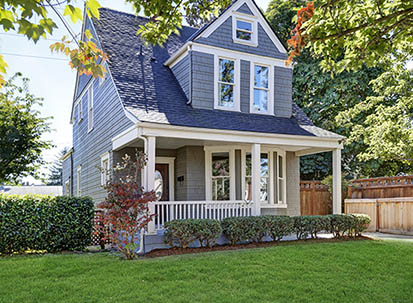 Find Your Home on RealEstate.com
A cosmetically dated property can still be loved and cared for and functioning well. For example, have the windows been cleaned? The basement and garage swept? Is the tub caulking nice and clean? These are things that are easily put on any homeowner's back burner, but those with pride in ownership tend to have all the details covered. It's less likely that a prideful homeowner would let a major defect fall to the wayside unknowingly.
2. Keep an Eye Out for DIY Hack Jobs
When it comes to home improvement, DIYers are everywhere and with varying levels of skill and talent. While some homeowners may give Chip Gaines a run for his money, others have a lot to learn about swinging a hammer. How can you spot a home improvement hacker? Again, the devil is in the details. You may love the paint color on the walls, but how's the cut in job? Did the owner remove the faceplates before painting or work around them? You may have fallen in love with the marble bath, but take a closer look at the tile job. Are the tiles even and tight or crooked and loose? What about the kitchen cabinets: Do they seem flush and level or the work of a lazy Ikea install? These small flaws can be indicators that the previous owners have taken short cuts.
In these scenarios, it is particularly important to narrow in on big-ticket items. When was the last time the roof was replaced? Was it completely overhauled or cheaply fixed? How about the heating and cooling systems? Have these machines been serviced? If not, what else have the owners skimped on or covered up?
3. Do an Audit of Quality and Craftsmanship
Some builders and contractors go the extra mile and others cut corners. Is the house missing bells and whistles that you would expect to see at the price point? Is there any elaborate trim work like crown molding or coffered ceilings? What about special features like built-in storage, lighting and fixtures? Not all building materials are created equal and it's important to understand what was used during construction and how it will last during your ownership. It can be very easy to fall in love with staging and attractive decor, but you really want to pay closer attention to everything that is affixed to the house because that is where the value is.
4. Check for Missing Permits
Over the past few decades, many towns and cities have started to crack down on building permits to ensure the enforcement of safety and code. However, lots of homeowners slide projects under the radar. It is smart to do some due diligence on permitting and find out if projects were compliant by contacting the local building department.
It is particularly important to get answers if the home has undergone significant modifications, such as an attic space conversion or finishing out of a basement. If this space is being included in the overall square footage of the property, you'll want to make sure it's legitimate. For homes that have had additions, it is especially critical to know what permits were pulled. In a worse case scenario, if things weren't done right, you may be required to tear down the addition, leave it unoccupied or do costly repairs.
During your research, if you do find open permits, meaning that the work was never officially signed off on, you can request that the permits be closed prior to the change in ownership.
5. Watch for Signs of Water Damage
Water is a very destructive element and can be a homeowner's worst nightmare. There are many ways water can penetrate a home's envelope and wreak havoc. Fortunately, damage is also preventable with proper maintenance and systems in place. Starting from the top down, you'll want to scan the exterior of a property for signs of water damage or potential areas where water could intrude.
Make note of the age and condition of the roof. A roof is an expensive line item and serves a very important function. What about the gutters and drainage?
Next take a look at the flashing on the exterior of the home. Flashing is a thin layer of waterproof material that keeps water from getting into places where it doesn't belong. It should be found around chimneys, windows, deck systems, etc.
Assess the foundation for holes and cracks. Water can easily penetrate through foundation walls that are porous or in need of repair.
Once inside, pay particular attention to the ceilings and basement for obvious signs of water damage.
Do you notice any brown water patches on the ceiling? Try to track down the source of the leaks. These could be a sign of old drippy plumbing or a failing roof. Both could be expensive issues to inherit.
Once in the basement, be on the lookout for telltale signs of previous water intrusion issues. Common red flags include a musty/moldy smell. You will often see dried remnant watermarks on the bottom of the walls, foundation or support beams if basement flooding occurred in the past. If you find a sump pump, get some information on when it was installed and if there have been any issues since.
To Own is to Maintain
Part of being a homeowner is maintaining a property. At some point or another you will have a housing issue that requires you to either roll up your sleeves or bring in a contractor. That said, you can significantly educate yourself on potential issues by being vigilant during the initial buying stages.