Are you looking for a home and finding yourself gobsmacked by sticker shock? If you want to buy but can't fathom the expense, there's a simple solution: a smaller home.
Your Grandparents Got By with Less
There was a time when a typical American family raised two children in a two-bedroom home. We squeezed in – perhaps we liked each other more. But over time, developers built larger and larger homes.
How much have homes grown? According to 24/7 WallStreet, the average size of a new home built in the U.S. has grown from about 1,048 square feet in 1920 to 2,657 in 2014 (!), while the average household size has declined from 4.34 people per household to 2.54.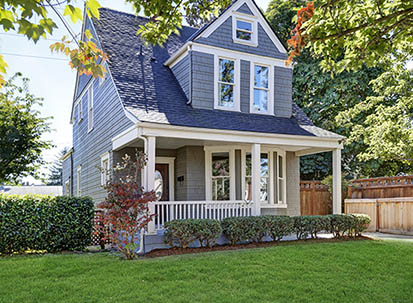 Find Your Home on RealEstate.com
We lived with about 242 square feet per person in 1920, and 1,046 square feet per person in 2014. Do we need more than four times as much space per person now than our grandparents did? No, we don't.
If the price of homes seems too high, consider a smaller home; there are ways to make it work.
Why Buy a Smaller House?
The most obvious benefit is cost, and it's a big one. Smaller homes are less costly to build, so builders can charge less for them, and smaller existing homes sell for less than their larger counterparts. A lower purchase price means you'll need less of a down payment, have a lower mortgage payment and lower taxes and insurance.
Being open to the benefits of a smaller house means that you can stop throwing money away on rent and begin building equity in your new home sooner
You'll also save on heating and cooling compared to a larger house of similar construction. And if it matters to you, you'll have a smaller environmental footprint.
A less obvious benefit is that you will accumulate less stuff, because you simply don't have room for it. This may not seem like a benefit to you now, but when you move to a larger home one day you will appreciate this a lot. Fewer possessions means more money in the bank for you and less clutter in your life.
Finally, being open to the benefits of a smaller house means that you can stop throwing money away on rent and begin building equity in your new home sooner.
Shopping for a Small Home: What to Look For
Start by carefully considering how you use your current home. Where do you spend most of your time? What are you doing then? When are you happiest in your current space?
The most important thing to look for in a new home is an efficient floor plan. Smaller homes with well-utilized space can actually have more livable room than larger ones. Avoid "wasted" space like large hallways and overly large rooms, and superfluous rooms like a formal dining room unless you entertain a lot.
If you love to cook, a small, efficient kitchen works great. If you love to cook together, you'll need more room. A huge master bathroom is delightful, but how much time do you spend there? A tub/shower, double sink and a commode would do fine for most families. Lots of light makes a small home seem bigger; look for one with lots of windows, or consider adding a skylight or light tunnel if there isn't room for more windows.
Well-used outdoor space also makes a small home bigger. Easy access to a front porch or a back patio or deck that extends the living area can make a huge difference.
Furnishing a Small House: Tips and Tricks
How do you make a small house work for you? Start with thinking small when it comes to furniture. Even if a double bed seems too small for you, you probably don't need a king-size bed; a queen will do. Over-stuffed couches may look luxurious and comfortable, but they take up a lot of room with stuffing, an intrusion on space that doesn't make it a more comfortable place to sit.
Expandable furniture, or pieces that do double-duty can also help. Grandma had an expanding dining table with leaves: Would that work for you? A Franklin Library chair (also known as a Carolina or Benjamin chair) doubles as a safe and secure footstool. (It's actually really cool – my Grandmother had one.) A very cool piece of furniture is the desk/bed – a desk by day, but a bed by night! Be creative.
Finally, the three most important things in making a small house livable are storage, storage, and storage. Visit a local organizer or container store; make sure your closets, cupboards and drawers are well-organized and neat so you use the space that's available and can find what you want quickly.
Use wall-mounted coat racks and towel racks to give yourself more places to put things and make them handy to reach.
If you want to buy your first home sooner, consider living well in a small, efficient home.