Like a lot of people, I spent a good part of my twenties constantly on the move. For me, the nomad lifestyle began in the dorms, followed by off-campus apartments. Post college, I jumped around from rental to rental. With all the practice, you'd think I'd have the whole moving thing down to a science by the time I bought my first place.
The truth is, I completely underestimated the amount of additional tasks and to dos associated with buying a house. Not only is your to-do list a bit longer than when you move into a rental, but so is the list of must-have items.
There are several essentials that make for an easy transition into homeownership.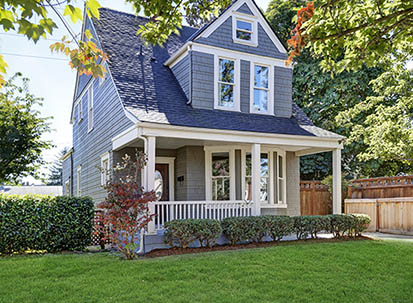 Find Your Home on RealEstate.com
1. Keys, Locks and Alarm System
As a renter, all you have to worry about is meeting up with the landlord or property management company to get your set of keys. Now, all of a sudden, you are the master of the keys! As the new owner of a property, it is your responsibility to rekey the locks. You can pick up a new locking system at the hardware store and install it yourself or call a locksmith.
In terms of security, if your new home came equipped with an alarm system, you'll want to call up the company to cancel or transfer the service over to you.
2. Shop Vac
Sure, any move requires supplies for light cleaning. Depending on the condition of the home, you may need to take things to the next level. A shop vac is every homeowner's best friend. This powerful cleaning tool is intended for heavy-duty uses beyond the scope of a normal vacuum. It is perfect for cleaning up basements and garages and many can suck up water.
3. Ladder and Step Stool
Another item that you are sure to get a lot of use out of is a ladder. I can't tell you how many times it comes in handy. From replacing light bulbs and hanging blinds to scoping out gutters or fixing a loose shingle, having a ladder on-site ensures everything stays within reach.
4. Lawn Care and Garden Tools
Having outdoor space is always a big plus, but it comes with added responsibility. Grass grows quickly, and within a week after closing on your property the yard will likely need a cut. Don't forget to budget for a lawn mower and some basic gardening tools, such as a hose, rake, shovel and pruner, to get started.
5. Snow Blower and Shovel
Preparing for snow is key if you purchase a home in a cold climate area. Snow blowers can be an expensive necessity if you buy in the winter, and you don't want to be without gear when that first blizzard rolls around. At a minimum, do yourself a favor and pick up a good quality snow shovel in case the first storm hits sooner than expected.
6. Garbage/ Recycle Bins and Junk Removal
The topic of trash removal often slips through the cracks during a real estate transaction, but it's important to figure out the logistics as soon as possible. Does the town provide curbside pick up, and if so, do you need specific bins? If not, is there a transfer station or dump? You'll want to figure out the logistics and purchase containers accordingly.
Moving can be a messy job and during the first few weeks you may be generating extra garbage, especially if you decide to tackle some DIY projects. Depending on the scope you may want to get a dumpster. I've also found trash removal services to be splurge worthy in hauling out heavy and large amounts of household junk like old appliances and debris.
7. Tool Kit
A general tool kit should be on every new homeowner's wish list. Even if you bought a new construction home or don't consider yourself particularly handy, I guarantee that it will be useful for little jobs. You can make many home repairs with some standard hand tools, such as screwdrivers, hammer, wrenches and pliers, measuring tape, utility knife, stud finder and a level. A few other vitals include a tarp, drop cloths, extension cord, flashlight and utility buckets.
8. Tools
Once you have your own place, you may be excited about rolling up your sleeves for some home improvement projects. If that's the case, you'll want to bring in the big guns … power tools!
No workshop is complete without a drill, saw and sander. I also swear by a multi-function oscillating tool, which can cut, sand and slice, depending on the type of attachment. If you plan on some extensive remodeling, a nail gun and laser level can make the work more efficient.
9. Painting Supplies
Fresh paint is one of the most affordable ways to give your space a new look. While not an incredibly difficult job, the work is often underestimated. Speaking from experience, I can tell you that it's all in the prep! Even though paint is cheap in the grand scheme of things, to do the job right, you will need to stock up on proper supplies, like protective coverings, tape, putty, spackles, sandpaper, trays, brushes, rollers, etc.