How is "Open House Crashers" not an HGTV hit series? It should be! For new buyers, open houses are an easy, "low-touch" way to learn more about the real estate market. There's always something to see, learn and take away, even if it's just the complimentary cookies.
The more places you check out, the easier it is to compare homes and their associated price tags.
By touring a variety of properties, you will naturally begin to figure out what you like and what you don't. Not only do open houses help you learn about neighborhoods and home styles, they also teach you a thing or two about property value. With each walk-through, you can see first-hand what your dollar buys you. The more places you check out, the easier it is to compare homes and their associated price tags.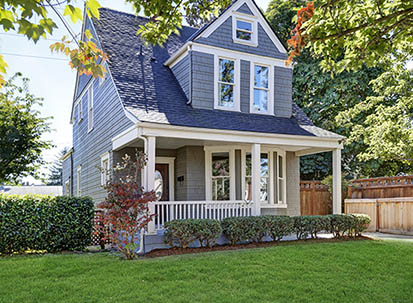 Find Your Home on RealEstate.com
The best part is that anyone can attend an open house. Oftentimes, these events are posted on housing websites, and in many areas of the country, they've become a popular Sunday pastime. And, heck, admission is free!
Even if you're not quite ready to buy, you should still take advantage of the window-shopping opportunity. Here's why:
1. Give Yourself a Head Start on the House Hunt
It can take awhile to get your head around the real estate market and you don't want to feel like you're making a premature decision. When making big choices — like what wedding dress to wear for the big day or car to drive — it can help to see many options. It is possible to pick the first gown you try on, or the first sedan you test-drive, but more likely than not you'll want to do a little shopping and comparing — this is especially true when it comes to home buying. By attending open houses early on, you will give yourself the lead-time that you may need to build up your knowledge base. When you're actually ready to pounce, you'll have a mental Rolodex of housing inventory to help guide your decision.
2. Meet Potential Real Estate Agents
For first-time buyers, assembling a winning real estate team is high on the priority list. Finding the right agent is an important step, and you'll be sure to meet many active agents at open houses. Judging by the fact that they are hosting property tours, you already know that they have experience working in your target neighborhood. Don't be afraid to interact with the person manning the open house. You can gauge his or her experience and ability to represent you as a buyer. Do keep in mind that the agent's allegiance likely lies with the seller, so I wouldn't divulge any secrets about yourself or situation at the open house.
3. Scope Out the Competition (Other Buyers!)
These days, there's no shortage of buyers, and as you enter the market you want to know what you're up against. Since the general public is welcome, expect a wide variety of attendees — from legitimate house hunters to nosey neighbors. Keep your ears open and try to glean information from side conversations. Other attendees may be overly vocal about what they like and dislike about the home and how it aligns with their overall buying plans. These sound bites might give you an edge up down the road. Stay alert so you can size up the competition.
4. Get Home Design Ideas
Another benefit of having eyes on inventory is to get inspired. You can keep tabs on design trends and color palettes, and make note of creative layouts that you may want to implement. Even if you plan to buy in a relatively cookie cutter-type neighborhood, you may be surprised by how the seemingly same style house can look drastically different based on the cosmetic finishes selected by homeowners. If you are particularly impressed with craftsmanship, you may want to ask the real estate agent who's selling the home for the name of the contractor or builder who performed the work. If you plan to replicate some of the elements that you see, you'll want to know who to call for a quote!
5. Put Yourself in the Right Mindset
Buying real estate is fun and can be a truly enjoyable process if you get in the right mindset. Some people love scrolling through listings online, and being able to obsess over homes in real life takes everything to a new level. If you're someone who has been daydreaming about buying, attending open houses is sure to give you tons of material to fantasize about. If you're feeling a bit anxious, an open house is a low-pressure way to dip your toe in the water.