The world-renown tidying expert Marie Kondo has taken Netflix by storm, inspiring us all to clear out the clutter inside our homes. At the core of Marie's home organizing system is determining what brings you joy. This simple logic of surrounding yourself with items that spark joy can be applied to everything in your home, and even the home itself.
Living in a home that sparks joy should be top on every home buyer's list.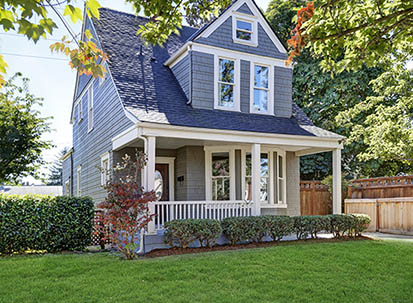 Find Your Home on RealEstate.com
Too often when we think about purchasing a home, we overanalyze the details. There are so many angles to consider. Of course, there are big factors to contemplate like if you can afford it, whether there are enough bedrooms, and if you like the neighborhood. There are countless other aspects, like should you buy based on school systems, is the home childproof, and even if your dog will like it. We start going down the rabbit hole and we lose sight of what's most important. Some buyers look at everything from a practical lens and they end up buying a home that they don't love simply because it checks off all of the boxes.
Take a page from Marie's book and find your dream home, a home that sparks joy. Before writing up an offer, always try to picture yourself in the home. Does it spark joy? Framing your home search with this question in mind can help you cut through the nagging thoughts that tend to clutter the home search.
What does sparking joy mean? Well, it's different for everyone, but here are a few examples that can be applied to home buying.
1. It Feels Right
Some buyers know the second they pull up to the front door or enter the foyer that a home is "the one." A home that triggers the right emotions — like excitement or an overall calmness — are always good signs. Pay attention to how you feel when you tour properties. The imprint a home makes on your emotional psyche can't easily be explained or quantified, but it's real.
2. Your Mind Keeps Going Back to It
Sometimes it takes time for your brain to catch up with your heart and for the experience to register. If you can't stop thinking or talking about a particular home, chances are it's a good fit.
3. Other Properties Don't Compare
Even if a home is giving you all the right vibes, you still may want to look at other properties for affirmation. It becomes obvious after exploring your options and finding that everything else comes up short.
4. You Can Imagine Your Future in the Home
Can you imagine moving your furniture in and waking up every morning in the house? What about driving home after a hard day at work? Do you see yourself spending time with friends and family in the kitchen and living room? Ultimately, is this the place where you want to take shelter from life's storms and make memories?
5. It Reminds You of Other Homes That Have Brought You Joy
Does a home make you nostalgic or remind you of a previous place that made you happy? These are strong indicators of what's to come. It could be the way the light hits a home or the way that it smells, but sometimes it's the subtle characteristics that bring joy.
6. You Defend the Home's Flaws or Inadequacies
Let me let you in on a little secret. Most people make major buying decisions with emotion and defend with logic. This means that we can justify buying a home that doesn't meet all of our criteria because it feels right. Sometimes you have to throw all logic out the window. You could be dead set on a new construction home, but a charming fixer-upper speaks to you.
7. You're Lingering at the Property
Are you making up excuses to see the property again? If you scoped out all of the open houses, asked for second and third tours or made a special trip just to drive by, maybe you should listen to whatever power it is that keeps calling you back.
8. You're Already Planning Out Your Improvements
Have you already picked out paint samples and created a pin board? If you're thinking about ways to make the home yours, chances are that you want it bad.
9. You're Selling Others on It
If you're looking to others for approval, you're likely hoping for someone to give you the push you need. Sometimes we reach out to our friends or peers for final validation before making a decision we know is right. Plus, if you already showed the listing to your parents, it's probably getting pretty serious!