If you've ever struggled with credit problems in the past, you may be familiar with the term "charge-off." It's a term that can appear on your credit reports from the three major credit reporting agencies Equifax, TransUnion and Experian when you have an account or liability that has gone into a default status.
But what exactly does charge-off mean? Does it mean you no longer owe the debt? Are collections and charge-offs the same thing? There are many questions about charge-offs, and we have the answers.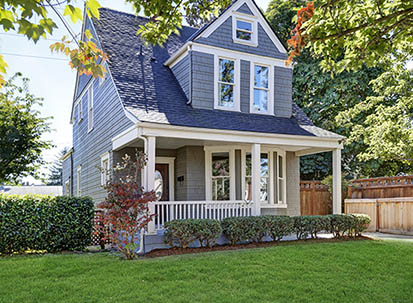 Find Your Home on RealEstate.com
What Does Charge-Off Mean?
When a creditor in unsuccessful in getting you to pay back your debts as agreed, it may write the unpaid balance off as a loss. This is an accounting move done to help the creditor alleviate its tax liability on profits that it never actually realized. A charge-off notation, however, does not mean that your debt has been forgiven. And yes, you still owe the debt.
How Does a Charge-Off Affect Your Credit?
When it comes to your credit reports and scores, charge-offs are considered a derogatory event. Depending on the rest of the information on your credit reports, a charge-off could lead to a lower credit score. This is especially true if the rest of your credit reports are clear of any other negative information.
To add insult to injury, a charge-off could potentially damage your credit in not one, but two, separate ways.
The Original Account
When you fail to pay a credit obligation, your creditor may eventually put your account into a charge-off status. The creditor may also add language to your credit report(s) and display the term "charge-off" next to your account. This is accomplished by adding a credit reporting code that indicates "charge-off."
If you pay the account at a later date, it will be updated to "paid charge-off." However, that designation, while an accurate representation of the status of the loan, is still considered to be a derogatory event.
The Collection Account
Remember, just because a debt has been charged off doesn't mean you no longer owe the balance. Your creditor, or a third party, may still attempt to collect the debt by other means.
Accounts that have been charged off by a creditor are often sold or assigned to third-party collection agencies. When a collection agency gets your unpaid account, a new negative entry will probably show up on your credit report(s) shortly thereafter as collectors commonly report to the credit bureaus. This entry is known as a collection account.
Both the original, charged-off account and the collection account can legally remain on your credit reports for seven years from the date of default on the original account.
In addition to the credit score impact caused by the original charged-off account, your scores could be impacted as a result of the newly added collection account. Both the original, charged-off account and the collection account can legally remain on your credit reports for seven years from the date of default on the original account.
The exact impact, if any, cannot be assumed but, rather, can be qualified by performing what's called an impact analysis. An impact analysis quantifies the impact of any one item on a consumer's credit scores and is generally performed as part of credit-related lawsuits where credit damage has been alleged.
Other Consequences of Charged-Off Accounts
Not only can a charge-off impact your credit but there are a number of other consequences you may have to worry about if your debt goes into default.
When you can afford to do so, paying or settling your charged-off debts is in your best interest. Better yet, if you can make other arrangements or communicate with your creditor before your situation gets out of hand, you can avoid a charge-off in the first place and save yourself a lot of headaches.