You know what's crazy? When you're flying along on the first leg of your long-awaited vacation, happy as a clam. You think life really couldn't get any better until you strike up a conversation with the guy in the seat next to you only to find that he paid more than twice as much as you did for his ticket! Universe, aligning.
Now Imagine how stoked you'd be if you were in that same situation, but the guy is your neighbor and the thing you paid half for is your house! That's one of the many beautiful benefits of buying a fixer-upper. Want more? Here we go:
1. A Fixer-Upper Can Be a Shortcut to Great Equity
In some of the most desirable neighborhoods in every city, the streets are lined with perfectly manicured beautiful homes. Like a postcard for blissful living, they are what everyone wants. They're in high demand and short supply and the prices reflect as much.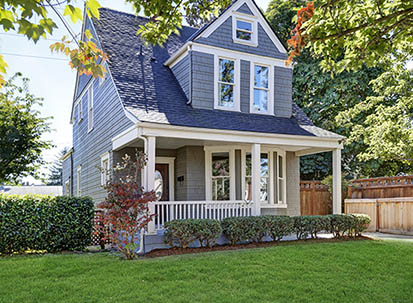 Find Your Home on RealEstate.com
But at what almost seems like a predictable interval, you'll see an odd duck. A house with a messed-up yard, peeling paint and 40-year-old burglar bars on the 80-year-old windows. It's nestled neatly between two pristine slices of paradise. On the left and the right, you can buy for $800K, or, if you've got what it takes, you can take the plunge and go for the odd duck in the middle at the bargain basement price of $400K.
Your parents and your friends might think you've lost your mind, especially when you trade in your Bimmer for a pickup truck, but you have vision. You see something very different. And you're not afraid to work.
That is the scenario that leads a smart fixer-upper buyer into a position of having a few hundred thousand dollars more equity than the neighbor who paid top dollar and moved in on Friday and went mounting biking on Saturday. She can hope for her house to appreciate naturally, while you throw some paint on the walls, toss out those burglar bars and add to your equity with every swing of your hammer.
A fixer-upper gives you the opportunity to live in a truly custom space. A space of your own choosing, designed to meet your own personal definition of perfection.
2. A Fixer-Upper is Like a DIY Custom Home
I've been in and around home improvements all my life and I've discovered that every person has a preferred style. Everyone has a perfect feel, a favorite color and a "just right" amount of light, of space, of detail, etc.
Everyone, bar none, could benefit from a truly custom home. It really can change your life to live in a place that speaks to you on an internal, silent almost spiritual level. That may sound odd but when you think about it you've been in such places before. Maybe a hotel somewhere, maybe a public space like a restaurant, maybe a home you've lived in. Waking up every day surrounded by what, to you, is perfection … changes everything.
When you just walk in and buy a home "off the shelf," you're very rarely going to get that. Someone else picked everything out. Someone else decided the colors. Someone else chose the trim. Someone else picked the kitchen counters out.
A fixer-upper gives you the opportunity to live in a truly custom space. A space of your own choosing, designed to meet your own personal definition of perfection.
It's the opportunity, one project at a time, to live in a DIY custom home.
3. A Fixer-Upper Has Heart, Soul and Character. You Guys Bond.
While we're on the subject of the "feel" of a house, let's talk about the feeling of accomplishment that comes with having done a project yourself. As I write this article, I'm surrounded by built-ins that I built myself, with my own two hands. I feel at home and comfortable in this room because I made it myself. This really is "my" room.
That's one of the biggest benefits of a fixer-upper, especially if you're going to live in it awhile. As time passes and projects are completed, a bond is made between you and your family and the house itself. The rooms become part of the fabric of your life. The memories are enhanced because not only did you live in a space, but you also created that space.
In my opinion, all houses have a bit of an intangible feel to them, a character, you might say. When you decide to go the fixer-upper route, that character tends to meld more closely with your own. It's a big deal. Believe me.
4. A Fixer-Upper is Recreational Investing
The last benefit I'm thinking of today, and I'm sure there are many more, is that a fixer-upper is one of the few things you could consider "recreational investing."
It's actually fun to fix up a house. Rooms covered in drop cloths and ladders are perfect places for conversation with your friends and family while they help you paint. A takeout lunch surrounded by sawdust and fresh cut lumber ... that's just fun, plain and simple.
Where else can you have so much fun, express so much creativity and add serious dinero to your bottom line?
I guess it's obvious by now that I'm a fan of the fixer-upper. If you look closely, you might find that you are, too.
Happy Remodeling!