After a weekend of binge watching HGTV you might be feeling ready to tackle a "fixer-upper" of your own. You would not be alone. Buying a home that needs a bit of work is one of the best ways to make the most of your real estate investment. If you're handy enough or willing to learn, things like new paint, new flooring and even minor repairs are easy weekend projects that offer great rewards.
But not all potential purchases are created equal, and not all sellers are coming from the same perspective. One perspective in particular to be aware of is the "as-is" seller. Now, on some level, every seller is expecting or hoping to sell his or her home as-is. Sellers want out and they don't expect to be coming back later. That's not what I'm referring to. I'm talking about the seller who is proactively using the term "as-is" in the listing, in the property description, and wherever else he or she can.
If you need a mortgage, an as-is house with significant damages could present an uphill battle. Heavily damaged fixer-uppers are often a cash buyer's world.
From my perspective as a contractor, that means the seller isn't wanting to do any work on the property before he or she sells it. An attorney or a real estate agent might have a different perspective, so you should make sure you're properly represented before you get into a transaction. I've heard that the term "as-is" can actually have a legal meaning in some states. Your agent and/or attorney would know.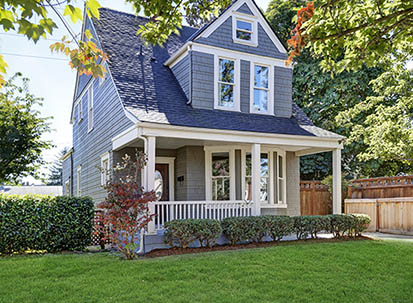 Find Your Home on RealEstate.com
When it comes to repairs and construction, though, the meaning is pretty self-evident. A seller probably isn't open to putting on a new roof for you. He or she doesn't want to hear you complain that the paint is looking dingy or that the kitchen cabinet doors don't close right. You can just know that going in and plan accordingly.
If a buyer called me about a house listed as-is, I would start with a couple of questions.
Is Disclosure Required?
What law governs real estate disclosure in your state? Is the seller required to disclose known flaws or defects? In many states, sellers are. It's also usually incumbent upon licensed real estate agents to disclose any defects or issues that they themselves are aware of. If you find out that disclosure is not required in your state, you had really better know what you're looking at or you could buy your way into a real mess.
Even when disclosure is required by law, nobody can disclose what they don't know. In the case of a foreclosure, estate or a "flip"-type sale, the seller may have little or no knowledge of the property. Even in the case of a longtime owner selling his or her home, a seller might not be aware of something inside the walls, under the floor or otherwise hidden from view. Even home inspectors can't tell you about things they can't see.
If disclosure is required, was anything disclosed? Are there known issues? How bad is it?
Can You Get an Inspection Done?
I've heard about as-is listings that specify that the buyer cannot even get an inspection done. In a case like that, the whole thing would really start to look like a bad gamble. If no inspection is allowed, I would just assume that the seller either knows that something is very wrong, or he or she suspects it and doesn't want to know.
In the event that you can get a contract that does allow you the right to inspect the property, you at least have a chance to better know what "as-is" means. If the inspector finds the house to be in pretty good shape, it could very well just mean that the seller doesn't want to mess around with haggling. The seller just wants you to look at it, see it for what it is and make an offer based on that. Maybe he or she doesn't have the spare cash to do any repairs, or it could be a time thing. But a professional inspection is a good thing to insist upon if you're the buyer. It's worth the cost.
Has Anyone Asked Why the Sale is Listed as "As-Is?"
It's amazing how often people neglect to simply ask the question they have in mind. Rather than wonder what the hidden motive for the as-is emphasis is, why not just ask? The seller may have a very reasonable answer that helps clarify that the problem isn't with the house itself at all. There are many external circumstances in the life of a seller that could turn that person into someone who just wants a quick sale. This information could be helpful as you craft your offer.
On the other hand, the seller might very clearly state some major problem with the house. Maybe it floods whenever there is a hard rain. Maybe there is an unabated mold or asbestos issue that the seller just doesn't want to deal with.
The bottom line is that it never hurts to ask.
How Will As-Is Impact Your Financial Plan?
I recently looked at a home with a buyer who was willing to do all the necessary repairs. The house was being sold as-is and the seller was upfront about the reason. He was under financial duress and could not keep up with the payments, much less pay for the very extensive structural repairs needed. He needed a buyer to bail him out and fast.
Even though the buyer I was consulting with on the repairs was both willing and capable of doing the repairs himself, the deal fell through due to financing issues. The buyer could easily afford the needed loan amount, but he did need a loan. He didn't have enough cash to buy the house and the bank wouldn't loan a penny on the house because of the condition.
Mortgages generally require hazard insurance to insure the collateral and insurance companies usually won't issue an insurance policy on a home with major defects in key systems such as roofing, HVAC, electrical, etc.
So, if you need a mortgage, an as-is house with significant damages could present an uphill battle. Heavily damaged fixer-uppers are often a cash buyer's world.
Needed Repairs and Restoration: Two Scenarios
As with most of the home buying process, a real estate lawyer and/or a licensed agent can really help you sort out all that purchase contract and risk management stuff. You really should not try to do an as-is purchase on your own.
When it comes to remodeling and repairs, my experience has been that there are two common scenarios. The messed-up house, or the no BS seller.
The Messed-Up House
The more severe of the two scenarios is the messed-up house: structural damage, roof damage, issues with the major systems, zoning problems, etc. The list goes on and on. This is the kind of scenario you would only want to get into if you really know what you're doing and have the financial resources to handle it without a conventional mortgage.
We've got a few resources that might help you think through some of those larger repair type homes:
The No BS Seller
To me, this one is less of a concern. The primary issue is simply that the seller has made a decision: The person doesn't want to pay for any repairs and doesn't want to be nitpicked in negotiation. That's fine, and it's probably better knowing that going in. At least this way you can avoid burning a bridge with the seller by suggesting that the roof he or she thinks has ten years left on it only has two years to go.
If the house is in good enough shape to be insurable and financing can work, this could be the perfect fixer-upper scenario. A house that needs cosmetic work and minor repairs is a far cry from a house that needs half of the roof structure replaced and the air conditioning ductwork all redone because of mold. That's the kind of BS nobody needs!
As-Is Doesn't Always Mean As-Is
Even though the as-is designation often means "I don't want to hear it," there are circumstances in which the seller might still be willing to negotiate on some point related to condition. Sometimes negotiation is still in the best interest of both parties and hopefully both sides are represented by real estate professionals who can help clarify that.
An example would be in the event that you as the buyer have been allowed a full due-diligence period and your termite inspection revealed hidden damage that the seller did not know was there. If you live in a state that requires full disclosure, the seller now has a new problem because, now that the person knows, he or she will most likely be required to disclose the termite damage to any future buyer. In that case, it may be far better for the seller to negotiate with you, since you're obviously a serious buyer who has sunk money into inspections, than it would be to go out and seek someone completely new and then still have the termite issue looming.
Due Diligence and Professional Representation is Always Key with As-Is
At the end of the day, it really comes down to due diligence and having experienced licensed pros on your team. Make sure you know what you're buying and have a solid handle on the construction and repair work you'll need to do as the new owner.
Get inspections, talk to contractors and make sure you're properly represented by a real estate attorney and/or licensed agent who knows the real estate laws in your area.
Don't give up too easily though, as "as-is" might be exactly as you would want it anyway.