Have you ever considered installing your own roof? It's the kind of thing that people usually leave to the professionals, and for good reason. The roof protects everything else in the house. If the roof fails, real problems ensue.
But it can be done. If you're willing to learn, be patient and work hard, it is possible to install your own roof. At least on a home with a simple gable roof.
If you do decide to do your own roof, which type of roofing is most DIY friendly?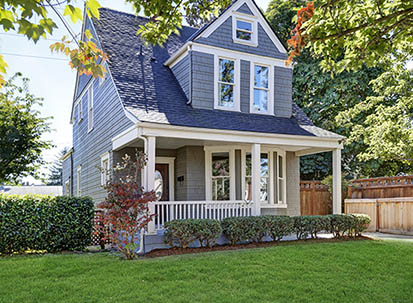 Find Your Home on RealEstate.com
1. Installing Shingles
Installing shingles on a simple gable roof (triangular shaped, like what you'd see in a kid's drawing of a house) is not very difficult. The harder and arguably more important part of the roof could be the "dry-in" underneath the shingles. On both counts, the complexity has quite a bit to do with the building codes where you live. In high-wind zones, the underlayment usually has to be peel-and-stick, but in some parts of the country, you can still use old-fashioned "tar paper" nailed down with tin tabs.
The actual installation of the primary field shingles, however, is pretty simple, and shingles are easy to cut and handle, which makes them a good DIY roofing material.
2. Applying Rolled Roofing
Similar to the "peel-and-stick" underlayment mentioned above, there are quite a few self-adhesive rolled roofing products available on the market. This roofing has to be applied on top of a secondary water barrier, but is easy to install. Once again, the caveat is that "easy" applies to a clean and open piece of roof. When you get into angles, walls that require flashing or even roof penetrations, such as vent pipes, things can get complex pretty quickly.
Rolled roofing can often be installed on sloped roofs that are too low to accommodate shingles, and some varieties are even rated for completely flat roofs. The rolls can be very heavy, and, as simple as it sounds, getting this material up a ladder is a skill in and of itself. In the right conditions though, a rolled roof material can be DIY friendly.
3. Installing a Metal Roof Yourself
The great thing about metal roofing is that it usually goes all the way from the eave to the ridge in one piece, meaning you've got far fewer places where improper installation could cause leaks. It can be as easy to install as just screwing it down, once again on a simple roof slope. In the event that you've got roof penetrations, or angles to work with, cutting metal can be hard and require special tools. It's also not something you want to do on a windy day!
Metal roofing makes my list of good DIY roofing materials because it's great for simple accessory structures you might build at your house. Sheds, porches and carports are all structures that are often narrower than one standard piece of metal roofing. In this kind of situation a metal roof can often be installed easily and relatively error free by a handy homeowner with no previous roofing experience.
Can I Roof My Own House?
After reading this post from beginning to end, you may be wondering if DIY roofing is a good idea. And I have to be honest, after writing it, I'm wondering the same thing!
Roofing is important, being on a roof is dangerous and those simple straightforward "like a kid's drawing" roof shapes are so rare as to almost be mythical. In 99 percent of cases, I would say that roofing should only be installed by professionals or the most skilled of DIY enthusiasts, who have years of simpler projects under their tool belts.
If you do decide to go for it, be sure to consult your local building codes and be careful up there!