The average age of homes for sale in today's housing market is creeping up. You may find yourself sifting through older housing stock, from 100-year-old homes in historic districts to split-level houses from the 1960s.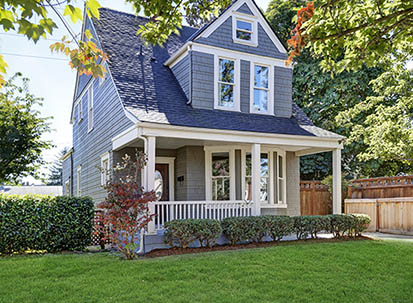 Find Your Home on RealEstate.com
The upside of older homes is that they come with character and history. The downside? Off-the-charts utility bills. Imagine your hard-earned money leaking out of foundation cracks, seeping out of single-pane windows and burning up in an ancient furnace.
So, how do you reconcile the upfront savings with energy inefficiencies? You can make some relatively simple fixes right away. Other energy efficiency upgrades may take a little more work. In either case, you can save 50 percent or more on your bills when you add up the energy efficiency gains from each project!
Seal Air Ducts
Air ducts move warm air from your furnace to your living space. Older ductwork tends to bleed heat. This can be caused by anything from holes cut in the ductwork by previous owners to loose joints between ducts.
For only a few dollars per roll, you can buy high-quality metal tape to seal ducts. Use mastic, a gooey substance that goes over the joints once they've been screwed together, for long-term duct sealing.
If you're looking to make some major repairs, consider financing the cost of a professional contractor with the FHA 203(k) renovation mortgage.
Install a New Furnace
Once your ducts are sealed and efficient, consider upgrading your furnace to an Energy Star-rated, high-efficiency model. These furnaces are 15 percent more efficient than conventional models.
Seal Windows and Doors
An easy way to trap heat (or cool air) inside your home is to make sure your windows and doors are properly sealed. Weatherstripping and caulk will go a long way toward saving you money.
If you can't pinpoint the source of leaks, hire an energy auditor to conduct a blower door test, which depressurizes a home to detect outside airflow in through cracks and openings. As you caulk these cracks, your home becomes more airtight. Be careful though — you don't want your house to be so airtight that you prevent it from exchanging oxygen with the outside world!
Inspect and Improve Attic Insulation
Having the right amount of insulation — and installing it correctly (giving you ventilation where needed) — can make a significant different in your heating bills.
If your home is in a more temperate area, using six to 10 inches of insulation in your attic is recommended. This is referred to as an R-19 to R-30 insulation factor. If you live somewhere that experiences harsh winter weather and cold temperatures, using 13 inches — or an R-42 insulation factor — is recommended.
Install Foam Covers in Outside Wall Sockets
For only about a dime per gasket, you can install foam covers inside your home's exterior electrical sockets and light switches. These little gaskets, which go behind the plates, help seal off small open areas that might allow cold air to seep into your home. While insulating wall sockets doesn't offer massive savings on your heating bill, it's neither an expensive nor difficult project to undertake. It's also important to remember that every little bit helps when it comes to boosting energy efficiency!
Install a Programmable Thermostat
A programmable thermostat will help you save money by using less energy when you're not at home, or when you and your family are asleep. You can save as much as $180 per year on heating and cooling bills, says Energystar.gov, by doing the following:
Winter Setback
Day: 8 degrees F, 10 hours
Night: 8 degrees F, 8 hours
Summer Setup
Day: 7 degrees F, 10 hours
Night: 4 degrees F, 8 hours
If you're looking to make some major repairs, consider financing the cost of a professional contractor with the FHA 203(k) renovation mortgage. This loan option coupled with the PowerSaver Grant could land you some serious monthly savings, as well as federal grant money in the form of closing costs paid by the lender.
Older homes need a little help when it comes to energy efficiency. Whether the help comes in the form of installing simple foam gaskets or performing a major furnace overhaul, every little bit helps.