You can easily find a roofing contractor in your neighborhood, on the Internet or even by just asking your friends. But getting the right one to work on your home is much harder. Between storm chasers and back-of-the-truck companies, the roofing industry has larger than its fair share of scams, poor workmanship and overly expensive installations. For homeowners and real estate agents alike, it's a murky swamp to cross.
Here's an easy-to-follow checklist that will serve as your step-by-step guide to finding, evaluating and hiring roofers qualified to work on your new home.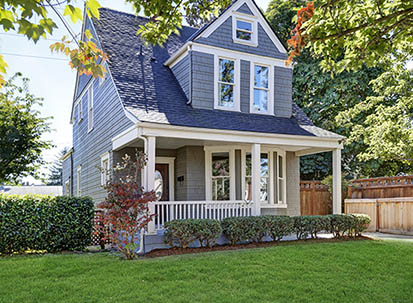 Find Your Home on RealEstate.com
1. Find Contractors
The first step in the process is the easiest. Ask for recommendations from your friends, surf the Internet or visit your local hardware store or construction material supplier and ask for recommendations. Get as many as you can. Having at least 10 names is recommended.
2. Filter and Sort
Instead of 10 one-hour meetings with roofers, you may be able to narrow it down to three or four. Search for the companies online and look for the following on their sites and listings.
Find the Website. Make sure that each company on your list has an Internet presence. Companies that aren't online are likely to be uninsured, unlicensed and without warranties.
Read Online Reviews. Zero in on negative reviews, and ask yourself if the problem was the company's fault or if it was just a bad customer (they exist). If you are having a hard time finding reviews, search for the contractor's phone number online. This will often pull reviews right up.
Confirm Accreditations. Visit your state's roofing certification board and, using the contractor's registrar of contractor license number, search for complaints. Additionally, if the company claims to have an A+ BBB rating, verify it.
Immediately discard a contractor who demands full payment before completion of the job and final inspection.
3. Send Out Word
Contact all the roofers on your list that passed your review. Be as specific as possible with the job requirements. Include the following in your notice:
Type of Roofing Job. Let the contractors know what type of work you think he or she will be doing. Do you need to re-roof the whole thing, or just repair a corner or two? Is your roof made of tile, shingle, metal or foam? Most roofers work with all materials, but being descriptive in this stage can save you time later on. If you are dealing with a small project, ask about minimums too.
Other Related Jobs. Do you also need parts of your attic or home repaired from rainstorm water damage? Would you like to include insulation too? Some contractors can bundle services to get you a deal. At the very least, they'll know which contractors do the best work.
Materials Needed. Roofing companies usually provide the materials needed for the construction. Let them know the materials you need so they can assess the availability in preparation of the quote.
Time Frame. When do you want the roof job done? Do you have a specific window they need to work in, do you need it done ASAP, or is the timing not important to you?
4. Get Quotes, Site Inspection
Contractors are expected to reply to your query, either with a quote, a request for a site inspection or both. Contractors who do not fit the bill, such as those who will not be able to work within the set time frame, will likely decline the job offer right away — saving you time. Don't pay for roof inspections out of your pocket either; the vast majority of roofing contractors offer free inspections. Compile the quotes and assist contractors with the site inspection.
5. Review the Quotes
Once contractors have sent in their bids, carefully study the pricing and payment setup. Most contractors will demand a deposit prior to starting the work, with full payment expected after job completion. Here are the important things to look for in a quote:
Physical address of the company. It should appear in the official document together with the business name and contact information. Do not trust a company that only presents an email address or website.
Detailed pricing. A good roofer will break down quotes into easily understood components. He or she will tell you how much materials and labor may cost and typically leave a provision in case the job costs more than expected. Be sure to read it.
Quality of materials to be used. The quote should also include details on the materials to be used. Some contractors may opt for low-grade manufactured materials to save money and increase their bottom line. Do your research. Companies to trust for roofing materials include GAF, Lapolla and Duro-Last. Make sure to ask your roofer how long each roof material is rated to last.
Labor and other costs. How many men are going to work on the project? How much is their hourly rate?
Payment method. How much of the total price are you required to pay upfront? Immediately discard a contractor who demands full payment before completion of the job and final inspection. Try not to pay more than 30 percent of the total sale value upfront.
6. Interview Contractors in Your Shortlist
Discard contractors that do not fit your requirements and budget. Set a separate appointment to interview the remaining contractors on your list. Even a quick phone call should do. Here are the important items you need to cover during the interview:
Business permits, certification, affiliations, accreditation and other credentials
When the business was established. Older businesses have more experience and expertise. They're also more likely to still be around to cover your warranty in five to 10 years time.
Previous work and customer references. Ask for a portfolio, pictures or addresses that you can visit later.
Workers' insurance and material warranties. Also, make sure the company's insurance covers possible damage to your home.
Other services, such as getting permits and cleaning up after the construction and maintenance work, should be guaranteed.
7. Sign the Contract
The interview should be able to help you assess the most suitable contractor to work on your roofing project. If you still have more than one name on your list, you can ask each contractor to draft the contract. Thoroughly review the contracts and sign the one that you think will give you the best service.
Roofing is an investment in your home that's not to be taken lightly. Roofs can cost upwards of $20,000. Quality also varies heavily between contractors. You might initially pay $500 dollars less to go with contractor B instead of A, but in the long run it might hurt you. Do your research or risk losing your money.