As you decorate and undecorate for the holidays this year, pay attention to some of the details surrounding your decorations. Make a home maintenance checklist. Take some pictures. Put the repairs on your 2019 renovation calendar and in your 2019 budget. Do that, and next year you may feel confident enough to enter your home in the local decorating contest.
1. Roofing and Overhangs
As you install and uninstall those holiday lights, you'll have the perfect opportunity to get a close look at your roof and overhangs. Your overhang includes three main components: the soffit, the fascia and the gutter.
The soffit, which is the underside of your overhang and is usually wood or metal, might have some loose pieces, some holes critters could get in or water damage from a roof leak above.
You're already up on a ladder or on the roof itself to do the lights. Take a good look at the gutters while you're there.
The fascia is the flat board around the perimeter of your overhang and is usually where the lights themselves are installed. Fascia boards rot, come loose and are notorious for needing a paint job far sooner than the rest of your home.
The gutters are self-explanatory, I suppose, but there's no better time to check them for clogs, loose nails or broken corners. You're already up on a ladder or on the roof itself to do the lights. Take a good look at the gutters while you're there.
Speaking of the roof, holiday decorating time is probably one of the few times you actually get on your roof, which should always be done with great care and proper safety measures. But if you are safely up there, you should get a look at your roofing. How are your shingles? Do you see any dips in the roof that might indicate a soft section of underlayment? This usually means a leak is present.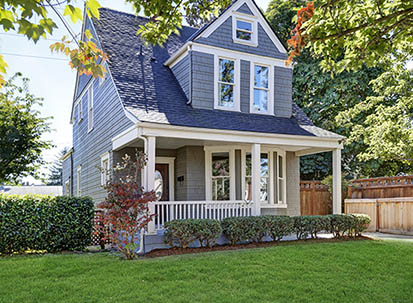 Find Your Home on RealEstate.com
No matter what part of your exterior you're looking at, the installation and removal of holiday lighting is a chance to inspect your home closely. Take it!
2. Front Door and Entryway
Good cheer starts at the front door. Giant wreaths hung carefully on a door flanked by bright red poinsettias is about as inviting as an entryway can get, don't you think? The front entry sets the tone for the feel of your house. It's worth the effort during the holidays and all year round. Focus on the details and go big on the warm holiday welcome!
Does your door need a new coat of paint or varnish? Are all of the porch lights working properly? Does the landscaping on either side of the front walk need to be revamped? Add these items to your list so that, come next holiday season, your house really does offer a warm welcome.
3. Fireplace
Fireplaces are probably the most commonly decorated component in a home. If you have a fireplace, chances are you've decorated it even if you haven't put up a single string of lights. Everyone loves a decorated mantel and hearth.
Interestingly, fireplaces are also a common source of accidents. From unwanted smoke and mantles falling off to actual fires where they aren't supposed to be, fireplace maintenance shouldn't be ignored.
Take the decorating process as an opportunity to check a few things:
Do the firebox glass doors and/or screen work properly and seal well?
Does the chimney itself need to be swept?
Is the mantel securely fastened to the wall?
Are there any loose stones, bricks or tiles on the hearth or the face of your fireplace?
Add these to your 2019 to-do list so that next year your fireplace looks as hot as it actually is inside!
4. Railings and Banisters
Along the same lines as loose fireplace mantels, loose railings and banisters can represent a real safety hazard. This danger can sometimes be made even worse through the process of adding and removing holiday decorations.
The good news is that the running of garlands around all of your stair and balcony railings pretty much requires someone to put their hands on every section of your railing assembly. Take care to note those spindles that are broken or missing, those newel posts that are wobbly and the like. A good carpenter can usually fix these things without too much trouble and the improvement in look, functionality and safety are worth every bit of effort.
5. Electrical
Last but not least is electrical. Every Christmas tree fire I've ever seen has been caused by some sort of electrical issue. Holiday decorations, especially lights, take up electrical outlets all around your home inside and out. Are breakers tripping when they shouldn't be, or more importantly, are they not tripping when they should be? If you've got far more plugged into one outlet than it should be able to handle but it still works, that could be a sign of a dangerous condition in your electrical system.
As you install and subsequently remove electrically powered holiday decorations this year, look for things like loose outlets, switches that don't seem to connect every time, outdoor outlets that aren't properly waterproofed and other potential electrical hazards. You really can't be too careful.
Holiday Showcases are About Details
No matter what your level of decoration is this year, or where you hope for it be in the years ahead, the real difference is in the details.
Take the time to look closely at the permanent parts of your home that surround and support the decorations you're enjoying during the holidays. This is your chance to make your list and check it twice so that next year your home is perfectly ready to win the blue ribbon in your local holiday home decorating contest.