Remodeling isn't cheap. Nothing about houses is cheap, come to think of it. Not everything, however, comes with the same risk of total financial disaster as does a large remodeling project. With this in mind, we've assembled a short list of the most common and most expensive mistakes in home remodeling and a few tips to help you avoid them! See if any of these sound familiar to you.
1. Bad Design
Of all the things that can cost you a fortune in a remodeling project, by far the most expensive is a bad design. We've all seen it. That house you drive by every day that begs the question, "What were they thinking?" Poorly designed additions are the worst. They look like afterthoughts at best and sometimes just look like they need to be completely torn down.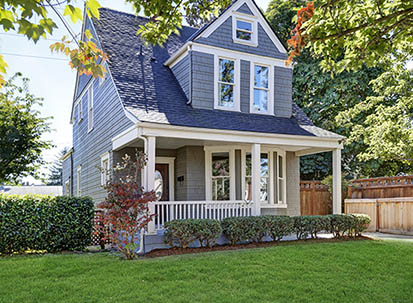 Find Your Home on RealEstate.com
A bad design can actually reduce the value of your home rather than increase it the way you would hope a sizeable investment would do. The danger of not only costing tens of thousands of dollars to complete, but also potentially making it impossible to sell your largest investment puts "bad design" clearly at the top of this list.
What You Can Do
Focus first on the design. Before you worry about things like "who will build this?" and "when will this be done?", spend some weeks or months on the design. Talk to some designers, architects and builders and get a feel for what's possible and what would work well in your home and on your property. You may find a design-build contractor, or you may hire a design professional separately. You'll know who's the right designer after you've talked to a few.
2. Cutting Corners
Cutting corners can mean many things. Cheap materials are a common culprit. Buying lesser quality windows, doors or fixtures can save thousands but cost you far more than they save in the long run. Hiring unlicensed contractors and subcontractors is another shortcut that can come back to haunt you later. The savings for these kinds of calls are rarely worth the trouble they can cause. Cheap windows can cost you a fortune in heating and air- onditioning and make an entire space uncomfortable 24/7. An unlicensed electrician might overload a circuit and leave you making daily trips to the breaker box to reset a tripped breaker, or worse!
What You Can Do
When it comes to fit and finish items like windows, doors and hardware, the best move is to go for "like kind and quality" to what is existing in the remainder of your home. This is the best way to ensure that your remodeled area isn't dramatically different from the rest of your home. Don't be tempted by the least expensive products you can find.
Hiring only licensed professionals to work on your home is well worth the extra cost if there is any. I can't begin to count the times I've seen fully licensed and insured professionals, complete with offices and real people who answer the phones, cost less than an unlicensed competitor who operates illegally every single day. It's worth your time to check licenses and ask for proof of insurance.
3. Only Getting One Opinion
Both of the first two items on this list are often associated with, or made worse by, getting only one opinion when planning your remodeling project. It's a very common scenario: John and Janice were happy with the work Contractor Bill did on their house, so why look any further? Just call Bill and get this done. There are a number of holes in this method of doing things, the most obvious of which is people's tendency to say they loved the result of something that cost them a half a year's pay even when things really didn't go that well. Then there's the obvious reality that not everyone gets along well with everyone else. Homeowners and professionals have personalities, favored approaches and communication styles that can make or break the whole process.
The bottom line is that hiring the first person you talk to without getting another opinion is risky. Even if that first contractor or designer is "the one," what harm is there in having a couple more conversations just to have more information and comparison points?
What You Can Do
Talk to at least two or three people before making a choice. Asking around should always be your first step. When someone says he or she loved the work of a certain contractor, ask that person if you can come see the finished project. I'd caution against pointing out any flaws you find, but you will probably not be wearing the same blinders as the homeowner, so just take mental notes of the quality of the work and ask about things like timeliness, cleanliness and attention to detail. It also never hurts to randomly call licensed pros you find through advertisement such as vehicle signage, job signage in your neighborhood, local publications, etc. You can get names from online sources like Angie's List, etc., but just be aware that these sources are frequently biased to paying advertisers.
4. Skipping the Permit
I've been a contractor my whole life. I've pulled thousands of permits. And as recently as three days ago the temptation entered my mind: "Can't we just skip the permit on this one?" The answer is always no. Skipping the permit is tempting but never worth it. Never. If a job is simple, the permitting process probably is too. If a job is complicated, the permitting process will help you be doubly sure you're not making some very costly mistake. Skipping the permit can result in spending tens of thousands of dollars on something and then literally being forced to completely demolish it because it extends beyond a building setback. The permit process also compares your plans to the building code to make sure important safety concerns are being addressed.
What You Can Do
Insist that all work on your home be properly permitted through the local building department. If you're told something doesn't require a permit, call and verify that. Many jurisdictions do allow things like painting, flooring, countertops, etc. to be done without a permit. Other places, however, require a permit to change a doorknob, so take the time to find out. Also be sure you're in the right jurisdiction. I was in the county building department last week, sitting next to a poor guy who waited there for an hour only to be turned away because his address was within the city limits of a small town within the county. Generally speaking, if your town has a police department and a fire department, it probably also has a building department. Go get your permit!
5. Wearing Too Many Hats
This happenes when a homeowner decides to act as his or her own general contractor, but that's not the only way this can happen. Another common scenario is having the skills to do all of the work but not the time. Juggling a full-time job and a large remodeling project can be overwhelming even when you've got a team of professionals working for you. It can be completely impossible if you're trying to do it all yourself. In the long-run all intended savings evaporate because mistakes get made, things take longer and expenses add up. That's not to mention the high cost of divorce attorneys. Just kidding (though it does happen).
What You Can Do
Don't overload yourself. If you're working full-time, just be realistic about how many all-nighters and working weekends you can handle. For most people anything more than a three- or four-week stretch is going to lead to a meltdown, and most large jobs take longer than that, especially when you're working in your spare time. Consider how much money it really costs to hire professionals to help you. If that cost pushes your project out of your budget, consider cutting back on the project scope and potentially knocking out your project in phases.
6. Underbudgeting
The primary reason that eager homeowners end up wearing too many hats is, of course, money! Money is often behind the majority of the mistakes that end up, ironically, costing so much money. Save money by doing the design yourself. Save money by buying cheaper materials. Save money by hiring an unlicensed contractor. Etc., etc., etc.
One of the most expensive mistakes in remodeling is a budget that's too low. The need to save money leads to so many bad choices and almost always backfires. Having a budget that is more than sufficient has the opposite result. Good choices are made, good materials are purchased, a great design is prioritized and the finished product ends up being significantly more valuable and, as odd as it would seem, often costing far less to complete.
What You Can Do
Be sure the scope of the work and the monetary budget match. If the money seems short there are three options: Get a loan, reduce the scope or wait. Home improvement loans can be a great thing and sometimes a HELOC is a perfect safety net if your budget is close. Phasing your work and reducing the scope of the initial project is another solution. And, of course, there's always the option to just cool your jets for another year and save up a few more bucks before starting.
Whatever choice you make, the real key to not making costly mistakes in a remodeling project is having the budget available to do it right the first time!