My neighbors just closed on their house a couple of weeks ago, and they're already working on the place. They've started with the landscaping, new appliances and some general fix-up type stuff. They've been asking me questions about additions and major remodeling projects. They're excited, and I'm excited for them.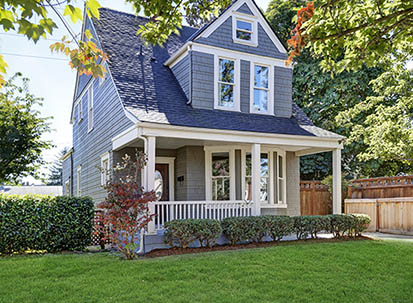 Find Your Home on RealEstate.com
These aren't new neighbors. I've had the privilege of living next to them for at least five years, maybe longer. But until a few weeks ago, they were renting the house. Now they own the house. Big difference! Now they can do what they want, and from what I'm hearing, they want to do quite a bit! Which, of course, leads to the question of the day:
How Do We Figure Out What This Will Cost?
Getting a grip on the cost of a project before it spins out of control is something that stymies a large number of homeowners. According to Zillow's 2017 Housing Trends Report, 47 percent of homeowners have trouble figuring out what a project will cost. Getting that little tidbit of information wrong could lead down a rabbit hole of anxiety, arguments and unexpected debts. Not to mention the dreaded "living in a remodel" for years!
Here are four simple steps you can take to help avoid that unexpected cost overrun.
Step One: Develop a Vision
Before you start any remodeling, get a vision for the project as a whole, at completion. I'm talking about the entire thing. This might be work you know you won't get to for five years or even longer. But if you know you want it done eventually, the project should be part of this early vision. Don't be afraid to commit; you can tweak the vision as you go.
Even if you're just at the stage of needing a conceptual design, a design professional can help you know what you can and can't do and understand at least roughly how much things are going to cost — an arm and a leg or just an arm.
Establishing a vision starts with knowing what you like. Magazines, blogs, social media and good old fashioned driving around are all great ways to get a feel for your style and preferences. Pay attention to the big things, such as square footage and floor plan (open or partitioned), as well as little things, like wall textures and bathroom fixtures and features.
These details will help you hammer out a vision of your perfect house. Then, compare that vision to your house as it stands to figure out a path from where you are to where you want to be. At this point, you may need to hire a design professional to help you. Even if you're just at the stage of needing a conceptual design, a design professional can help you know what you can and can't do and understand at least roughly how much things are going to cost — an arm and a leg or just an arm.
However you do it, the goal of step one is to have a pretty solid concept of the entire project when it's all said and done.
Step Two: Determine a Scope of Work
If you're like most homeowners, you won't be doing ALL that work at one time. Most likely you'll be phasing your remodeling project into chunks like "kitchen," "master addition," etc. The overall phasing of your dream home remodel is probably going to be intuitive and determined by budget or family needs. I can't remember how many times I've added bedrooms to homes with a deadline of, roughly, nine months.
Whatever the driving forces, figure out what projects will live within "Phase One" (otherwise known as a "scope" of work). At this point, the scope can be broad. It can be big chunks, like "Replace cabinets in kitchen" and "Add 30x20 addition with two bedrooms and a hallway." The goal of this step is to pare down that big vision into an immediate actionable project.
Step Three: Decide on Your Method
Primarily, the options are:
Hire professionals to build this for you.
Do the work yourself.
A combination of the two
If you go with professionals for everything, then now is the time to get some estimates. Make a few phone calls, get recommendations from friends and neighbors, follow up on some advertisements you saw and then pick at least three professionals to look at the work with you and provide some feedback.
If you're going to do the work yourself, then it's back to step two. You're going to want to think through the entire project and consider exactly what you'll need along the way. Your scope, which was previously "replace kitchen cabinets," is now 20 line items and includes details such as "Remove sink and faucets and cap off plumbing," "Rent dumpster" and "Install XYZ brand maple cabinets based on new layout." You can then take that more detailed scope and roughly estimate the cost of each line item.
If you're mixing the two approaches, get estimates from professionals and create a detailed scope for the work you're going to do yourself. The latter is a place where most people get into trouble: They think they've sufficiently thought through projects without doing the math until they hit huge unexpected expenses.
Step Four: Compile Your Estimates
At this point, you pretty much just need a calculator! Sit down with your estimates from contractors, designers and suppliers, plus your own estimates of work you plan to do yourself, and add them up.
You should then have a fairly good estimate of what this phase of your project will cost. If it's more than you can swing right now, just go back and reduce the scope. If you feel like you can do more, go back to your vision and see what's next and consider rolling that into this phase. In any case, you now are armed with information and far less likely to be one of the 47 percent who get sideswiped by unexpected costs.
But be warned: You'll probably make a change right in the middle of things that costs a few bucks more. Everyone makes a change. There's always a change. So plan a bit of a contingency fund for that. Maybe 10 percent.
Happy Remodeling!