Walking away from that closing table on your new fixer-upper is "the" moment, right? You just totally knocked one of the biggest endeavors of your life right out of the park! You're in a great neighborhood with the best schools, you negotiated an incredible deal and you secured an unbelievably low rate on your financing. And the house is great … well, it will be, anyway. It's a bit of a fixer-upper, but no problem! You're ready. You're fired up. It's a perfect moment.
By knowing exactly what the end result will be, you are far less likely to get projects out of order, create spaces that don't sync or find yourself living in an unfinished mess because you ran out of money.
A day or two later, the rush of emotion is maybe receding a little bit. You're feeling overwhelmed and looking at that fixer-upper like, "Now what? Where in the world do I start something like this?"
At this point, you need a clear plan. You need a vision for that house and a roadmap that leads you from where you are to where you want to go. Here's how to do it.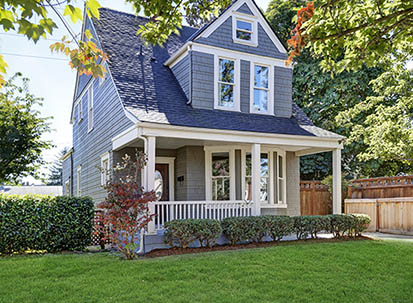 Find Your Home on RealEstate.com
Developing a Detailed Vision
It all starts with a great vision. And by vision, I mean a fairly detailed picture of the end result. I don't mean a "rough idea" (i.e. We probably want to add some space. Maybe the kitchen needs to be updated. It seems kind of dark on the west side of the house). Those observations are helpful in getting a vision, but they aren't a vision. There's more than one way to do things, granted, but the best way is to know exactly what you want to do, in detail, before you swing a hammer.
By knowing exactly what the end result will be, you are far less likely to get projects out of order, create spaces that don't sync or find yourself living in an unfinished mess because you ran out of money.
Here are four things to look at when developing a vision:
Form
By this, I just mean style, look and feel. This is the time to scour Pinterest and snap pictures of the screen while you watch HGTV. It's deciding if you want a traditional style, a modern style or something in-between. This is when you think about what kind of floors you like, what kind of landscaping you like, what doorknobs are your favorites. Deciding on a form is fun. Just keep your house in mind. It can be hard to transition a traditional farm-style house with gables into a modern work of art in concrete and glass.
Function
Then it's time to think about the function of the house. If you're planning to live in this home, what does it need to work for you? A bigger kitchen? Another bedroom or two? A garage that isn't there? A place for the kids to play? An area to entertain? A wine cellar?
Everyone has his or her own distinct set of needs, and it's important to think about yours when you develop your detailed vision.
Fun
No vision would be complete without the wild anticipation that comes from incorporating something fun! It could be the backyard of your dreams. Maybe it's a splurge on some top-end gourmet kitchen appliances. Or a perfectly designed space for you to sit around with your favorite person and do a "Game of Thrones" marathon. It can be anything. But it's important; the "fun" element can be a surprisingly powerful part of your vision.
Financial
Finally there is the part of the puzzle that thinks about money. How much can we afford? How much will this idea cost compared to that idea? How much money can the house "handle" in the neighborhood and still be in the price point of the market. It's never a good idea to develop a vision that has you overbuilding and pricing your home out of the market.
Maybe Hire Help
It can take some time to work through all of these parts of developing that vision, and sometimes it really helps to hire a professional who can work with you corral all of your varied and seemingly random thoughts into a coherent and workable plan. Professional designers know what actually can and can't be done with regard to modifying the house and what is or isn't going to be permitted by the municipality that oversees your work.
Pros to consider include an architect or designer, an interior designer or a contractor who specializes in design-build remodeling projects.
Prioritizing the Plan
Once you have that vision in place, it's time to set some priorities and plan out the phasing of the work.
Immediate Needs
If your fixer-upper was in a shambles when you bought it, some emergency care — such as painting or floor covering — may be required. And since you have your overall plan in place, you can dive right into these projects without fear of having to rip out or redo the work later.
Financial Timing
Finances are the other big player when it comes to prioritizing your project. Do you have all the money you'll need already set aside? If so, then you can move ahead in whatever way makes the most sense. If not, then the timing of the money you plan to spend is a factor. If your rehab is on a larger scale, doing some of the smaller projects first is key to improving your home's value, which will help you obtain additional financing. Subsequent projects can be built out over a period of months – or years -- as money becomes available.
Obvious Phasing
Oftentimes the phasing of a project will just kind of be clear and easy to see. Don't remodel the kitchen until the new roof is on, because the old one leaks. Don't paint the bedroom yet because that's where the garage addition will be coming into the house. Don't put in the outdoor kitchen before the pool because it will block off access needed by the swimming pool contractor. Obvious stuff is sometimes the most helpful information you have when working out a prioritization plan for a whole-house project.
Vision First, Then a Plan
As challenging as it may seem, mapping out a detailed vision is worth the effort. I've encountered homeowners who, due to lack of planning, were ready to literally tear down the houses and start from scratch. A few weeks of effort put into a well-thought-out vision can save you a pile of money and make the entire process so much more fun and exciting.
Once that vision is in place, review it every day, and the plan for making it happen and steps you need to take will fall into place.