I recently wrote about the types of fixer-upper projects that stand the best chance of generating a good return on investment. One of the go-to projects mentioned was, of course, the kitchen. Kitchen remodeling is a longstanding contender when it comes to ROI, but it pays to mind the budget. Buyers want great kitchens that inspire, but if you spend too much creating that space, you could still end up on the losing side of the equation.
To prevent that, try one, two or all of these budget-friendly kitchen remodeling ideas:
1. Painting Your Cabinets
When it comes down to it, there really hasn't been any jaw-dropping innovation in the realm of kitchen cabinet design over the years. Sure there's some cool hardware out there, and we're always rotating through the various options of materials, door styles and finish. But overall, a cabinet is a cabinet.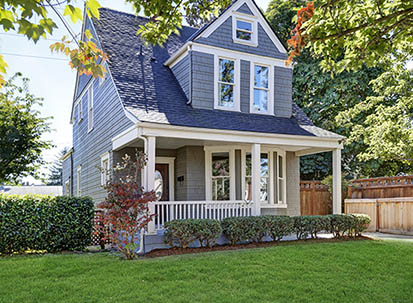 Find Your Home on RealEstate.com
So if the cabinets in your fixer-upper are sound, but looking a bit worse for wear, why not consider painting them instead of a full replacement? If you select a nice up-to-date color palette and perfect your technique, you can completely change the look and feel of your kitchen while spending a fraction of the cost of new cabinets.
2. Open Shelves vs. Upper Cabinets
A trend that I really like and hope to see for years to come is the migration toward open shelves in lieu of closed upper (wall) cabinets in the kitchen. Open shelves tend to make a space feel larger, encourage a more thought out and less haphazard system of storage and can cost almost nothing to install.
For inspiration, search the term "open shelving kitchens" on Pinterest. The ways in which designers and homeowners have replaced both upper and lower cabinets with shelves will make your heart flutter with excitement. Open shelving is great way to improve your design and your bottom line at the same time.
3. Walls Are The Thing!
OK, walls. You're used to seeing a few things: drywall, paint, maybe some tile, maybe some wallpaper? And those can be the perfect solution for your design. They often are the best option. Custom wallpapers, in fact, are increasing in popularity at an amazing clip.
Just don't make the mistake of thinking your wall options are limited to those few finishes. That is decidedly NOT the case! Think about various types of wood paneling, metal wallcoverings such as corrugated roofing or even concrete! I was in a new restaurant a few days ago and stopped and stared at a wall that was nothing more than concrete backer board (aka Durock, which is designed as a tile base) with a thick clear-coat finish on it. No mud in the joints and nothing covering the screws. It looked fantastic.
4. Countertop Options
Granite or other high-end counter surfaces can take up a giant chunk of your kitchen remodeling budget. You might be able to save some money with alternatives. Here are a few:
Beautiful new laminates can cost much less and look great.
Veneers made to cover your existing square-edge tops can make counters look pretty high-end.
A great DIY project, concrete counters can be completed for a ridiculously low cost. Just be prepared for a little trial and error. Maybe start with an outdoor counter!
5. Paint
There's always room for paint! What room, ever, didn't look better after a fresh coat of paint? A little bit of time spent selecting the right colors goes a long way. But the overall cost of a coat of paint is nothing compared to the value gained on resale. It's a no-brainer.
6. Lighting
Lighting is an often overlooked opportunity in a kitchen renovation. If your fixer-upper has fluorescent lighting in the kitchen, as so many do, start by replacing it! Go with newer LED lighting in either recessed or surface-mount fixtures. Pendant lighting over bar and eating areas can add an upscale flair for a few bucks.
When it comes to lighting, the options are vast and the prices of fixtures can vary wildly. Take your time and look around to find the perfect lighting for your design. Your potential buyers will love it, and you'll feel as brilliant as your kitchen looks!
7. Flooring
Every room in the house can benefit from new flooring, and the kitchen is no exception. It pays to find out what flooring type is trending in your area. If you like what you see, try to stick with it. Bucking the trend might cost you on resale.
Also be aware of commonly held opinions. For example, the majority of people think it's a bad idea to put a real hardwood floor in the kitchen or bathroom, as surfaces might get wet. I like a kitchen with solid wood flooring, but it may be perceived as negative at resale, potentially lowering your return on investment. Moral of the story: Do your homework.