Preparing your home for cold weather or power outages is one thing, but bracing your home for a hurricane is quite another. If you live in an area where hurricanes are common, one of the most important things you can do is install hurricane shutters to protect your home from fearsome winds.
Choosing Hurricane Shutters
If you live in a coastal region of the United States, you're likely to experience a hurricane at some point. Once the doors and windows go, your house becomes more vulnerable to damage. Besides water damage, breached windows can lead to roof and wall failure.
So what's the best kind of hurricane shutter for your home? That mainly depends on what you can afford and what you will be able to effectively use in the event of a hurricane. Manufactured hurricane shutters include: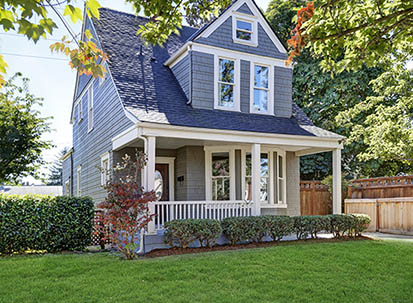 Find Your Home on RealEstate.com
Hurricane Panel Shutters
Made of either steel or aluminum, strong but thin sheets anchor to the walls around your windows and doors with either bolts or track systems. The corrugated design and overlapping panels create an excellent barrier to hurricane damage at a lower price than other types of shutters. Panels are also designed to be removed when not in use. Although they require storage, they take up little space because they stack together so well. Unfortunately, hurricane panel shutters can be difficult to handle and require more than one person to install. The sharp edges can be hazardous to installers' hands. Worst of all, metal can be difficult to work with, and if the original installation was poor, it may be difficult to get the panels to line up with the mount, or the panels may not cover the openings properly. If you are an experienced DIYer with access to the tools specified in the manufacturer's installation instructions, you can probably install these hurricane shutters yourself.
Before choosing and installing any hurricane shutter, it's a good idea to check your local building code. Find out what the requirements are in your area.
Accordion Hurricane Shutters
Picture an accordion, the musical instrument that squeezes together with folds and pulls out again. Accordion shutters operate on the same principle: They unfold to cover your windows during a storm, then fold back to the window side or sides (depending on whether they are one- or two-piece shutters) when not in use. Permanently affixed, you never have to worry about storing them or mounting them each time they are needed. One person can activate them simply, making it easy to protect your entire house in minutes instead of hours. Some manufacturers even offer locking options to prevent theft. Accordion shutters can look bulky and may not suit your sense of style. Also, since they glide on wheels, you may have problems with them breaking.
Bahama Hurricane Shutters
These one-piece louvered items attach to your home directly above a window, where they can provide shade from sunny skies and also quickly lower to protect your windows during a hurricane. Since they are permanently mounted, no storage space is needed. One person can easily lower the shutters and secure them in less than an hour, like most permanently mounted shutters. Some people think that these shutters block too much sunlight. Older models have traditionally proven weaker than other shutter designs, although newer shutters are getting stronger. Also, you can't use Bahama shutters to protect doors, so you will need another choice for them.
Colonial Hurricane Shutters
Popular as a decorative item in other parts of the country, colonial shutters are louvered and mount on either side of the window. When in use, they fold together to cover the glass. No storage space is required, and they are easy to make storm-ready and decorative. Like Bahama shutters, you must choose another shutter to protect your doors. When considering colonial shutters, look closely at the actual shutter style. Some feature a center rod or storm bar to secure or lock the shutters closed. This results in more work to prepare for an oncoming hurricane.
Roll-Down Hurricane Shutters
Unless you are experienced and confident in your DIY skills, you may wish for a professional to install roll-down shutters. They attach above the window and roll up into a box when not activated. To lower them, you either push a button or turn a hand crank. No storage space is required other than the permanently mounted box. They are easy to operate, but if yours are electric, make sure you have an alternate power source in case your electricity is shut off. These shutters provide excellent protection during a storm or against theft.
Nothing's perfect. Roll-down shutters are expensive, both to purchase and install if you have it professionally done. And battery backup systems for electrical shutters can be a hassle. Still, they are so easy to operate, they are the perfect choice for mobility impaired individuals or others who might find it challenging to make their shutters storm-ready.
No matter which commercial hurricane shutter you choose, proper installation is essential. Each manufacturer has its own specifications and methods. Consult the product information for exact instructions. Alternatively, hire a professional to install the shutters. Peace of mind is worth a little extra money.
Shutters Aren't the Only Option
Hurricane Glass
This material is built to withstand flying debris and wind force. It eliminates the need for shutters completely and meets modern building code requirements. While this is an excellent choice for some, especially since it requires no preparation, it's best installed in a new home or during a remodel.
Hurricane Fabric
Similar to a shutter, but not made of wood or aluminum, this window covering technique is growing in popularity. Sometimes called hurricane curtains or hurricane netting, this special fabric is coated in PVC (a form of plastic) that creates a strong barrier that simply rolls up and stores when not in use. The initial installation must be performed by a professional.
Hurricane Shutter Tips and Considerations
You want your hurricane shutters to be in place when you need them, so the best time to buy them is now. These tips and considerations will strip the stress from hurricane preparation.
Before choosing and installing any hurricane shutter, it's a good idea to check your local building code. Find out what the requirements are in your area.
If your hurricane shutters are permanently mounted, such as roll-down, accordion and Bahama shutters, close and open them each year right before hurricane season to ensure everything works properly.
For removable shutters, at the beginning of hurricane season, check each shutter to ensure it is in good condition. Take a look at the window and door openings, and make sure all hardware is available and in good repair. Practice installing the shutters, if you lack the experience, and time yourself so that you know how long the installation takes.
Label removable shutters so that you can easily match them to the right windows. A piece of masking tape and a marker or pen will make the job easy.
Check with your insurance company to find out what types of shutters may qualify you for insurance premium discounts.
Never guess on the number of attachments. The Florida Division of Emergency Management provides a chart that provides state standards for shutter attachment spacing, types of attachments, useful tools and more in-depth information.
Make installing hurricane shutters just one part of your hurricane preparation. Other important steps include gathering a storm survival kit and making each family member aware of the steps to take in case of emergency. Don't know where to start? The Red Cross provides information and resources for hurricane preparedness, as does the National Weather Service.