It's an incredible time to get a sweet deal on a brand new house, but are there any good loans for new home construction, and where will you find the best options?
Types of Loans for New Home Construction
Building a dream home on a dream lot overlooking the ocean or with a spectacular mountain view may be everyone's fantasy, but you had better check out your financing options before you break out the shovel.
You need to know where to score the best terms, how much you can expect to borrow and the requirements for different types of new construction home loans, or you could be left with a very expensive hole in the ground and not much else.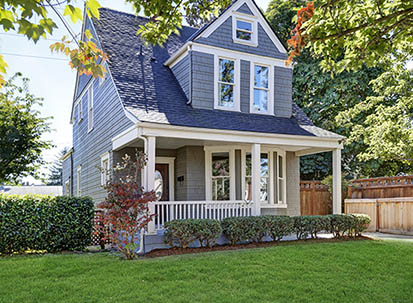 Find Your Home on RealEstate.com
Construction-Perm Loan
Designing and building a custom home from the ground up can be an exciting prospect, but finding construction loans for this type of project is far from easy today. Construction loans have always been one of the riskiest types of lending for banks, and the bust of the early 2000s saw lenders stuck with an incredible number of these loans, while construction loan programs evaporated.
Tip: With construction REOs making up the largest percentage of foreclosure properties on many banks' books, you may find amazing bargains on homes that were started and never finished.
Still, if you really have your heart set on bringing your custom dream home to life to your exact specifications, expect to put down more money and jump through a few extra hoops. This type of loan normally provides funds for acquiring your lot and building and then rolls into a permanent loan once construction is completed.
New Construction Loan
Also known as an "end loan," this funding option puts the financial responsibility of the construction in the hands of the builder and allows you to select from a variety of pre-designed models and select certain upgrades or personalized finishes based on your own tastes. You get the new home smell and prestige while avoiding some of the upfront funding worries.
How it works: You sign the contract, let the builder go to work and — once the C.O. (Certificate of Occupancy) is delivered — take out an end loan. These loans are relatively easy to qualify for and borrowers can actually use almost any type of conventional loan for this purpose.
Lot Loans
If you plan to build your own unique home from start to finish, but can't afford it today, take advantage of today's low interest rates and land prices and buy a premium lot or acreage to build on later. Ask about better terms on shorter loans if you plan to build within the next few years.
Is 100 Percent Financing Possible for New Construction Homes?
For those who only need an end loan, there are a number of attractive options available to first-time home buyers and move-up buyers alike.
Low or No Down Payment Loans for New Home Construction:
USDA home loans
FHA home mortgages
Transactional funding (for flipping houses)
Beware the In-House Lender!
Buyers spending their weekends browsing new communities and condo projects will often find they are offered financing by an in-house loan officer. Tread carefully here.
You may be offered certain "incentives" to utilize these on-site or recommended loan options for new home construction deals. However, this doesn't always mean they are anywhere near the best deal. They may pressure and try to scare you into using them as they may be illegally gaining kickbacks from these loan officers, but know that they cannot require you to use their preferred lender. You should always shop around and make sure that you are getting the best deal on rates, fees and terms for your personal situation.
4 More New Construction Loan Issues to Watch For
Purchasing the model or buying in later project phases can result in overpriced homes that won't appraise.
Builders are incredibly unforgiving if you run past your closing date and will try to keep your deposits. Apply for a loan as early as possible.
Some lenders and programs may have restrictions on the communities for which they will make loans.
Interest rates could change dramatically before your home is completed. Ask about extended locks and "float-downs" as rates drop.