One of first-time home buyers' biggest fears is that something — a faucet or, worse, the roof or old wiring — will require maintenance (or have to be completely replaced) shortly after you move in.
I hate to break it to you, but there's no way to avoid or prevent things from breaking down or accidents from happening without warning.
When the repair is beyond your skill set and that of a handyman, you may find that paying a premium to hire a professional is worth it.
And it's no secret that hiring a professional to tackle home repairs can get insanely expensive. I recently had to hire an electrician here in Chicago who charged me $300 just to show up and then $200 an hour after that. But a leaky faucet: I can fix that myself for less than $10 and a quick trip to the hardware store.
So, how do you determine the severity of a job and your ability to take it on? This really depends on three variables:
1. Expertise: Do You Know What You Are Doing?
Some things are definitely easier to fix than others. If you are crafty, you can learn to do quite a bit just by watching YouTube videos. In my experience, painting and many plumbing issues related to sinks, faucets, toilets and showers are pretty easy to fix. But a word of caution: Be careful with drains, especially if you're dealing with super-old pipes. Some jobs are better left to the pros.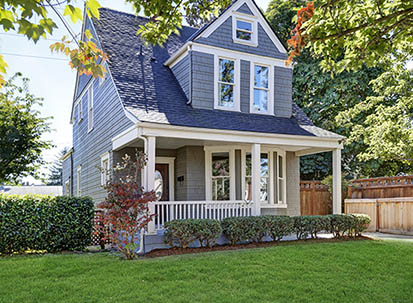 Find Your Home on RealEstate.com
Do an honest assessment of your skillset (I won't even touch wiring or roofing, for instance) and, above all else, be safe. Home repair isn't something you should fear or, on the flip side, jump into headfirst. There are so many stories of people who got hurt, or worse, because they didn't know what they were doing. If a job makes you feel uncomfortable and seems in any way dangerous, definitely hire a professional.
2. Time: How Much Time Can You Dedicate to the Fix?
Once again, the key here is to be honest with yourself. Despite our best intentions, we tend to significantly underestimate the time things in life take to get done — home repairs included! No one can realistically repaint an entire apartment in a day (trust me, I've tried).
The good news here is that once you've successfully completed a repair (guys, it took me 10 hours to change a sink for the first time), you'll be a pro. Consider that first experience a good investment of time.
When should you call in a professional? If you are strapped for time, can't seem to figure out how long a project will take or something unexpected happens mid-project. I once tried to repair a ceiling leak; as a result, a big part of the ceiling collapsed, and I had to pay a professional $2,000 to pick up the pieces. Don't do that: Establish a "jump ship" rule so you don't waste time, keep tinkering and make matters worse.
3. Money: How Much Does It Cost?
It's no surprise that doing most home repairs yourself can save you a lot of money. That said, be sure to make a list of and price out tools and supplies before you go shopping, so you can establish and stick to a budget and don't waste time running to and from the hardware store (time you should be spending actually making the repair).
If you do decide to go the pro route for any job, I strongly recommend that you get at least three quotes before you hire. And know that you don't always have to hire a "specialist." Case in point: A locksmith once quoted me $800 to fix an issue with some of the locks in my home. I then called a local handyman, who quoted me less than $200. A good handyman can do most around-the-house jobs — just make sure you get a recommendation from a neighbor, friend or family member who can honestly vouch for the person's work.
The more you shop around, the more likely you are to find a deal. But keep in mind that cheapest is not always best. When the repair is beyond your skill set and that of a handyman, you may find that paying a premium to hire a professional is worth it.