You've searched for over six months, finally found the perfect place and it's love at first site. As you scroll through the pictures for the hundredth time, you imagine your car parked in the driveway and your dog running around that huge backyard. Oh the parties! This place will be awesome for parties. And the price seems reasonable. But you have one lingering question: "How much money do I need for the down payment?"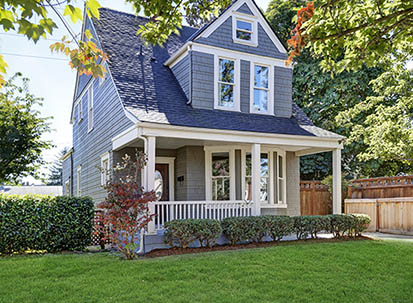 Find Your Home on RealEstate.com
20 Percent: Fact or Fiction
Thankfully, it's probably less than you think. Yup, you read that right. Most of the information about first-time home buyer down payments is just wrong or outdated. Conventional advice says you need to have at least 20 percent of the purchase price saved for a down payment. Sure, if you want to be really, really, really conservative. But in many markets, if you wait to save a 20 percent down payment, you are going to be priced out of the market before you can get there. That's just the way real estate works. It's often best to jump on a deal when you find one — especially if the place is in an in-demand neighborhood — because next week, it will be gone.
So back to the big question: "How much money do you actually need for a down payment?"
In reality, you actually only need a 1 to 5 percent down payment to buy a home. If you're in a hot and growing real estate market (many cities have these!), you have some extra money saved as a cushion and you have a stable job, it may make sense to jump rather than wait and save up.
Help from Outside Sources
In some cities, like Chicago, you can actually put down as little as 1 percent! The Mayer of Chicago, Rahm Emanuel, recently unveiled a 1 percent down home buyer program with Guaranteed Rate, and other mortgage companies, like Quicken Loans, are now following suit. Many cities also now offer first time buyer credits or grants. In Chicago, there are four different home buyer grant programs currently available.
It's often best to jump on a deal when you find one — especially if the place is in an in-demand neighborhood — because next week, it will be gone.
Definitely check to see if these programs exist in your city and if you qualify (typically there are restrictions based on how much money you make and your credit score). One word of caution: Make sure the program you find is being offered through the city (an official city website) or a reputable bank, because there are plenty of scammers out there who use "home buyer credits" to lure buyers into either scams or very expensive mortgages. Be smart and trust your gut. Another option, if home buyer grants are not available in your city, is to pursue an FHA loan, which is backed by the US Government and only requires a 3 percent down payment.
The Downside: Is Less Than 20 Really That Bad?
Keep in mind that the lower your down payment, the higher you mortgage payment is going to be. When you put down less than 20 percent, you will likely be required to pay a monthly PMI (private mortgage insurance) payment, which is essentially insurance for the bank if you default on your mortgage. A lot of people are afraid of PMI, but don't be. It's just a temporary monthly fee you pay until you have 20 percent equity ownership in the home. Typically, the PMI fee will be about 0.5 to 1 percent of the total loan amount, or come out to $50 to $200 per month, depending on the size of your mortgage. This is a small price to pay to get into a market before the prices go up.
Cash in Your Pocket is a Plus
One final note: Buying your first home is one of the biggest purchases you will ever make in your life, and probably the most expensive up to this point, so no matter how much of a down payment you make, be sure you have a cushion of at least three to six mortgage payments in savings, in case you need the money to cover your mortgage. The last thing you want is to find your dream home, put down 20 percent, pay closing costs and then a few months later foreclose if you lose your job or something happens. Banks are unforgiving, so it's better to make a smaller down payment and have a little more money in your pocket as a backup.