It's no secret that home values are continuing to rise in most places in the United States, but there are still some great deals to be found in many cities.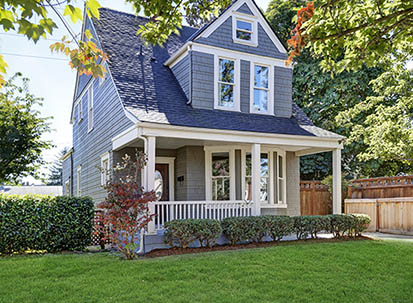 Find Your Home on RealEstate.com
1. Look in Undervalued Neighborhoods
If you are looking for a deal on your first home, then start shopping in up-and-coming neighborhoods that are just starting to show signs of life. Look for affordable homes near city centers: Adaptive reuse is just beginning to take hold in many cities, which means you can get in early on warehouse redevelopment. While gentrification definitely has its challenges, there are ways to move into more affordable neighborhoods without displacing the people who already live there. One great way to support a neighborhood: Buy a multi-unit residence, live in one and affordably rent out the others (and hopefully cover the cost of your mortgage). Look for a neighborhood that has character, charm and cool stuff to do. If your surroundings are too sterile, then your property likely won't appreciate as fast as it would in a cool up-and-coming neighborhood.
2. Consider Fixer-Uppers
A majority of first-time home buyers look for move-in-ready homes, so if you are willing to live in an older home with an old-school kitchen and bathrooms (hey, vintage is in right now!), then you're likely to snag a deal. Going this route depends on your willingness to do renovations and live in a place that needs work — or is in the midst of remodeling — for awhile.
If you are willing to live in an older home with an old-school kitchen and bathrooms, then you're likely to snag a deal.
It can be a great decision to move into a home that needs renovations and not do them, especially if you don't want to live in the home for very long. The key is to settle in an area that is appreciating, so that within three to five years the home will be worth more money that you spent on it. Leave the work for the next person — save your time, spend less money and still make money on the home 🙂
If you do plan to do the renovations yourself or pay for the renovations, you will likely get some of your money back if you eventually sell the property, given you do the appropriate ROI research at the get-go.
Homes that require TLC can really be anywhere, but if you want to live in a specific neighborhood, you may have to look more closely and shop a little while longer.
3. Consider a Move to an Affordable City
If you've looked and looked and can't find an affordable place you love, you may want to consider moving to a more affordable place: There are some cities, towns and counties where your dollar will stretch a lot further. Both Zillow and US News and World Report are great places to begin your search for affordable places to live. According to US News' Best Places to Live 2017 report, Austin, Denver and San Jose top the charts. Zillow finds in its Most Favorable Markets for First-Time Homebuyers Spring 2017 report that Memphis, Oklahoma City and Orlando are the places to be.
While it's a big decision to move to another city, it can make a massive impact on your savings and quality of life. Make sure you do your research (housing, employment, schools, crime, etc.), run the numbers and think through logistics before you pull the trigger.
4. Set Your Sights on Something Abroad
You can find your own slice of the good life by broadening your home search to include spots outside of the United States. A friend of mine just moved to Mexico and lives right on the water — for less than $400,000. Sure, that's a lot of money, but it's beachfront property in Mexico on the Caribbean! It's literally paradise, beyond anything that would have been possible here. This home — my buddy's first place — is an awesome option, as he works 100 percent remotely. Some other affordable countries to consider include Dominican Republic, Honduras, Belize, Nicaragua, Colombia, Argentina, Portugal, Spain, Malta, Thailand, Malaysia and Vietnam.