It's true: Tax time is right around the corner. April 15 will be here before you know it, and that means there's no better time than now to get yourself ready for the big day. Whether you use a CPA or are a fan of filing your taxes online, getting prepared will help you file your taxes with ease.
1. How to Organize Your Taxes
Filing your taxes can involve a lot of paperwork. One of the best steps to take is to store all your W-2s or 1099s in one central place, like a physical folder. You can also include any credit card annual statements for your deductions as well as any student loan or home loan interest forms. Any document that you think you might need to file your taxes should find its home in your tax folder.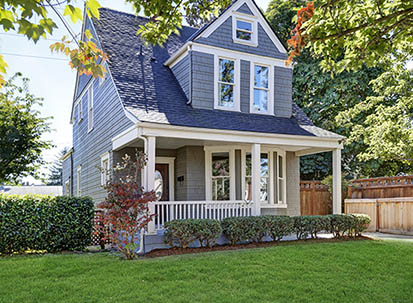 Find Your Home on RealEstate.com
If you're self-employed or have a side hustle, you likely will be claiming some deductions off your taxes. There's no shame in having a pile of receipts that you've collected throughout the year, but now is the time to categorize your receipts, so you know how much to deduct.
There are lots of great mobile apps to help you manage your expenses and deductions, such as QuickBooks and FreshBooks. They will make your life easier when it comes to filing your taxes.
2. How to File Taxes
The million-dollar question is always should you use an accountant or online software to file your taxes. While there isn't one right way to answer that question, a good rule of thumb is to look back at the previous year. Did you have any major milestones, like getting married, having a baby, starting a business, losing your job or buying a house? If the answer is yes, you should consider talking with an accountant to make sure you're taking advantage of all your deductions and maximizing your potential deductions.
Filing your taxes online is an equally great option. For starters, it's usually lower in cost than working with an accountant and straightforward. Within a few minutes, and with all the information in your tax folder, you can file both your state and federal taxes.
There are a couple of great resources to be aware of when it comes to filing your taxes:
3. What to Do With Your Tax Refund
More than 7 out of 10 filers receive tax refunds of at least $2,800. That's a nice amount to get as a refund and can be used in so many great ways to help you fund your financial goals. The problem is that most people don't have a plan for their refunds, so the money seems to disappear.
Before you receive your refund check, make a list of what you plan to do with your refund so you can maximize it.
Do you have high-interest credit card debt to pay off?
Are there financial risks you need to cover, like buying life insurance?
What are your financial goals for this year that need a little boost in funding?
Does your emergency fund need a cash infusion?
What about donating some of your refund to your favorite charity?
There are so many amazing things you can do with your refund if you have a plan in place. Take out a piece of paper and a pen and jot down some of the goals that you'd like to achieve with your refund and put a dollar amount next to them. Once you get your refund check, divvy up your funds and put them towards the items on your list.