Like any business, lenders want to have the chance to talk to you to acquire you as a customer. Also like any business, they sometimes resort to a little chicanery in their advertising to get you to call or inquire. Here are some of the more commonly used advertising hooks.
1. "We never charge points or fees!"
No one wants to pay for anything if they can get it for free, right? So this advertising line is quite effective. There's only one problem, and you know what it is: Nothing is free.
Generally, the same people work on your loan no matter who the lender is. There will be a loan officer, a processor, an underwriter and their support staff and management team, plus office expenses and overhead. So how does a lender offer a "no-point, no-cost" loan? They raise the interest rate, which raises their margin on the loan.
Is it a good idea to get a no-point, no-fee loan at a higher interest rate? Maybe. Almost any lender can and should offer you the option, and also offer you the option to pay some costs for a lower interest rate, which will cost less money overall if you keep the loan long enough.
2. "We pay the mortgage insurance so you don't have to!"
Mortgage insurance is a policy that protects the lender in case you can't make payments and — if the lender forecloses — the lender cannot recover all of its money. All lenders require a policy if you put less than 20 percent down, so how does a lender offer a loan with no mortgage insurance?
There is still a mortgage insurance policy on your loan, and you are still paying for it, just in a different way.
They raise the interest rate a little bit and use the extra margin on the loan to pay for the policy themselves. There is still a mortgage insurance policy on your loan, and you are still paying for it, just in a different way.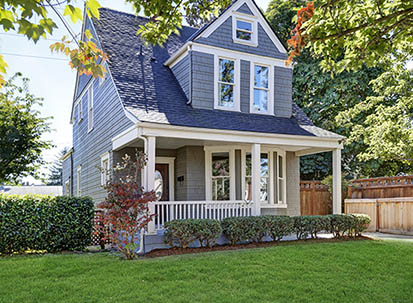 Find Your Home on RealEstate.com
Does it make sense to do this? In some cases, yes. The additional cost in your mortgage payment will usually be a little less than the mortgage insurance would cost, so you may save some. But there's a downside. You can get rid of mortgage insurance without refinancing once you have enough equity, but the bump in the interest rate to avoid it is forever.
3. "That one weird trick to pay off your mortgage faster"
So what's the one weird trick? Refinance into a 15-year mortgage! Since for most folks this would shorten the term over which you have to pay it off, it would indeed pay your loan off faster. Your payment, however, will be a lot higher. If you already have a great interest rate, you could do the same thing by making higher monthly payments on your existing mortgage, and you would avoid paying all the fees associated with getting a new one.
4. "We have rates as low as x%! We have no-point, no-fee loans! We have 30-year loans!"
If you heard this ad on the radio, you might rightfully think you can get a 30-year loan at x% with no points or fees. What they mean, however, is that you can get one of these features or another. The rate quoted is often for a 15-year mortgage with points and fees, or a 3/1 ARM — generally the lowest quotable interest rates. They do have 30-year loans, of course, and no-point, no-fee loans, just not at that interest rate.
5. "Call immediately to get our low low rate of only y%"
Also beware of super-low rates quoted in ads. In many states, the ad must also include an APR (Annual Percentage Rate). If the APR is substantially higher than the quoted rate, it's because they must charge points and fees to get you that rate.
Remember that we all get our money from the same pools. Whether you go to Big Bank, Inc., an online mortgage company or a small local broker, ultimately your money all comes from the same places. No one has a magic source of money. While there are certainly differences in what lenders charge, if it sounds too good to be true, it is.
Don't choose your lender based on the advertising hook
No one lender is right for everyone. Different lenders offer different values to consumers. Sometimes it's price, sometimes service, sometimes reliability. If you are trying to buy a home in a competitive market, you need someone who will perform and close on time.
Ask your real estate agent whom he or she recommends, of course, but also ask friends and family. Find someone who has a good reputation for reliable service and who provides clear, meaningful advice and a competitive offer. When the other guy who uses the company with the best advertising hook can't close, you get the home.