Renting is a no brainer. As long as you make your monthly payment and keep the noise down, life tends to be pretty care-free. No yard work. No home maintenance expenses. Seems like a win-win, right?
For some, sure. For others, the perks of homeownership are hard to resist: the privacy, the opportunity to play with design and home improvement and the long-term investment potential.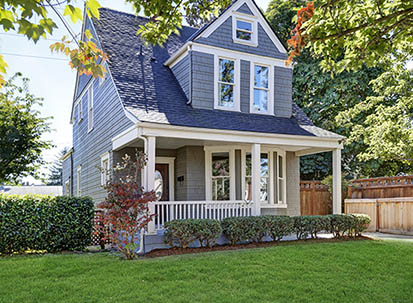 Find Your Home on RealEstate.com
Currently weighing your options? Buying a home is a major life decision and one that is best made only after you've evaluated your financial situation, your lifestyle and your future plans.
Your Location
First things first: Do you really dig the town you're in? Mortgage expert and author Elysia Stobbe says that any self-evaluation should begin with location: "What I usually say to millennials is, 'What's going on in your life? Are you going to be in this particular area for a long time? Do you like this particular part of town?'" If the answer to both is a hard "no," renting, for the time being, is A-Okay.
Your Relationship Status
Did you just start dating someone new or are you engaged and ready to start a family? The answer to that question could mean the difference between continuing to rent and a mid-size home. Single and determined? By all means buy if you can and want to, says millennial money expert and author Stefanie O'Connell". "Don't plan your financial life on the assumption that you are going to have two sources of income one day, " she says. "If you want to buy a home and are single, start now. Don't count on someone else's income to serve your financial and homeownership dreams. "
"Don't plan your financial life on the assumption that you are going to have two sources of income one day. If you want to buy a home and are single, start now."
Your Current Financial Situation
Is your job pretty solid? Or are you cobbling together a few paychecks to make ends meet? Although lenders aren't necessarily expecting to see a long-term gig on your home loan application, they do appreciate candidates who have stayed within the same industry. "A buyer who went to engineering school and gets a job as an engineer after graduation has shown a progression within a single industry," says consumer advocate and mortgage broker Alysse Musgrave. "It is safe for the bank to assume that this buyer will continue to grow within the same industry so they will approve their loan."
Your Credit Score
Now comes the number crunching. To get the most competitive interest rate on a mortgage loan, you should be walking into your lender's office with a credit score of 760 or higher, says credit expert, author and educator John Ulzheimer. The lower your score, the higher your interest rate, which translates to hundreds of dollars per month tacked on to a mortgage payment. If your current score starts with, say, a 5, it may be time to pull your report, assess the damage and come up with a credit score clean-up plan, whether paying down debt, correcting errors or — in the case of negative credit information — patiently waiting. "Your best friend is time," says Ulzheimer. "You are just going to have to wait for those things to age and lose value in your score."
Your Savings Account — or Lack Thereof
Have you set aside a nest egg? You don't necessarily need 20 percent of a home's value set aside for a down payment, as there are down payment assistance programs and mortgage loans that require as little as 3 percent down for first-time home buyers. But a cushion certainly helps with application costs, closing costs and moving expenses, which you may recoup to some extent at tax time. "Really look at your financial picture and think, 'Okay, can I not only accommodate monthly costs of a mortgage payment in the context of my financial picture and current net worth, but also the cost of what it means to be a homeowner?'" says O'Connell. "That includes things like maintenance, how good you are at dealing with irregular expenses and how good you are at dealing with emergencies because … those can be pretty big ticket items when you own a home."
If you've run the numbers, assessed your personal life and all signs still point to buy, congratulations! Now's the time to determine how much home you can afford, narrow down your list of loans and lenders and window shop for homes in your favorite neighborhoods.