I know that when you're in your 20s making less than $30,000 a year and staring down a $40,000 student loan balance, the thought of setting money aside for some day in your 60s seems kind of crazy.
But that's exactly what I'm going to ask you to consider today. Because the cost of NOT doing it can be far greater and more stressful than whatever financial situation you're in today.
The most important thing is to start planning for retirement now. Strike "someday," "not yet" and any other excuses from your retirement savings vocabulary.
With the future of social security uncertain, the disappearance of pensions, rising healthcare costs and longer lifespans, the onus is increasingly on us individuals to fund our own retirements. And the greatest asset we have in doing that is time.
So even though we may be juggling a seemingly unending list of financial obligations already, saving for retirement isn't one we can afford to drop or push off for someday in the future.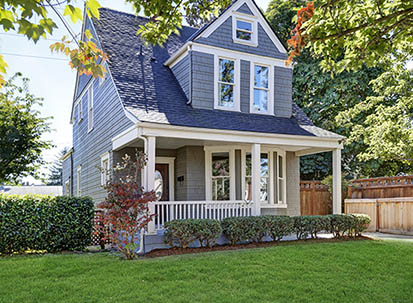 Find Your Home on RealEstate.com
Here's how you can get started NOW …
1. Take Stock of Your Financial Life
How does your cost of living compare to your take-home pay and what can you do to widen the spread? Spend less? Earn more? Both? Track the numbers so you know exactly how much you can afford to set aside each month.
2. Build Emergency Savings
While you should ideally begin investing for retirement immediately, it's important that you have at least one month's worth of expenses in your savings account before you start splitting your efforts between emergency savings and retirement savings.
3. Assess Your Debt
If you're paying down debt, the question of whether to invest for retirement or whether to pay down your debt first can be tricky.
To start, make sure you're always making the minimum payments on your debt.
If you have a company match in your 401k, I recommend maxing that out next.
If you are already maxing out your employer match or don't have a match, then I recommend paying off your high interest debt first.
If you have low interest rate debt, start focus on investing for retirement more aggressively.
4. Decide How Much You Can Afford to Invest for Retirement
Based on your current income, cost of living and financial obligations (like debt), calculate how much you can afford to invest for retirement right now.
Even if you don't have much to start, it's a good idea to get into the habit of investing for retirement as soon as possible.
5. Talk to Your HR Department and Understand Your Company Match Policy
If you're a full-time employee with access to an employer-sponsored retirement plan, email your HR rep to ask questions and figure out what you need to do to get your account set up.
There are two important steps here: figuring out how much you need to contribute to get a match from your employer and picking your funds.
6. Open an IRA
If you're self-employed or you want to begin investing for retirement above and beyond your company match, IRAs are great retirement savings options.
Reach Out When Necessary
If you come into a complex financial situation or you inherit a large sum of money, ask for help. You can search for a professional financial advisor at napfa.org.
The most important thing is to start planning for retirement now. Strike "someday," "not yet" and any other excuses from your retirement savings vocabulary.
Take advantage of your employer benefit plan, utilize tools and technology to build your foundational knowledge of investing, contribute regularly to your retirement accounts and start building a financial future on your terms.