In 2018, student loan debt stood at $1.5 trillion and rising, with the average student carrying $37,000 in debt. It's a reality that most, if not all, young adults will carry some amount of student loan debt after graduation.
Depending on your student loan balance, your payments might feel as impactful as a car loan payment or even a mortgage payment. That's a tough task when you're a new graduate trying to land a dream job and save for your future.
Even a small reduction in interest rate could have a big impact on your total monthly payment, thus putting more money back in your pocket.
In recent years, refinancing student loans has become a trend. There are lots of reasons to consider refinancing, such as lowering your interest rate and reducing your overall payment. Even a small reduction in interest rate could have a big impact on your total monthly payment, thus putting more money back in your pocket.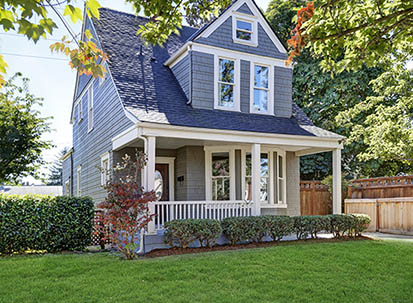 Find Your Home on RealEstate.com
However, there are four questions to ask yourself before you consider refinancing your student loans. Student loan refinancing isn't for everyone. If you do your research, you'll put yourself in a good position to make an educated decision.
What Type of Loans Do You Have?
The first order of business is to figure out what type of student loans you have. Likely, you will have federal student loans (aka loans from the government). If you filled out a FAFSA when you applied to school, you should have some amount of federal student loan debt.
There are different types of federal student loans, including:
Direct Subsidized Loans
Direct Unsubsidized Loans
Direct PLUS Loans
Knowing what type of loans you have is important when you're considering refinancing. Federal loans come with perks like deferment, potential student loan forgiveness and the ability to change your payment plan. Private loans, typically through a bank, are not government loans and don't carry these perks.
If you aren't sure what type of student loan debt you have, you can always check with your student loan servicing company for clarification.
What Is Your Interest Rate?
Knowing your interest rate is important because your interest rate drives your monthly payment. The current fixed interest rate is 5.05 percent for Direct Subsidized and Direct Unsubsidized Loans for undergraduate degrees and 6.6 percent for Direct Unsubsidized Loans for graduate or professional degrees. It's possible that your interest rate for federal loans may be higher or lower based on when your loans were disbursed.
Many student loan refinancing companies such as SoFi and Earnest offer starting interest rates well below the federal interest rates. Therefore, student loan refinancing can be attractive. Again, the lower the interest rate, the lower your monthly payment in theory.
Are You Eligible for Student Loan Forgiveness?
Public student loan forgiveness is a program created to help borrowers with loans after Oct. 1, 2007, and has become a desirable alternative to get rid of debt. While certain conditions need to be met to be eligible for public student loan forgiveness, it's a factor to take into consideration before you refinance.
Transferring federal student loans into private student loans strips away the ability to be eligible for public student loan forgiveness. If you've been placing your bets on having your student loans forgiven, it's best to stay put in the plan you're in so you can meet the requirements necessary.
How Is Your Credit Score and Income?
Private student loan companies have eligibility requirements that differ from those for federal loans. To have your student loans refinanced, you will need to consider your credit score and income history. Many lenders require a strong credit score of 700+ (depending on the company), and some even require a co-signer to guarantee repayment based on your income history.
If you aren't sure what your credit score is, now is a great time to check it out. There are free mobile apps like Credit Sesame and Credit Karma; however, one of the best places to check your up-to-date and accurate credit score is MyFico.com.