Get this: Median home prices are increasing fastest in cities that are at most risk of floods, earthquakes, hail, hurricanes, tornadoes and wildfires. This info comes straight from the 2017 U.S. Natural Housing Risk Index by ATTOM Data
Your first question might be why. It turns out that cities in high-risk areas are also surrounded by tons of natural beauty and recreational opportunities, as well as jobs in burgeoning industries. Think about it: Coastal areas are most impacted by hurricanes, floods and (along the Pacific coast) earthquakes, residential areas near rivers and creeks are most damaged by floods and communities located near mountains and canyons are hit hardest by mudslides, flooding and wildfires. All places you'd most love to live, right?
It would be a shame to pass up on an area rich in natural beauty just because of an occasional risk, and if you have an appealing job offer, you certainly don't want to pass that up.
Shop Smart, Then Be Proactive
If you're searching for a home in a danger zone, be sure to carefully consider these factors:
Minimize Your Risk
When shopping for homes in earthquake country, like San Francisco, CA or Berkeley, CA, seek properties away from known fault lines, and avoid homes built on fill, which may collapse during a major earthquake. Look at homes that have been built or updated to meet earthquake safety standards.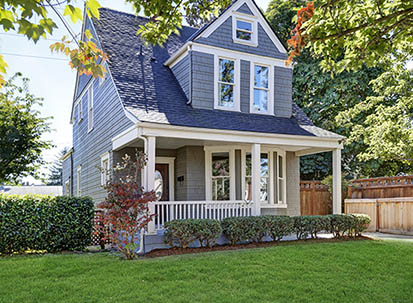 Find Your Home on RealEstate.com
In hurricane-prone areas, like Key West, FL or New Orleans, LA, shop for homes as far inland as possible to avoid damage from high winds and storm surge-related flooding. Storm windows, concrete framing and concrete roofing go a long way to minimize storm damage.
In areas prone to wildfires, look at homes close to fire stations or with easy access to driveable roads so that first responders can reach you quickly. Consider homes with non-flammable exterior siding and roofing. Local fire officials should have guides that demonstrate how to landscape your property to protect it against wildfire, too. Be sure to ask, as fire-safe landscaping and defensible spaces are musts.
Protect Yourself, Financially
You can insure against almost any natural risk, but insurance in areas more prone to natural disasters tends to be more expensive. Flood insurance through the Federal Emergency Management Association (FEMA) is very reasonable for the coverage you get, but the association will only insure homes located in known flood hazard areas. As we have learned lately, floods themselves often don't read flood maps, and extend well beyond them.
Earthquake insurance is expensive, and most policies carry a very high deductible. You can reduce your premium by documenting that your home is constructed to earthquake standards and that you have "earthquake-proofed" your home. Ask your insurance agent about this.
Regarding fire insurance, you must carry it if you have a mortgage on your home anyway, but in areas prone to wildfires the coverage might be expensive. You can reduce the premium by documenting that you have taken steps to minimize the risk to your home; again, ask your insurance agent.
Stock up on Supplies
When a disaster strikes, much of the infrastructure we take for granted is temporarily disabled. Roads, telephone, internet, electricity and natural gas might all be unavailable after a major disaster. Plus, first responders might be overwhelmed, and help that you need might not be immediately available. Families that are prepared for this tend to fare better than families that aren't.
Have a disaster kit at the ready at all times, and keep it updated. Lots of potable water and non-perishable food are obvious supplies you'll want, but your kit should also include a first aid kit, flashlights, candles, matches and anything else that you might need to survive when infrastructure is disabled. There are many fine commercially available kits designed for the specific type of emergency you might encounter.
Establish an Emergency Plan
Finally, make sure you have a disaster emergency plan. Contact your local Red Cross to make sure you know how to find out where shelters will be established during an emergency. Discuss with your family what your plans would be in case something happens. Where will you meet? How will you get there? How will you communicate?
Should You Avoid These Areas Altogether?
It would be a shame to pass up on an area rich in natural beauty just because of an occasional risk, and if you have an appealing job offer, you certainly don't want to pass that up. Instead, educate yourself about the risks and how to handle them, and then enjoy your new city.