April 2018 marks the 50th anniversary of the Fair Housing Act, Title VIII of the Civil Rights Act of 1968. Championed by Martin Luther King Jr. as a means to address racial discrimination in rental and housing markets, the bill was hotly debated in Congress and failed to pass until after King's assassination, at the urging of President Lyndon B. Johnson.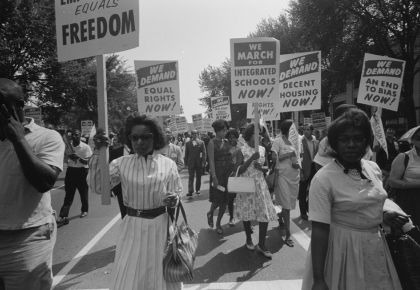 The act, which originally prohibited discrimination based on race, color, religion and national origin, was expanded two times: once in 1974 to include the status of sex and a second time in 1988 to include disability and familial status. (FYI, sexual orientation and gender identity are not protected classes under the act; however, coverage may fall under the act's sex or familial status protections or a state or local government's fair housing laws.)
As a first-time home buyer, you may be thinking, "So, I'm good, right? Steering shoppers to certain neighborhoods or overcharging for loans to keep shoppers out of certain neighborhoods happened ages ago. We know better now." Maybe, maybe not, says Joe Garcia, director of the Fair Housing Center of Nebraska and Iowa. "Discrimination nowadays is not as blatant as it was in the '50s and '60s," he says. "We call it discrimination with a smile and a handshake."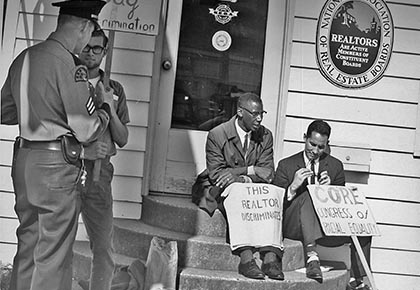 Stealth forms of discrimination require a more sophisticated (and proactive) approach to investigation, which is why fair housing agencies throughout the country have come to rely upon testing, a way of measuring differences in the availability, pricing, and terms and conditions of housing, lending, and homeowners insurance. How does it work? An agency may send two testers (both posing as home buyers and similar in everything but protected characteristic, such as race or gender) to a lender or real estate agent's office. Experiences are then compared; differences in homes shown, neighborhoods shown, interest rates, costs and fees will prompt the agency to take further action, including filing a complaint with the U.S. Department of Housing and Urban Development (HUD), which helps fund fair housing education and enforcement at the local level.
Stealth forms of discrimination require a more sophisticated (and proactive) approach to investigation, which is why fair housing agencies throughout the country have come to rely upon testing.
Testing is indeed a step in the right direction, but state and local agencies, working with limited budgets and relying on the help of volunteers, can only do so much. So how does a first-time home buyer ensure that he or she gets a fair shake? Brenda Hicks, the director for the Center of Housing Counseling & Education, Housing Opportunities Made Equal of Virginia, says that inexperienced home buyers should always seek guidance from an impartial housing professional. "Work with a housing counselor," she says. "Their sole focus is the home buyer's best interest in obtaining decent, safe and affordable housing for long-term homeownership. Having a third party who does not receive commissions helping guide you through that process is important."
Cashauna Hill, executive director of the Greater New Orleans Fair Housing Action Center, believes that the process should start with the buyer herself. "In an ideal world, lenders and everyone involved in the home buying process would follow the law and treat everyone fairly," she says. "But since we know that that doesn't happen, home buyers need to equip themselves with tools and knowledge of the process so that they can do their part to ensure fair treatment."
Shopping for your first home and not sure where to start? Garcia, Hicks and Hill say that these steps will set you up for success.

Take a Class
Step one before you set foot in a lender's office or choose a real estate agent is education. And that may take the form of online research (see HUD's "Buying a Home" guide or RE.com's First-Time Home Buyer's Guide), or a more interactive experience, like classes sponsored by HUD-approved housing counseling agencies. Classes walk buyers through the home buying process and also include a fair housing component. "These courses are a way for home buyers to learn about the history of housing and lending discrimination in this country and then hear information about some proactive steps they can take possibly to protect themselves from discrimination or to address discrimination if they suspect that it is happening to them," says Hill.

Commit Your Credit Score to Memory
Lenders will analyze your credit score to determine the interest rate they charge you for a mortgage. It's in your best interests to know your score (visit Annualcreditreport.com to get free copies of your credit reports) and the rate currently being offered to home buyers in your credit score bracket (visit Zillow.com to get your customized rate). Skip this step and you may fall prey to less-than-scrupulous lenders. "What happens to many African Americans and others in protected classes is that they end up paying more than they should for their mortgages," says Hicks. "Even though they may have great credit and could get a prime mortgage product, they are provided sub-prime lending. Of course, they just accept it, because they don't know what the appropriate prime rate should look like for them right now." Hicks suggests that home buyers adopt healthy credit management habits and start keeping tabs on mortgage rates to ensure they get the best terms possible.
Get Recommendations and Referrals
Buying a home is one of the biggest purchases you will make in your lifetime, so working with ethical real estate professionals is imperative. To find a real estate agent and a lender you trust, start by asking friends, family, co-workers and neighbors for suggestions. Housing counseling agencies also provide referrals, and if you attend a first-time home buyer class, you may have the opportunity to speak with and vet real estate professionals who are tapped to guest-teach courses. Interviewing agents is also in your best interest, says Hill. "I think shopping around is key. All Realtors® are required to take fair housing training, but it certainly can't hurt to ask about when and whether any professional you are considering working with has taken that training."

Don't Be Dissuaded From Living Where You Want
When it comes time to choose a location, be sure to scout neighborhoods that pique your interest, be open to options in communities that you may not have previously considered and make your decision based on that research and affordability factors. Then fully participate in the house hunting process. Your real estate agent's job is to help support you in the home buying process, not influence which neighborhood you choose. "They should be giving you what you're asking for. What they shouldn't be doing is giving you their opinions," says Garcia. If you are a person of color and an agent shows you houses only in neighborhoods of color, hit the pause button. "Pay attention to those types of things," says Hicks, "because it is your choice and what you can pay for that should determine where you live and not just where a Realtor is deciding that you should live."

Know What Discrimination Looks Like
The home buying process can be overwhelming for the first-time home buyer; you may be so focused on house hunting and finances that subtle signs of discrimination fly under your radar. "I would advise home buyers to listen out for coded language and pay attention to any red flags," says Hill. Here are just a few of the most common practices reported to housing counseling agencies across the country:
An agent steers a buyer of color to neighborhoods of color or suggests that in a certain neighborhood a buyer would feel more or less "comfortable."
An agent shows a buyer houses that don't meet his/her requirements and/or that fall significantly outside of his/her price range.
An agent or lender is not responsive to a buyer's requests for service.
A lender asks a buyer in a protected class to provide what seems like an excessive amount of documentation and/or asks for the same documentation more than once.
A lender asks questions of a buyer in a protected class that are not asked of other buyers. "'What kind of debt do you have? Are you married? Are you and your wife both employed? Do you have a criminal history?' Those questions in and of themselves are not illegal," says Garcia. "But we're finding out that they are asking questions of a certain set of individuals and not another. So they are setting a higher bar — different terms and conditions for getting that loan."
A lender charges an interest rate or offers mortgage terms that do not correspond to the buyer's credit score or that are not consistent with advertised rates or normal transactions.
The mortgage loan process drags out so long that it hinders the ability to close on a home.

If You See Something, Say Something
Your gut is telling you that you aren't being treated fairly. What now? Hit the brakes and place a call to your local fair housing agency or housing counseling agency. Even if the agency does not conduct investigations and enforcement, it will direct your complaint to the appropriate place. Worried that your complaint will slip through the cracks? NOT going to happen, says Garcia. "We do an intake on every call we get. Not everything is discrimination, but we look at every complaint and possible violation of Fair Housing law."
So, what does an investigation conducted by a fair housing agency look like? A buyer will be asked to fill out a formal complaint form. That form is then forwarded to an investigator, who gathers any additional documentation needed and may request that the buyer sign off on an authorization waiver that gives the agency permission to work on the buyer's behalf. The agency may then send testers in the guise of home buyers to the agent or lender's office. Results are compared. If the agency determines that discrimination has occurred, it will work with the buyer to map out next steps. "When someone suspects they've experienced housing discriminations, their options include filing a complaint with the federal government or a state agency, or filing a lawsuit," says Hill. If results come back inconclusive, an investigator will share findings with the buyer. "This isn't to say you weren't treated differently or you weren't discriminated against," adds Garcia. "This test only shows that at this time and in this place, when our testers were in front of the agent or lender, nothing came back as differential treatment."
In the end, success as a home buyer comes from doing your research, not being afraid to ask questions and raising a hand if something doesn't feel right. "Everyone should be free to choose the housing that works best for themselves and their families," says Hill. "And they should be able to make that choice without interference from or discrimination by other people. If a consumer or home seeker is having any interactions with a real estate professional or anyone else that limits the choices that they have based on race, or the fact that they have children, for instance, that goes against what the Fair Housing Act is meant to do."