Do you feel like you're chasing something you can never catch? Millennials dreaming of buying their first homes work harder, save harder, sacrifice more and watch hopelessly as the prices rise so fast it seems they'll never catch them. It's not hopeless, though; several new startups are working with lenders to get you into your new home faster and with less money. Here's a sampling.
Earn Your Down Payment with a Side Gig
A new startup called Loftium will contribute a portion of the down payment to get a home buyer into a home. The portion varies with the deal. The catch? You must pay back Loftium by renting out a portion of your home on Airbnb. Loftium gets the lion's share of the revenue. The homeowner must maintain the property and fulfill all the typical duties of an Airbnb host.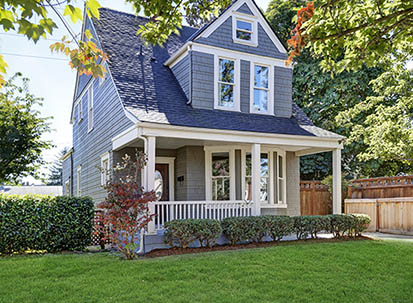 Find Your Home on RealEstate.com
Loftium does provide some support, in the form of a lock pad and software. The owner does all the heavy lifting, however.
If a homeowner defaults on his or her duties, Loftium may call in the debt, plus a 15 percent cancellation fee. But the company's betting that most homeowners will not only meet the terms of the agreement, but continue to rent out their units on Airbnb after contracts expire.
How does this work, since Fannie Mae won't allow debt behind a loan with a very small down payment? Fannie is looking for creative ways to increase millennial homeownership. According to a Fannie Mae spokesperson, this is a trial limited for now to only 50 transactions in Seattle. But if it works, the government-sponsored enterprise will expand the offering across the country.
Loftium has an exclusive relationship with a single lender – Umpqua Bank – so the home buyer is restricted to one lender, and only a conforming Fannie Mae loan. This is certainly a creative way to fund your down payment and get into your first home now, rather than later after prices increase even more.
Get Friends and Family to Contribute to Your Down Payment
Crowdfunding is not new, but more and more websites are popping up that focus on helping first-time home buyers raise their down payments. Enter HomeFundMe, a service of CMG Mortgage. Because it is owned and controlled by a mortgage company, the site is tightly focused on helping a potential homeowner with the entire process. The company will even coach you through the fundraising process while working in close collaboration with your loan officer.
Feather The Nest has been around for a while, and specifically targets gift-giving occasions. Can you put that cute little bungalow on your gift registry? Yes, you can. If you don't want to collect the usual assortment of gifts from your relatives and friends, track who gave what, return the duplicates and then store everything that you don't use for years, crowdfunding your down payment could be right for you.
Equity Sharing Partners Want to See You Succeed
Equity sharing arrangements have also been around for a while. In the past, they conjured images of seedy, back-room operations that sold contracts packed with confusing terms and no-lose clauses designed to benefit the companies seeding the down payments.
That is changing as equity sharing becomes mainstream. Unison, which has been around since 2004, will match half of a 20 percent down payment in exchange for 35 percent of the equity growth. The assistance helps you avoid mortgage insurance, which can add significantly to your monthly ownership costs. You do not have to pay Unison back until you sell, refinance or pay off your loan, even if you keep your home for 30 years!
Unlike Loftium and HomeFundMe, Unison is not connected to a specific lender, and therefore can be used with any lender that is willing to make the loan. (Unison does have a list of approved lenders, however.) Unison currently operates in 12 states and expects to add nine more in 2018.
Don't Let the Down Payment Stop You
In short, you can spend months or years squirreling away the traditional down payment, or you can buy your first home now, rather than later. It's a tough market, but when the market gets tough, the tough get creative.