Price spikes, bidding wars and frenzied open houses are all signs of a hot market, and have been commonplace over the past few years. It's been great for those looking to sell, but very challenging for anyone trying to sink their teeth into real estate.
Many argue that the fast pace of the current market is simply unsustainable. This begs the question: Are we headed for a market correction? Is change in the air?
What are Signs the Market is Cooling Off?
Like any market, real estate ebbs and flows and is impacted by a variety of factors, such as supply and demand, interest rates and the overall economy. As a buyer, understanding the market cycle in your local area can help you to strike when the iron is hot. It's impossible to predict what will happen next, but it is helpful to look for signals of a potential cool down. Here are some telltale clues your area may be starting to turn: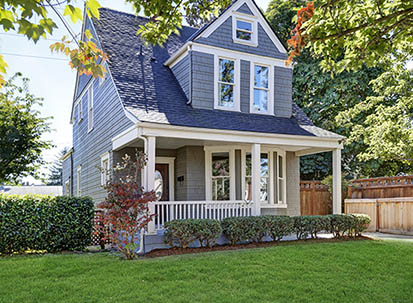 Find Your Home on RealEstate.com
1. Decreased Home Value Growth
Tracking average price changes is a good way to spot overall trends. It's important to note whether home values are increasing or decreasing and at what rate. Last month, a Zillow report indicated home value growth is slowing in almost half of the 35 largest U.S. metros. How can you track this information on your own? The Federal Housing Finance Agency provides a wealth of information through its housing price index (HPI). The HPI is a broad measure of the movement of single-family house prices and publishes monthly and quarterly reports.
2. Pricing History and Price Cuts
Another key area to keep an eye on is price cuts. Reductions are an indicator that sellers are not receiving interest from buyers at the original list price. If you notice a pattern of homes selling at a discount, this could be a signal that your market is slowing down. In June, 14.2 percent of all U.S. homes listed for sale on Zillow had at least one price cut. By signing up for RE.com email alerts for your market you can be alerted to home sales and price changes. This is an easy way to stay on top of changing activity. Preliminary gaps between original asking prices and final sale prices could be the beginning of a larger-scale adjustment.
3. Increase in Days on Market
In a super-hot market, houses get snatched up quickly. It's not unheard of for a property to go under agreement the same day it is listed. As demand falters, houses linger for longer. When properties start to sit on the market for an extended period of time, the buying environment becomes less competitive. The multiple listing service, which is accessible to licensed real estate agents, tracks aggregate data related to cumulative days on market. You can get your hands on a copy by requesting a report from a local REALTOR®.
4. Higher Inventory Levels
Inventory levels greatly impact the supply/demand equation for sellers and buyers. Having lots of housing options to choose from is an ideal situation for any home buyer. With inventory levels hitting rock bottom in recent years, options have been few and far between. When there are not enough listings to go around, buyers have less to choose from and are forced to compete against other shoppers. You can keep tabs on the housing stock and look for signs of increasing availability.
5. New Construction
One way of increasing inventory levels is through new builds. After the last housing bubble burst, home builders took the brunt. During the crisis, millions of construction workers lost their jobs and new construction stalled. Builders have since gained momentum and new builds are getting back to capacity. An abundance of new construction can be signs of a healthy market, creating opportunity for incoming buyers.
6. Low Absorption Rate
Absorption rate is another critical metric to understanding market trends. The absorption rate is the frequency at which available homes are sold in a specific real estate market during a given time period. It is calculated by dividing the average number of sales per month by the total number of available homes. In markets with low absorption rate, supply exceeds demand. This means that sellers may be forced to reduce the price of their home to entice a sale. As a buyer, you benefit from having more options and at a lower sticker price. Zillow tracks a variety of data and can help you keep tabs on your areas statistics like absorption rate.
7. Slowed Investor Activity
In a sizzling market, investor activity spikes. New buyers gain confidence and decide to enter the real estate investing arena while seasoned investors offload and sell. While some investors purchase in cash, others leverage their current assets to finance more real estate in order to grow their portfolios. Generally speaking, a slow down of investor buying and selling activity can be indicative of a waning market.